O

nce again, China's capital city, Beijing, will host the China International Textile
Machinery Exhibition (CITME) Oct. 17-21, 2006, at the China International Exhibition Center.
Visitors to the show can expect to view a comprehensive lineup of the latest in textile technology
from spinning and weaving machinery to testing equipment.
Now in its 10th edition, the show is organized by The Sub-Council of Textile Industry, China
Council for the Promotion of International Trade (CCPIT-Tex); China International Exhibition Center
Group Corp. (CIEC); and China Textile Machinery & Accessories Association (CTMA); and assistant
organizers Hongkong Expositions Ltd. and China Textile Machinery & Technology Import and Export
Corp. CITME also holds the honor of being the only textile machinery show in China endorsed by the
Union of International Fairs.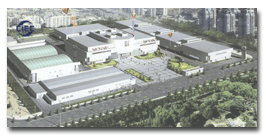 CITME will be held at the China International Exhibition Centre in Beijing.



Growing Exhibition In A Growing Economy


Since its inception in 1988, CITME has grown in size — both in number of exhibitors and
visitors, and in exhibition space — at each biennial edition. The 2004 show recorded 1,100
exhibitors from 25 countries and regions, displaying their wares in some 62,000 square meters of
exhibit space, while some 35,585 registered trade visitors came from 63 countries and regions, and
130,000 visitors overall attended the show. Both exhibitor and visitor numbers are expected to
exceed 2004 numbers at the upcoming show.
CITME 2006 visitors will find exhibitors spanning the many sectors of the textile industry.
Exhibits will include spinning and weaving equipment; knitting equipment; dyeing, printing and
finishing equipment; equipment and processing systems for technical textiles and nonwovens; and
textile testing and measuring equipment; among other offerings.
According to show organizers, CITME plays an important role for those who want to understand
and enter China's expanding textile market. The show functions as a platform for business
cooperation and information exchange among industry leaders in China, Asia and abroad, show
organizers report.
In that spirit, the CITME 2006 Summit Forum on International Textile Machinery Manufacture
will occur concurrently with the exhibition on October 18 from 9 a.m. to 2 p.m. at the Beijing Kun
Lun Hotel. Touted as a networking opportunity for textile machinery senior managers, experts and
scholars from around the world, the forum will focus on present and future cooperation and
development in the textile machinery manufacturing industry. Representatives from all industry
sectors are invited to participate in the forum. Sponsors are the China National Textile &
Apparel Council and the European Committee of Textile Machinery Manufacturers (CEMATEX); organizers
include CTMA, CCPIT-Tex and CIEC. The Beijing Textile International Exhibition Co. Ltd. will act as
a cooperator.

Changes For Future Editions


It was recently announced that CEMATEX — organizer of ITMA Asia; CTMA; CCPIT-Tex; and CIEC have
signed a cooperation agreement. Starting in 2008, the CITME and ITMA Asia exhibitions will be
combined into one textile show — ITMA Asia + CITME 2008, to be held in Shanghai. It is expected the
combined show will be held every two years and will be organized by Beijing Textile Machinery
International Co. Ltd. and co-organized by Meeting Planners International Pte. Ltd., Singapore.
"I am very pleased that we shall hold this first combined show in Shanghai, and we and our
partners are delighted to welcome ITMA Asia to China," said Gao Yong, president, CTMA. "We strongly
believe that our initiative will benefit the whole of the textile industry as well as the healthy
development of the textile machinery industry."


September/October 2006