T
hroughout its history, Mohawk has routinely reinvented itself to adapt to changing
business conditions and challenges. In the 1970s and '80s, carpet was the floor covering of choice
for style and luxury. In the '90s, this began changing, with hard-surface products like tile,
hardwood and, later, laminate gaining more and more market share. Because of changing consumer
tastes, Mohawk made the decision to become more than just a carpet resource and began actively
developing other product lines. These included two major acquisitions: Dal-Tile for ceramic and
Unilin for laminate. In addition, Mohawk developed partnerships with a number of hardwood suppliers
to expand its wood line, and became a national distributor for Congoleum® resilient. As a result,
Mohawk's overall product mix changed dramatically. In 2001, 5 percent of company sales were
hard-surface products; in 2005, 35 percent of sales were hard surface.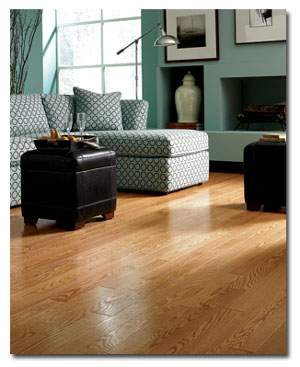 Mohawk has established strong partnerships with other suppliers including St. Paul,
Minn.-based 3M, which provides Scotchgard™ finishes for Mohawk hardwood flooring products.


Mohawk Carpet: Commercial And Home

Carpet is still the core of Mohawk's business, and the company has a strong presence in
residential carpet, commercial carpet, and rugs and accessories. Mohawk's residential brands
include Aladdin®, Horizon®, Wunda Weve®, Custom Weave® and Karastan®, which provide consumers with
a vast selection of products at virtually any price and quality level. Mohawk has created three
aligned dealer networks —Mohawk Floorscapes®, Mohawk ColorCenter® and Mohawk Floorz® — that provide
cobranding opportunities between Mohawk and key independent retailers nationwide. This has not only
strengthened Mohawk's relationships with many of the nation's best flooring dealers, but also has
produced better retail selling systems that have improved store profitability and the consumer
buying experience
(See "A Step Forward For Retailing,"

www.TextileWorld.com
, July/August 2006).
On the commercial side of the business, Mohawk's brands include Bigelow Commercial®, Durkan
Commercial®, Karastan Contract®, Mohawk Commercial® and Lees®. These businesses provide Mohawk with
the capability to service the overall commercial market and also allow the company to target brands
to specific industry subsets, such as hospitality, medical and modular flooring.
Mohawk Home, the company's multifaceted rug and textile business based in Sugar Valley, Ga.,
provides rugs, throws and other home décor merchandise including bath rugs, matelassé bedspreads
and throw pillows to mass merchants and specialty retailers across the nation. Mohawk products are
marketed under Mohawk Home®, Mohawk Select®, Goodwin Weavers®, Karastan and numerous private
brands. Designers and artists who have contributed to Mohawk's line include Raymond Waites, Thomas
Kinkade and Susan Sargent.
For a number of years, Mohawk has been producing its own carpet fiber — establishing
facilities and brands for nylon, polyester and olefin products; and currently supplying a
significant percentage of its fiber needs internally. In addition, Mohawk has maintained strong
partnerships with other fiber and fiber treatment suppliers such as Invista (Stainmaster®), Solutia
(Wear-Dated®) and 3M (Scotchgard™). In 2005, Mohawk announced it had teamed with DuPont to become
the exclusive supplier to the carpet industry of SmartStrand™ fiber made with DuPont™ Sorona®
polymer. Considered according to industry consensus to be the biggest innovation in fiber in 20
years, as reported by industry publications, SmartStrand fiber offers exceptional stain resistance
and cleanability, durability, and styling options. Mohawk reports the SmartStrand launch has been
the biggest new product introduction in its history.
"The SmartStrand launch was significant in that it was the first really new fiber for carpet
in more than two decades," said Ed Williams, senior vice president of marketing. "It has the
resilience of nylon coupled with remarkable stain resistance and a very soft hand. Stain resistance
is engineered into the fiber, so it will never wear off. It has Mohawk's first-ever Limited
Lifetime Warranty for stain resistance. It also allowed Mohawk to partner with DuPont for the power
of two key brands that consumers strongly associate with floor covering innovation."
Williams noted the SmartStrand launch to customers across North America included
demonstration kits, displays and video presentations that could be incorporated into store
displays. Some retailers were so enthusiastic about the product that they went so far as to remodel
their stores so the SmartStrand display was the first thing consumers saw as they entered the
store.
Beginning in 2007, SmartStrand will have a unique sustainability story, as DuPont begins
making Sorona polymer, in part, from sugar-based crops such as corn
(See "Sustainability Yields Quality,"
www.TextileWorld.com, July/August 2006).

Dal-Tile: Ceramic & Stone

In 2002, Mohawk became the leading provider of ceramic tile in the United States with its
acquisition of Dallas-based Dal-Tile Corp. Dal-Tile has annual sales of $1.7 billion and is the
largest resource in the United States by a significant margin for ceramic tile. The Daltile® and
American Olean™ brands are well-recognized among dealers, builders and consumers; and Dal-Tile
offers the most comprehensive product line in the industry.
Dal-Tile added to the largest ceramic tile production capacity in North America recently
with the opening of new facilities in Oklahoma and Mexico, increasing its production volume by 14
percent. Market share is increasing in the residential market, and profitability is benefiting from
an emphasis on higher-margin products.
More than half of Dal-Tile's sales service centers have been remodeled, and the number of
sales personnel has been increased. In six major US markets, Dal-Tile has established gallery
selection centers that showcase its entire product portfolio. This gives the division the
opportunity to show just how many design options are available with its product line. And like
Mohawk, Dal-Tile has grown through carefully planned acquisitions that increased its presence in
stone surfaces.
Mohawk also markets a separate line of ceramic products under its Mohawk Ceramic brand,
which has allowed more penetration into floor covering retail markets.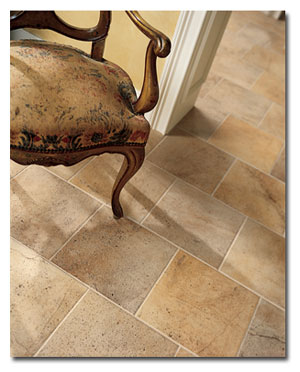 Mohawk's acquisition of Dal-Tile Corp. in 2002 added ceramic tile to its portfolio of
products.


Unilin: Laminate Flooring

In 2005, Mohawk completed an acquisition that gave it a major presence in the fast-growing
laminate market. Patterned after the Dal-Tile acquisition, the purchase of Unilin NV, a
Belgium-based company, was designed to fast-forward Mohawk's development of a key product category.
"As we did through the acquisition of Dal-Tile in early 2002, we have further diversified
our product base, distribution strategy and geographical footprint through the acquisition of
Unilin," said Jeff Lorberbaum, chairman and CEO, Mohawk. "We were impressed by Unilin's operating
team and the strength of the Quick-Step® brand strategy, as well as the company's attractive growth
prospects going forward."
Unilin is the only vertically integrated laminate manufacturer in North America, and has
just opened a new plant in Thomasville, N.C., with the capacity to produce 100 million square feet
per year. In addition, Unilin and its brand, Quick-Step, are recognized as major innovators in the
laminate market, creating dramatic new flooring styles that mimic natural stone and wood, complete
with texture, grain, beveled edges, random patterns and even hand-scraped looks. Unilin's glueless
plank locking system, Uniclic®, allows easy angled assembly of the floor or — in tight spaces such
as under counters — a sliding method of securely bonding the boards by tapping them together with a
mallet.
The US market for laminate flooring is expected to grow at 15 percent annually, and
Unilin/Quick-Step is positioned to take a significant part of that share. In addition, Mohawk
markets a separate line of laminate products under its Mohawk Laminate brand, providing the
opportunity for even more market penetration.
---

Creating The

Optimum Distribution Resource

As North America's largest flooring company, Mohawk requires an efficient and comprehensive
distribution infrastructure.
Mohawk's national distribution network is comparable to a small national freight company.
Mohawk operates 21 factory warehouses, 19 regional warehouses and 43 satellite warehouses across
the nation. A fleet of 1,000 trucks and 2,000 trailers services more than 30,000 customers across
the continent.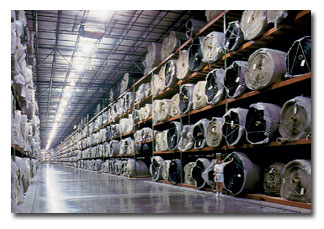 More Than Half Next Day

This highly flexible operation is capable of delivering carpet, tile, hardwood,
laminate, vinyl, rugs and other products anywhere in the nation. More than half of Mohawk's
expansive product inventory is available to customers typically within a day's time.
"Fast availability of our products is essential, not only to compete in our industry, but to
be competitive with other categories of consumer goods," said Ed Williams, senior vice president of
marketing. "Consumers have a myriad of choices for using their income, and they're used to rapid
response and fulfillment. Our dealers need the ability to get the merchandise promptly and schedule
installation. The customer isn't used to waiting."

Inventory Control


Mohawk's inventory is tracked at every step of production and delivery using the company's
exclusive Real Time Visibility software.
With Real Time Visibility, dealers can get up-to-the-moment reports on orders throughout the
system, which uses satellite signals, transmission towers and wireless mobile computers to
continuously monitor deliveries from Mohawk. The system lets Mohawk and its customers know when
orders load onto the truck, where the truck is located, when each order delivers, what was
delivered and who signed for it. Dealers can pinpoint within a matter of minutes when their orders
will be arriving at the loading dock.
Mohawk also is a strong believer in backwards integration and has executed a number of
acquisitions to help manage manufacturing for carpet, ceramic tile, laminate and other products.
This helps improve efficiency even further and manage costs.

Hardwood, Vinyl And Other Lines


Mohawk also distributes a full range of hardwood flooring products in a wide variety of
specifications and finishes. Mohawk's hardwood flooring line has been singled out by key industry
publications for its quality, styling and value. Dealers themselves have voted Mohawk hardwood
products as being their choice of all new offerings for the year.
Mohawk also is a distributor of Congoleum vinyl products, which offer versatility,
durability, and an exceptionally wide selection of colors and styles.
Other Mohawk product lines, like Mohawk Home rugs and throws, are marketed through mass
merchants, discounters and department stores, adding an entirely new level of distribution
activity. Because of the size of these customers, Mohawk distribution also utilizes new
technologies such as radio frequency identification to manage inventory and shipments.

July/August 2006