A
t nearly 130 years old, the Mohawk brand is older than household names such as Hershey,
Coca-Cola or Disney. For the last decade, branding has been a major area of investment for Mohawk
Industries. After its major acquisitions in the early 1990s, Mohawk set about consolidating many of
the floor covering brands it had purchased and bringing them under the Mohawk flagship. While many
of these brands still have some presence among dealers, the emphasis with consumers has been to
take advantage of the power of the Mohawk name.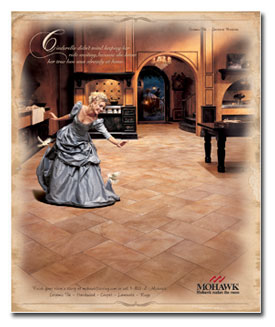 Mohawk's 2006 consumer advertising campaign, named "What If?," features fairy-tale
characters.


Consumer Advertising

For the last several years, Mohawk has conducted strong consumer advertising programs, using key
consumer shelter publications and national television. In the last four years, the consumer ad
campaign has also been tied to national sales events to give Mohawk's aligned dealers — Mohawk
Floorscapes, Mohawk ColorCenter, Mohawk Floorz — extra selling opportunities. Studies show that
Mohawk is one of the most-recognized brands in the floor covering business, and the company
continues to reinforce this through a very active consumer advertising and public relations
program.
Mohawk's 2006 consumer advertising campaign is using print and television to make more than
1.2 billion impressions targeted to floor covering shoppers across the nation. The campaign
includes ads in more than 30 magazines and on 11 national television channels.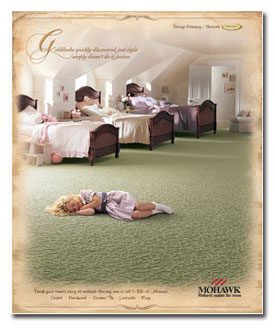 The television campaign continues the use of Mohawk's "Shall We Dance?" commercial, which
features a dancing vacuum cleaner, while the print campaign entitled "What If?" features all-new
creative based on classic fairy-tale characters, including Cinderella, Goldilocks and the Evil
Queen. Ads feature different types of floor covering — carpet, hardwood and ceramic — and ask: What
if the ending of a classic fairy tale or fable is changed by the beauty of a Mohawk floor?
The "Cinderella" ad features the would-be princess in her kitchen, while her pumpkin carriage
awaits, visible in the background. But she's not in a hurry to get to the ball — the copy explains,
as she gazes at the floor, Mohawk Ceramic's new Sardara. She's already found her "true love."
A second ad, "Goldilocks," showcases the beauty and comfort of Mohawk Carpet. Cottage
Hideway, featuring Wear-Dated® fiber and Scotchgard™ Protector Advanced Repel Technology, is the
product highlighted in the ad. It shows Goldilocks asleep in the three bears' bedroom, but not on
any of the beds. She's dozing on the floor, which is the place that's really "just right."&
#160;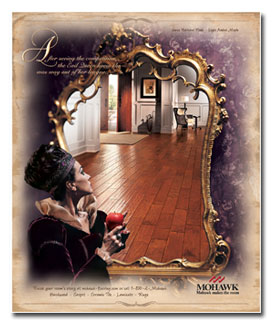 A third ad takes a slightly different approach for Mohawk Hardwood. The Evil Queen of
fairy-tale fame is looking in a mirror at Mohawk Hardwood's Santa Barbara Plank. Her countenance is
more grim than usual as she realizes she has unbeatable competition for the "fairest of all."
"The humorous approach we've used in previous campaigns is still a strong way to build
recognition of the Mohawk brand and our products," said Ed Williams, senior vice president of
marketing for Mohawk. "This year's campaign uses the humor of universally known stories to call
attention to the beauty and comfort of Mohawk floors. We were particularly pleased with how
strongly this campaign scored in consumer testing, especially with women. It really strikes a chord
with the people who are most likely to be floor covering shoppers."
The print campaign started in April and will continue through November in magazines including
Better Homes and Gardens; Good Housekeeping; Architectural Digest; House & Garden; House
Beautiful; Country Living; O, The Oprah Magazine; Martha Stewart Living; Real Simple; Food and
Wine; Parents; Sunset; and Southern Living. Among the channels included in the television campaign
are HGTV; DIY Network; Discovery Home; The Learning Channel; We, Women's Entertainment; and the
Travel Channel.
The fairy-tale graphics are an integral part of the Mohawk consumer website,
www.mohawk-flooring.com, which was updated recently to
make it easier for consumers to get information and find local dealers. Information is now
categorized into three stages: "Decorating and Planning"; "Shopping and Buying"; and "Caring and
Maintaining."
"By organizing information in this manner, consumers can have easy access to the details they
need at every step of floor covering selection and ownership," Williams said. "This means they come
into dealerships better informed and better prepared to buy."
An easy-to-use and informative website is critical as shoppers do more research online before
going out to visit actual stores.

July/August 2006