T

he International Exhibition of Finishing and Knitting Technology (IKME), organized by
Fiera Milano International S.p.A., is set to take place November 18-22 at Fiera Milano in Milan.
Following is an interview with Dott. Federico Pellegata, director of the Association of Italian
Textile Machinery Manufacturers (ACIMIT), which promotes and supports the event.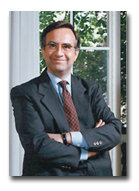 TW
: How is IKME different from the other exhibitions held worldwide?

Pellegata: IKME Finishing & Knitting differs from other exhibitions [in] its
ability to provide an added value and an opportunity for highly innovative products, technologies
and processes to meld together into a common perspective.
The Excellence area of IKME Finishing & Knitting, conceived to combine the highlights of
the show – for example, high-tech textile products – into a single location, stresses the strong
innovative connotation of the show.

TW
: What types of textile equipment will be present, and what quantity of exhibitors do you
expect?

Pellegata: The widest and technologically most advanced range of textile machines
for the two specific sectors of knitting (straight-line, circular and chain) and finishing machines
(dry and moist treatment, dyeing, printing and finishing) will be on display. Approximately 150
exhibitors are expected to attend. Twenty-five percent of these will come from abroad [outside of
Italy], mostly from Germany, Japan and Switzerland.




TW
: What quantity and origin of visitors do you expect to attend?

Pellegata: It is very hard to answer this question right now. The only potentially
useful reference figure concerns the 2003 edition – approximately 10,000 visitors, including
35-percent foreign ones. The scope of the show has been expanded (finishing has been added to
knitting), and the exhibitors are much more numerous. The show takes place at a time characterized
by a challenging economic situation. However, IKME Finishing & Knitting takes place in a
country – Italy – that can still rely on significant production and consumption of textile products
and is at the core of an area (Eastern Europe and the Mediterranean Basin) that sees the textile
sector as a major strength.
In addition, ACIMIT, in cooperation with ICE [Italian Trade Commission], has organized a
major project for the promotion of the Italian textile machinery sector, combined with the one
implemented independently by the show. This project provides for the visit of delegations of
business people from a number of countries (Brazil, Iran, Morocco, Russia, Syria, Tunisia and
Turkey), whose textile industries are quite interesting for the exhibitors. For these reasons,
then, we expect a satisfactory attendance.

TW
: What type of cooperation are you experiencing with the associations?

Pellegata: At an international level, IKME Finishing & Knitting is supported
by CEMATEX, the European Committee of Textile Machinery Manufacturers, and by the active
involvement of major associations in the European textile machinery sector. In addition, we are in
contact with the world's main textile associations – both of manufacturers and of users – to which
the sectors and products on display refer. Together, we are trying to give a practical response to
the expectations of the companies that have invested their time and resources to attend the event.
We wish to demonstrate that there are opportunities to conquer the traditional markets, as well as
the emerging ones.

TW
: Will IKME continue on a four-year cycle?

Pellegata: IKME Finishing & Knitting takes place every four years, between
each two editions of ITMA [the International Exhibition of Textile Machinery]. The new dates of
IKME Finishing & Knitting have been set upon agreement with CEMATEX. We believe that the
exhibiting formula in place … can provide the companies the answers

and the contacts they need right now.



September 2005