W

ith its launch in 1960, Sunbrella® branded fabrics established a presence few fabric
products have ever achieved. "It is a branded approach that is unique for the textile industry – as
people think of textiles," said Steve Ellington, president, Glen Raven Custom Fabrics LLC.
In an industry with many fiber brands that pull through to consumer and home furnishings
brands largely fashion-branded through design houses, few performance fabric brands continue to
garner recognition such as that established and supported by Glen Raven Custom Fabrics, one of two
subsidiaries within Glen Raven Inc. Whether in awning, marine, automotive convertible top,
residential or casual furniture markets, Sunbrella continues to meet the challenge of a demanding
marketplace by blending performance, style and value while escaping commoditization.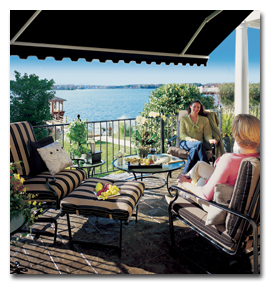 Although Sunbrella® fabric was launched 45 years ago, the product maintains exceptional
brand awareness, and continues to attract new customers and find new markets and
applications.

Custom Fabrics


"I came through the sales and marketing side of the business," Ellington said. "I think
you learn very quickly that, to the consumer, it is not about having the nicest, most
technologically advanced manufacturing facility. That can be one part of it, but if you don't have
a product that the consumer wants, one that is providing value, one that in some way enhances their
life, what benefit is there to what you are doing?"
Glen Raven spends a great deal of time and applies many resources to understand consumer
value.
"For the person who owns a boat," Ellington continued, "the fabric that is on the interior or
exterior cushions – that's fashion, that's the product that enhances his or her enjoyment. To see a
BMW convertible ride by on the road – that top is something we manufacture – to have your
product as part of that package is value provided to the consumer."
Fashion is just part of the story. The Custom Fabrics subsidiary is responsible for the
Sunbrella brand. Glen Raven's France-based Dickson S.A. subsidiary is a dominant international
supplier. Dickson is known worldwide in the awning and marine markets. The business has established
brands such as Banguard, a durable outdoor banner fabric; and Nitelite, a fabric specifically
designed for back-lit awning and sign applications.
Custom Fabrics continues to innovate with Glen Raven Media Fabric, a unit that serves
specialized graphics printing businesses by providing fabrics that enhance printed graphics.
Sunbrella Graphics Systems, another Custom Fabrics unit, offers Sunbrella fabrics and a system
partnered with 3M Corp., St. Paul, Minn., to create the industry's first warranty-backed graphics
system. The system allows contractors to create consistent, repeatable multicolor graphics that fix
3M graphic film and Sunbrella fabrics through a durable bonding system.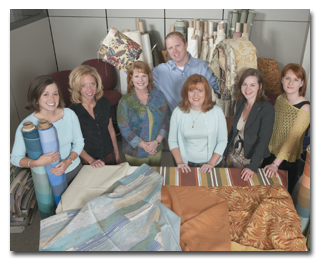 Custom Fabrics design team members (left to right): Anderson Hicks; Claire Madera; Sara
Hall; Greg Voorhis; Gina Wicker; Amy Rochester; and Nicole Ziecik. Not pictured: Jenifer
Borg

The Customer's Customer


In many of the industries served by Sunbrella branded products, the Custom Fabrics
subsidiary's marketing and merchandisers' efforts create value for contractors, architects and
specifiers.
In a recent drive into high-end casual home applications, the company has had the benefit of
easy care, durability and sophisticated style and design demanded by the jobber market.
"It really creates a lifestyle," Ellington said. "There is value in being associated with
Sunbrella." Recent Calico Corners catalogues illustrate the breadth of branding Sunbrella has
achieved, sharing pages with well-known lifestyle brands such as Ralph Lauren Polo home interior
fabrics.
"The consumer is very sophisticated," Ellington continued. "They are plugged into fabrics now
in terms of what performance or benefit the product provides, whether it is in sports apparel or
for boating, awnings or interiors."
And more performance is on the horizon. "Ultraviolet protection enhancement is an area you
will see us push more in terms of value to the consumer," he said.
June 2005