A

t first blush, you ask yourself what could be different about Glen Raven Inc. – what sets
it apart from its peers? Why are these people energized in an industry full of upheaval? What is
this attitude that permeates the organization, from CEO to research and development and throughout
operations? Inside a company celebrating its 125th year in business, with a strong family legacy
and a strong sense of place – these things, while extremely important, are not at the heart of what
makes Glen Raven tick.
After interviewing many involved with various aspects of Glen Raven's day-to-day operations,
the overriding impression is of a lack of entitlement, a lack of ego that says, "We know the right
way," and a lack of fear at a time when the textile industry is full of concern. When Allen E. Gant
Jr., CEO, said to

Textile World
, "Don't talk to me, talk to them [Glen Raven's associates] – they make Glen Raven
successful," one has to wonder, is that a proud CEO or someone who really is pointing you to the
true story?
The people of Glen Raven are definitely the true story, and their success is in their ability
to work in an organization stripped bare of the politics and obstacles that have burdened so many
great companies. Gone are the barrier between makers and sellers, the struggle for control of
assets, and the conflict between information marketers bring into the company and the agenda of the
status quo.
Gant tipped his hand when he pointed to a Harvard Business Review article titled "The Quest
for Resilience," by Gary Hamel and Liisa Välikangas, and the impact Hamel had as a consultant to
the company. In short, Hamel promotes the idea of building an organization that is resilient, an
organization that prospers based on its ability to constantly readjust to turbulent times. Hamel's
research points to a shift in business strategy – one that can no longer rely on the momentum of
sheer corporation size, a strategy that is constantly anticipating and adjusting to "secular trends
that can permanently impair the earning power of a core business."
The catch is to embrace the culture of change with what Hamel calls "zero trauma." In short,
Hamel writes, "The goal is a strategy that is forever morphing, forever conforming itself to
emerging opportunities and incipient trends." He speaks of a company making its future rather than
defending its past. Zero trauma comes into play with the idea that "the goal is a company where
revolutionary change happens in lightning-quick, evolutionary steps – with no calamitous surprises,
no convulsive reorganizations, no colossal write-offs, and no indiscriminate, across-the-board
layoffs. In a truly resilient organization, there is plenty of excitement, but there is no trauma."
Maybe that's why Glen Raven's associates have such positive attitudes.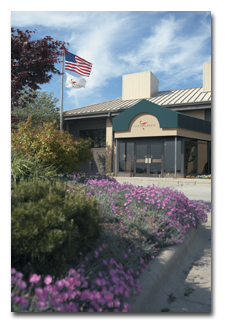 Glen Raven Inc. began operations in 1880 as Altamahaw Mills, with management staying in
dormitory-like quarters during the week and traveling by horse and carriage to spend weekends with
their families.

The Four Challenges


Hamel writes in "The Quest for Resilience" that there are four challenges to becoming
resilient:

• Cognitive Challenge: A company must become entirely free of denial, nostalgia and
arrogance. It must be deeply conscious of what's changing and perpetually willing to consider how
those changes are likely to affect its current success.

• Strategic Challenge: Resilience requires alternatives, as well as awareness – the ability
to create a plethora of new options as compelling alternatives to strategies that are dying out.

• Political Challenge: An organization must be able to divert resources from yesterday's
products and programs to tomorrow's. This doesn't mean funding flights of fancy; it means building
an ability to support a broad portfolio of breakout experiments with necessary capital and talent.

• Ideological Challenge: Few organizations challenge the doctrine of optimization. But
optimizing a business model that is slowly becoming irrelevant can't secure a company's future. If
renewal is to become continuous and opportunity-driven, rather than episodic and crisis-driven,
companies will need to embrace a creed that extends beyond operational excellence and flawless
execution.

Hamel closes the article by writing: "Any company that can make sense of its environment,
generate strategic options, and realign its resources faster than its rivals will enjoy a decisive
advantage. This is the essence of resilience. And it will prove to be the ultimate competitive
advantage in the age of turbulence – when companies are being challenged to change more profoundly,
and more rapidly, than ever before."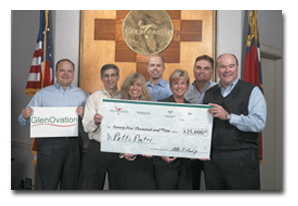 Left to right: Leib Oehmig, director of the GlenOvation program; Dave Swers, Wendy Miller,
Hal Hunnicutt, Patti Bates and Steve Hundgen, winners; and CEO Allen E. Gant Jr.

GlenOvation


"We were so taken with the idea that we hired Gary Hamel to come to Glen Raven and spend a
long time with us. Gary Hamel is chairman of the [Woodside, Calif.-based] Woodside Institute, where
they research innovation," Gant said.
This investment started a new openness at Glen Raven that prioritizes and rewards innovation
throughout the company.
"We brought 400 of our best brains into one room with Gary Hamel. Then we narrowed that down
to our general managers group of about 20. Then we narrowed that down to our executive group. And
by the way, on that first day, we asked people, if they had $25,000, how would they spend it to
improve the company? And to start that day off, I called on five people – they didn't know it [in
advance] – they didn't know who was going to get called on; they didn't even know I was going to do
it," Gant continued. "And so to start the meeting off, I asked, 'Hal Hunnicutt, if you had $25,000,
what would you do?' He stood up and said, 'I would ….' I wrote a check for $25,000 and handed it
to him. I did that with five people. And we invested $125,000 that day, that morning."
That was the beginning of Glen Raven's GlenOvation program – an internal program designed to
involve every associate in the innovation process. Early in its launch, the Glen Raven GlenOvation
program received more than 80 submissions.
"What it did was open people's eyes to the fact that we are serious," Gant said. "People
would ask, 'What is innovation?' Innovation is the ability for people to open their brains and
unshackle them. You don't have a P&L statement to worry about; you don't have this to worry
about; you don't have anything to worry about except what is the best idea that I can come up with
that will improve this company. And when you do that, people start to open up."

Removing The Filters


John Coates, director of research and development, Glen Raven Custom Fabrics LLC, was in on
the development of GlenOvation. "I believe it is absolutely critical – it's wonderful," Coates
said. "We need to pull ideas from everyone in this company. Every one of our employees has had an
idea at some point about how to make something better. I don't care if that is a product or process
– we want those ideas. Ideas normally get filtered. Part of GlenOvation is removing those filters.
You submit ideas to the review team, made up of members from across the globe. That group decides,
'Hey, this could be something.' That group has a budget. If they think you need $5,000 or $50,000
to get started, that group makes the decision and we are off and running. It is that easy."
"Considering the response that we have had from our associates, we are confident that Glen
Raven's vision for furthering an innovative spirit is well underway," said Leib Oehmig, vice
president, industrial sales and logistics; assistant general manager, Custom Fabrics; and director
of the GlenOvation program. "We have seen tremendous commitment from our associates around the
world, and we are now funding several new ideas that have great potential in their intended
markets. As we continue to nurture these ideas and have market success, we feel the momentum will
continue to grow in support of GlenOvation.
"Glen Raven has always been leery of adopting the latest business and engineering program of
the day," Oehmig said. "I feel that Glen Raven has established a great deal of credibility with its
associates, and coupled with the commitment that is being demonstrated by Glen Raven's leadership,
it appears that Glen Raven has avoided this perception. Of course, Glen Raven must continue to
demonstrate its commitment in order to maintain a high level of credibility with its associates. I
think GlenOvation is creating an environment in which Glen Raven associates are looking deeper into
markets where we may be able to add value in ways that have not been pursued in the past.
"Some of the most intriguing ideas that have been generated through GlenOvation have nothing
to do with creating new products; instead [they involve] taking a very different view of adding
value," Oehmig added. "One of Mr. Gant's challenges to Glen Raven associates has been to think much
broader than our current core markets, and much deeper than our current products and services."
"In the end, all we've got is brainpower," Gant said. "Our executive job is to open those
brains up."
"Understand that we have not discovered the Holy Grail, but instead have unlocked yet another
powerful process that will help us to be successful in this turbulent world we live in," Gant
added. "If we work hard enough and make innovation a way of life as a culture, the future may be
brighter.
"We must always be fearful in knowing that poor judgment, slow performance and missed steps
will foul even the best of opportunities. This world is less forgiving today and has a habit of
keeping you humble."
June 2005