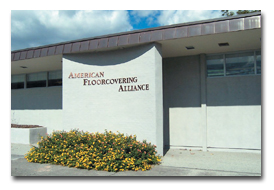 The American Floorcovering Alliance is located in Dalton, Ga.

T
he American Floorcovering Alliance (AFA), located in Dalton, Ga., was formed in 1979 as
the Dalton Floorcovering Market Association (DFCMA) to promote the floor covering industry. The
AFA, which took on its new name in March 2002, promotes the industry's products and services to the
world, and educates members and others through seminars, press releases and trade shows. Membership
is open to any company in the floor covering industry or in a floor covering-related industry.
Financial support comes from membership dues and trade shows. The alliance is governed by a Board
of Directors elected from within the membership.

Benefits of Membership

According to Wanda Ellis, executive director: "Membership means competitive advantage from free
marketing services to an on-line classified section, from a global trade network to group pavilions
at foreign trade shows. These are just some of the many services that members may access as part of
the American Floorcovering Alliance."
The AFA's offices in downtown Dalton provide members with a convenient place to meet clients,
employees or peers and do business in a boardroom environment. "Our members think of our offices as
their offices, and that's just the way we like it," Ellis added.

Marketing Assistance

Throughout the year, the AFA offers a variety of seminars that give the inside track on who's
doing what within the floor covering industry. It also provides its members frequent news releases
relaying opportunities or events that may affect their business. The alliance also provides members
free, up-to-date mailing lists targeted to leading flooring industry manufacturers, distributors,
vendors and others involved in the trade. "What's more, we can assist in the distribution of
promotional literature for your company," Ellis said. The AFA offers member companies a variety of
professional promotional services, which include generating publicity through trade and news media
contacts, preparation and distribution of press releases, free listing of products and services on
the alliance's website, www.americanfloor.org, listing within its membership directory, assistance
in developing trade advertising and advertising opportunities exclusively targeted to the
trade.

Resources

The AFA offers the Flooring Industry Profile Book, an up-to-date reference tool that helps
readers keep track of manufacturing resources and business activities within the industry. The
on-line database includes listings of US and Canadian carpet manufacturers and their plant
locations by state or province. Also included are listings of commission yarn spinners, filament
twisters and heat-setters, dyers, printers and finishers, yarn and fiber dyers, and tufters; and
their plant locations by state.
Ellis offers members her services as the vice chair of the 34-member North Georgia Export
Council – formed to aid the Department of Commerce with trade promotion efforts for the State of
Georgia. These services include access and assistance to a number of resources such as the Georgia
Department of Economic Development, the US Small Business Administration, the Export-Import Bank of
the United States, the Georgia Department of Agriculture, and the Georgia Technical Center for
International Standards and Quality, among others.

Annual Meeting

Members of the alliance are invited to attend its annual meeting, held at the end of the
membership year each October. The meeting features a keynote speaker, Board of Directors elections
and a cocktail party followed by a dinner. Members are encouraged to bring associates to network
with other members.
Nominations for open positions on the board are accepted prior to the meeting, or they may be
made from the floor during the meeting. Any AFA member in good standing may serve as a director.
Directors on the board serve one- to two-year terms and meet four times a year to conduct alliance
business.
"It's a unique opportunity for networking, as well as for having your views heard in regard to
what the alliance can do in the future for you and the industry," Ellis said.
At the end of 2004, the AFA celebrated 25 years of leadership and promotion in the flooring
industry at its annual meeting held at the Dalton Golf & Country Club. In addition to electing
officers for the 2004-05 term, the alliance recognized the following companies as 25-year members:
BB&T; Brown Industries; Caraustar; Carpet Crafts; Global Textile Services; Grass-Tex; Northwest
Carpets; Rogers Finishing; and Shaheen Carpet Mills. Manry & Heston and The Sample Works were
recognized as 10-year members. Burtco Enterprises Inc. was honored by the alliance as Member of the
Year.

Global Trade Show Participation

The AFA sponsors local trade shows for the flooring industry, such as the biennial Floor Tek
Expo, which features machinery, equipment and service vendors for the carpet and rug industry. The
AFA staff coordinates the logistics of all exhibits, accepts reservations and provides other
marketing services for the show. Additionally, the AFA exhibits at such international shows as
Domotex, held in Hannover, Germany; Domotex Asia/ChinaFloor Surfaces, held in Shanghai; and
Surfaces Expo, held in Las Vegas, to promote the products and services of member companies. The AFA
has led a Georgia delegation of floor covering companies to the annual Domotex floor coverings show
held in Hannover since 1998. Participating companies are housed in an AFA-hosted pavilion equipped
with a community lounge, and meeting and exhibit space.
Domotex is one of the world's largest forums for carpet, floor coverings and related products
and services. Display categories traditionally include handmade carpets/area rugs, machine-made
woven carpet, textile and resilient floor coverings, parquet and other wooden flooring, laminated
floor coverings, fibers and yarns, textiles, and natural stone and ceramic tiles.
According to organizer Deutsche Messe AG, the show features more than 89,500 square meters of
exhibition space. The last edition, held in January, attracted 1,226 exhibitors – an increase over
2004 and 2003 numbers. More than 90 percent of exhibitors reported reaching their intended target
groups.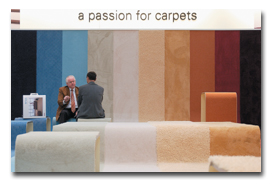 The AFA led a delegation of US floor covering companies to Domotex 2005, held in Hannover,
Germany, earlier this year.
Domotex 2005 offered such special events as the Domotex Workshop, a daily series of
practice-oriented presentations. The Skilled Trades Forum offered visitors a program of discussion
on practical aspects of flooring solutions. The Carpet Performance Showcases provided attendees
with practical hints for the retail shop-fitting sector. Due to an increase in requests for quotes
and product information from visitors to the AFA Pavilion at Domotex 2005, the alliance has decided
to double its floor space at the next edition of the show, which will take place Jan. 14-17,
2006.
The AFA also has participated in the Domotex Asia/ChinaFloor Surfaces show since 1998. It led a
group of companies to the show last month, and plans to attend next year's show, to be held in
March.
The AFA also led a delegation of US companies to Surfaces Expo 2005 – an international floor
covering show that offers exhibitions and a comprehensive conference program that includes
workshops and seminars. The alliance plans to participate in next year's edition of the show, which
will be held Feb. 1-3, at the Sands Expo & Convention Center in Las Vegas.

April 2005