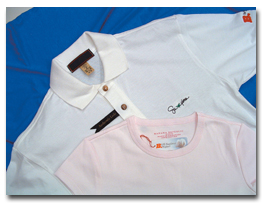 Buhler Quality Yarns Corp. manufactures fine-count ring-spun combed Supima® cotton yarns
used in a variety of branded apparel.


A
chieving relevance in a post-quota environment may seem impossible to those US textile
manufacturers who believe it's all about cost. However, there are insiders who take a different
approach. In a world where trade laws have led to lawsuits pitting buyers and sellers within the
apparel supply chain on opposite sides of trade issues, it's hard to conceive that these
adversaries need to partner to bring fashion and innovation to market. The current power of the US
retailer may be short-lived based on the view that a natural extension of China's rapid growth is
its attempt to capture the entire apparel supply chain competing directly with retailers at home
(in China) and those in the United States by opening or buying into retail operations. Regardless
of the future challenges to retailers such as the demise of the retail category killer, and the
customer's boredom with everyday low-prices, the delivery of fashion benefits from a responsive and
innovative supply chain that starts with fiber.
"I Want The Best Golf Shirt Possible." That request was music to the ears of Jefferson,
Ga.-based Buhler Quality Yarns Corp., manufacturer of fine-count ring-spun combed Supima® cotton
yarns. The request came from New York City-based Polo Ralph Lauren Corp. Polo designs, markets and
internationally distributes lifestyle products under such brand names as Ralph Lauren, Polo Sport
and Club Monaco, among many others. "When Walter Bostic [senior director of technical development
at Polo] asked us to assist him in this challenge of creating the best premium golf shirt, we knew
that we have what it takes to make it happen – 200 years of experience in high-quality yarns
and the desire to continually improve our quality," said David Sasso, vice president, international
sales, Buhler.
"For us, fashion is about creativity and expressing ourselves through the apparel we wear,"
Sasso added. "The apparel we wear most often makes us feel comfortable, and performs in the style
and colors we like. This performance can be durability, color brightness and color retention,
breathability, drape and hand. These parameters can all be measured and engineered into the fabric
by first starting with the fiber selection. I have not seen many garment specifications that go
into the details that would build in these performance factors. How can you build customer loyalty
when your product is inconsistent?"

Extra-Long-Staple-Cotton

Buhler, a very active marketer and manufacturer of high-end yarns, is no newcomer to the
field. A subsidiary of Switzerland-based Hermann Buhler AG, the company strives to maintain a
leadership position in fine-count, combed yarns made from extra-long-staple cotton fiber, using
American Supima cotton exclusively. Supima accounts for about 3 percent of the annual US cotton
crop. Of that 3 percent, equivalent to about 700,000 bales, Buhler buys the top 25,000 bales in
order to achieve the highest standards in yarns. The company's philosophy is not about buying on
price, but rather, buying on quality without compromise. Using 32,000 ring spindles and the latest
in manufacturing technology, Buhler's 120 associates create cotton yarn ranging from Ne 12 to Ne
110 (Nm 20 to Nm 190).
According to Buhler, yarns made of premium, extra-long-staple cotton can be knitted or woven
into softer, finer and more luxurious fabrics. Because of the fineness of Supima, more fibers can
be spun into a yarn of a given count, which enhances the feel and softness, drapeability and color
brilliance of a fabric.
Supima has the highest tensile strength of all cotton fibers worldwide, enabling the
application of finishing methods that no fabric made from other fibers can withstand. The end
effect is a garment with little to no shrinkage, no hairiness and, therefore, no pilling, even
after 20 washings. Costly mercerization of yarns is no longer necessary.

Progressive And Aggressive

"We are progressive, aggressive in our push for new opportunities, and not afraid of speaking
out on what we believe is right and are therefore sometimes at odds with the mainstream textile
industry," said Werner Bieri, president, Buhler.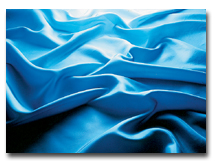 Buhler spins premium, extra-long-staple cotton yarns that are used to knit or weave fabrics
with a luxurious hand.

Buhler is actively pushing for implementation of the Central American Free Trade Agreement
and hopes for quick development of a free trade agreement with the Andean region. According to
Bieri, this is a vital part of the US textile industry's strategy for the years to come. The
company also is focusing on manufacturers in other parts of the world. Buhler believes the textile
industry is the first to have become truly global and that manufacturers in other parts of the
world have very specific advantages, which may not always be available, even in Central or South
America.

Retail Solution Beyond Price

"Development with the retailer is imperative because we want to better understand their
business," Sasso said. "We know that there are price points that our yarns cannot meet. Therefore,
understanding which brands and retailers are sourcing for better goods is critical. Under certain
price points, we find that if the product can be made in a country benefiting from the exclusion of
duties entering the United States, that [landed duty paid] product is very competitive to Asian
goods. What we have to do is help our customers upgrade their quality; and improve the know-how in
dyeing and finishing, and the mentality in this hemisphere when dealing with higher-valued goods."

Stay Open To New Ideas

The mode of operation for most textile yarn manufacturing companies is to offer a specific
group of yarns for sale. "Companies are seldom receptive to suggestions when those suggestions
involve purely experimental processes to prove or disprove a theory in an effort to find the
correct ingredients for a unique yarn or a yarn that has attributes outside the norm," said Polos
Bostic. "I approached Buhler Quality Yarns with untried ideas and, I must say, somewhat radical
ideas for spinning yarns that I hoped would result in a yarn that would allow me to produce a
superior fabric for our designers. Buhler has the machinery and personnel to implement the ideas.
The important part of the Buhler equation is they made the equipment, laboratory and technical
personnel available to me for the experiments and trial spinning projects with absolutely no
guarantee of our work resulting in yarn sales."
"This is an example of the attitude suppliers and customers must have if we as an industry
are to succeed in developing superior products for the consumer," Bostic added.

A Way To Compete

"In the case of Polo, the challenge started with trust in our relationship and our ability to
leverage Buhler's quality and delivery," Sasso said. "It's this type of project and relationship
that separates cost-based sourcing and premium-quality product development. Speed, quality and cost
are all major concerns, but there are areas where US companies can and will compete."
February 2005