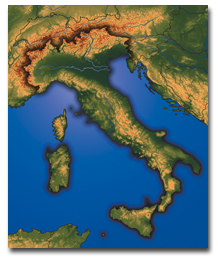 A

t the end of last year, the Milan-based Association of Italian Textile Machinery
Manufacturers (ACIMIT) held a press conference to discuss the organization's activities in 2004,
the outlook for the Italian textile industry in 2005 and the upcoming International Knitting
Machinery Exhibition (IKME).

A Look Back At 2004

According to preliminary ACIMIT figures for 2004, the Italian textile machinery industry saw
production activity last year drop 5 percent, totaling 3,017 million euros. This drop was a result
of reduced internal deliveries and deliveries to foreign markets. Exports dropped 4 percent to
2,293 million euros.
"[T]his situation is the result of various negative factors such as the stagnation in the
domestic market as well as in other important textile markets, the considerable revaluation of the
euro in terms of the US dollar and price increases for raw materials that have had a serious effect
on the accounts of textile machinery companies," Alberto M. Sacchi, Ph.D., chairman, ACIMIT, told
reporters.

Difficulties In The Italian Market

Signs of a slight recovery in certain downstream sectors just after last summer proved to be
false, resulting in domestic demand for machines dropping 35 percent between 2002 and 2004.
ACIMIT also attributed this negative trend to European market stagnation and continued upward
revaluation of the euro in relation to the US dollar.
"We are undergoing a serious restructuring," Sacchi said, "in which company size growth,
internationalization of the company activity and systematic innovation are now the indispensable
competitive tools for strengthening Italian textile machinery companies."
According to ACIMIT, exports are still the largest area of production activity for the
Italian textile machinery sector, making up more than 75 percent of company turnover.

Italy's Main Markets

Asia continued to dominate exports of Italian textile machinery in 2004 and, according to the
association, looks to be the best hope for continued growth in that sector in 2005 and beyond
(See ACIMIT Looks To Asia,
www.TextileWorld.com, November 2004). China accounted for 17 percent
of total exports, or 357 million euros. Exports to India also were up 17 percent compared to 2003,
while exports to Iran and Pakistan rose by more than 75 percent and 57 percent, respectively.
Turkey remains a strong export market, ranking second overall in global exports.
Exports to Eastern European countries such as Poland also were strong, as were sales to
countries such as Syria and Egypt in the Mediterranean region.
In an effort to compensate for a drop in sales to the United States, Italian textile
machinery producers focused on South America. Brazil proved a particularly receptive market for
machinery exports.

Italian Machinery Producers Look To 2005

In presenting its forecast for activity in the coming year, ACIMIT made the following
statement: "[A]ny slowdown in the world economy will inevitably also have a negative effect on
producers of capital goods, especially if this slowdown also affects China, as forecast by certain
important economic institutes. In the textile sector, it appears that the end of the Multifiber
Agreement as of January 2005 will lead to scenarios which have still not been clearly defined. The
end of the quota system established by this agreement could have serious repercussions on the
growth dynamics within various textile industries. The beneficiaries of this new situation will
again be the big Asian sector players, China and India, to the detriment not only of the more
developed industries, but also of the Asian countries which do not have the strength of numbers
which China and India have. There is no doubt that there will be demand for the machinery, which
can increase the quality levels of the finished products. The demand will come from both countries
which want to exploit the strong positions acquired and countries [that] are not prepared to lose
too much ground in the global challenge underway in the textile/clothing industry."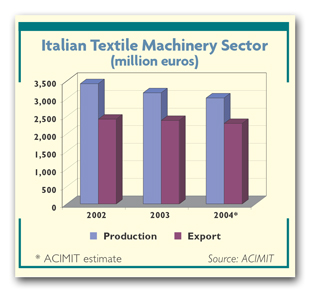 Based on these forecasts, the association believes international demand will be the saving
grace of the Italian textile machinery sector, and much of that demand will come from Asia. It also
does not rule out demand from other countries that may benefit from recently enacted or future free
trade agreements.
"The Italian sector companies must respond very quickly to these market changes or there will
be a major loss of competitiveness," Sacchi said.
Analysis of the data for international sector exchanges has shown that until 2003, Italy was
among the four main textile machinery producers also including Germany, Japan and Switzerland, and
was the only country to acquire market shares within the worldwide panorama.
"Considerable reflection about the current situation is currently in progress," Sacchi added.
"The task of the association must be to provide adequate tools and instruments to interpret the
complexity of the market and to be the spokesperson for the various Italian textile machinery
initiatives with the corresponding institutions."

ACIMIT Activities

Last year, ACIMIT organized international technical seminars, and training courses in Italy.
The association also participated in a number of trade fairs in cooperation with the Italian
Ministry for Production and the Italian Trade Commission.
This year, the association hopes to develop promotional programs in China, India, Indonesia,
Iran, Pakistan, Turkey, Vietnam and Bulgaria, among other countries.
These programs will include Italian textile machinery workshops held in cooperation with the
Italian Trade Commission in Ho Chi Min City, Vietnam; and Bandung, Indonesia. Representatives of
Italian manufacturing companies that export equipment to Indonesia will offer local textile
manufacturers an overview of their newest technologies in the finishing sector. ACIMIT considers
Indonesia an important market Italian textile machinery valued at 12 million euros was exported to
that country in 2004. Spinning, knitting and finishing machines were the most requested.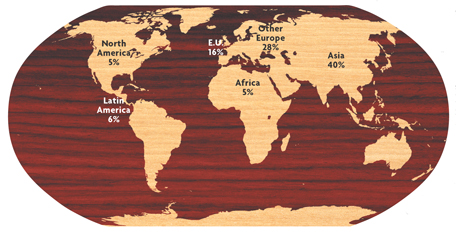 ACIMIT estimate for Italian textile machinery exports by area in 2004

The workshop to be held in Vietnam will focus on the newest spinning and finishing
technologies. Italian machinery sales to Vietnam last year totaled 5 million euros. Weaving and
finishing machines were the most requested.

IKME 2005

ACIMIT also will participate in a number of trade fairs, such as IKME 2005, to be held
November 18-22, in Milan
(See IKME Update,
www.TextileWorld.com, January 2005).
"We are certain that IKME can become a reference point for producers and visitors from
Europe, the Middle East and the Mediterranean area, areas to where about 50 percent of [Italian]
exports are destined," Sacchi told reporters.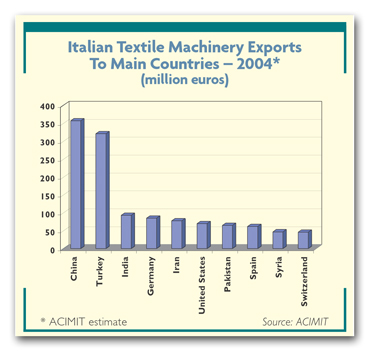 "It will be an innovative trade fair [that] will highlight the synergies among operators from
the various production process aspects," he added. "These synergies will also be created through
the involvement of our companies' customers in the definition of a trade fair structure [that] can
capture the attention of the visitor [by demonstrating] new and innovative products by using the
technological applications on [display]."
February 2005