E

xhibitors in the fabric-forming sector – like the yarn, wet processing and quality
control companies surveyed in last month's article – felt that quality made up for lack of quantity
at the American Textile Machinery Exhibition-International® (ATME-I®) 2004, held at the Palmetto
Expo Center, Greenville
(See "
ATME-I®
2004: Smaller, But Worthwhile," November 2004)
.
"Our expectations for the 2004 show were tempered by the ATME-I 2001 experience," said Barry
Kelly, sales representative, Mayer Textile Machine Corp., Clifton, N.J. "Generally, the 2004 show
was better attended with managers and owners seriously searching for means of survival in the
coming business cycle. The warp knit segment of the textile industry continues to struggle, but the
survivors should come out stronger in the end."
Luciano Corain, president and managing director, SMIT S.p.A., Italy, noted that despite some
negative pre-show press, SMIT had customers looking for new equipment at its booth.
"The controversies among the organizers of the show have damaged the presence of exhibitors
as well as of visitors, influenced by the negative advertising spread from the companies which
decided to refrain [from exhibiting at ATME-I 2004]," Corain said. "In any case, the meetings with
customers with investment plans were better than expected."

Knitting Equipment Has Strong Presence

Germany-based Mayer & Cie GmbH & Co. KG demonstrated two circular knitting machines
in Greenville – the MV 4-3.2 II and the FS 2.0. The MV 4-3.2 II shown was a 44-cut, single-jersey
machine with an open-width fabric cutter and take-up. It had black-and-white Lycra® wheels, which
appear gray when the yarn is running but are clearly black and white if the yarn breaks. The FS 2.0
shown was a 30-inch, 14-cut double-knit machine. It featured electronic tape feed for improved
control of yarn input.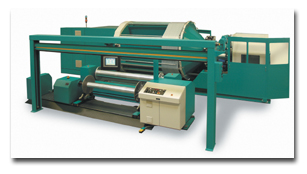 The Gir-O-Matic sample warper from Karl Mayer Textilmaschinenfabrik


Karl Mayer Textilmaschinenfabrik GmbH, Germany, demonstrated two machines: the Karl Mayer
Malimo weft-insertion machine with an advanced weft-insertion system for producing technical
fabrics; and the Gir-O-Matic (GOM) sample warper. Introduced at ITMA 2003, the GOM still got
serious attention from US weavers.
The company's newly designed 213-inch Malimo weft-insertion machine is designed on the
raschel warp-knitting machine platform and incorporates the new weft-insertion method. It is
capable of speeds of up to 1,600 revolutions per minute (rpm), according to Karl Mayer. The new
weft-insertion method uses a precisely controlled, horizontally reversing system for weft yarn
transfer into the weft chain hooks along with a weft yarn tension-compensating device – both
servo-motor-driven.
The GOM warper is capable of production speeds of up to 1,200 meters per minute (mpm), an
increase of 25 to 40 percent for single-colored warps with simple repeats, and 200 to 600 percent
for colored patterns, according to the company.
Charlotte-based Memminger-IRO showed its complete line of feeders, drives and accessories
including the MPF L feeder, Yarn Meter MLT WESCO, MCF Combi-Feeder and MRA motor drive belt. The
MPF L, the latest generation of the MPF Memminger positive feeder for circular knitting machines,
has an open-design clutch that is easily removed for cleaning. An integrated antifilamentation
device has a U-guide at the output that can be engaged in two positions. The unit makes knitting
with very low tension – up to 1 gram – possible, according to the company.
Italy-based Orizio Paolo S.p.A. demonstrated its BS electronic single-knit, circular knitting
machine for separated seamless garments. The eight-feed machine has electronic needle-by-needle
selection, obtained by means of eight or 16 piezo-ceramic, 16-level actuators. Each feed is fitted
with groups of six independently controlled yarn carriers (four striper fingers). The machine has
modest floor space requirements, and is designed to give knitters a lean production capability to
produce an almost finished garment.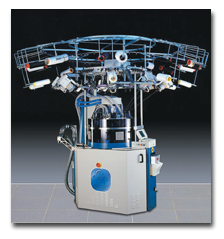 Orizio Paolo's BS electronic single-knit circular knitting machine knits separated seamless
garments.
Monroe, N.C.-based Nova Knitting Machinery and Taiwan-based Pai Lung Machinery Mill Co. Ltd.
shared an active booth. The companies demonstrated several circular and collar knitting machines
including the KS3B, Elite 72, KS4B-HS and XCSJ/CS3-AP. The KS3B, an ultra-high-speed, single-jersey
three-track machine, was shown in 28 gauge with 102 feeds. The Elite is a 72-inch, 12-cut,
single-cam tandem carriage collar machine. It is computer-controlled and features a touch screen.
The KS4B-HS, an ultra-high-speed, single-jersey, four-track machine, was shown in 22 gauge with 80
feeds. The XCSJ/CS3-AP is a single-knit, electronic, full jacquard knitting machine that was shown
in 24 gauge with 72 feeds.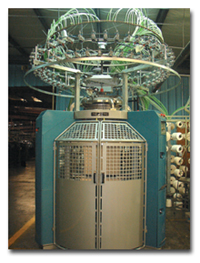 Pai Lung Machinery Mill Co. Ltd. displayed the KS4B-HS knitting machine at the
show.

Weaving Technology

Becomes More Versatile

Alexander Machinery Inc. (Alexco), Simpsonville, S.C., showed a center-wind take-up for plush
fabrics. The unit doesn't crush high pile fabrics and also can be used for terry toweling. Alexco
also showed a slimline railway sewing machine and an innovative non-textile device – an adaptor for
three-point tractor hitches.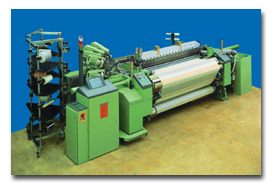 Lindauer Dornier displayed the PTS 8/S rapier weaving machine at ATME-I® 2004.
Germany-based Lindauer Dornier GmbH drew crowds with the latest generation of its air-jet
(type AS) and rapier weaving machines (type PS).
The rapier weaving machine, type PTS 8/S – a 190-centimeter machine with eight colors – was
shown weaving a "fantasy fabric," which used a wide variety of filling yarns at speeds of up to 600
rpm. The filling yarns included sensitive, non-reinforced Lurex®, 22-denier fine monofilament,
0.1-millimeter (mm) metallic yarn, 5-mm narrow ribbon tape and various fancy yarns.
"This shows the possibilities and the flexibility of the rigid rapier, especially with a wide
variety of sensitive filling yarns," said Peter Brust, executive vice president, American Dornier
Machinery Corp., Charlotte.
The company also showed a 360-centimeter double-width air-jet machine producing a leno fabric
on one side with a 22-decitex (dtex) monofilament, and a 78-dtex filament yarn on the other. It was
equipped with the company's EasyLeno® system, which can be used on Dornier air-jet and rapier
machines to make glass leno, curtain fabrics and carpet backings.
Switzerland-based Grob Horgen AG showed heddles with a new thread-eye dimension for the
increased performance requirements of modern weaving machines, and for the provision of exact shed
formation with precise warp yarn guidance through the heddles.
According to the company, its new 6.5-mm by 2.5-mm thread eye dimension gives an optimized
solution. The height of 6.5 mm offers an advantageous and far more precise vertical shed control of
warp yarns than is possible with 8-mm thread-eye height, according to the company. The width of 2.5
mm facilitates a smooth passage of warp yarns through the heddles with minimized friction.
Mageba Textilmaschinen GmbH & Co. OHG, Germany, displayed its complete range of warping
machines, narrow fabric weaving machines, dyeing ranges, measuring and winding equipment,
festooning machines and edge-layering machines. Equipment shown included the BSC warping machine,
MN 8/30 series needleloom, MN 2/70 HW heavy-duty weaving machine for webbing, and the SFX III
12/30-JS jacquard loom equipped with a Stäubli three-position jacquard mechanism.
Switzerland-based Jakob Müller AG exhibited three narrow fabric machines at the show: the
MDR42 warp crochet knitting machine with weft insertion electronically controlled for patterned
elastic and non-elastic narrow fabrics and lace articles; the NG3 high-speed narrow fabric loom for
light to moderately heavy belts and tapes; and the LCFR label cutting and folding rotary machine
for the high-speed processing of woven labels.
SMIT demonstrated two GS900 rapier weaving machines in Greenville. The first was shown at the
SMIT booth producing a polyester/nylon conveyor belt fabric at 600 picks per minute (ppm). The
second was shown at the Stäubli booth weaving a jacquard upholstery fabric at 550 to 650 ppm. This
fabric had a polyester warp and three types of filling yarn including acetate, viscose and silk.
Both machines displayed were sold and will be installed in the United States.
The GS900 is the next generation of the award-winning G6300 weaving machine and offers
several refinements including an improved rapier, which is closer to the reed for improved
efficiency; a new take-up system; a modified backrest system; and improved dynamic behavior.
To complete its product range, the company also has available a terry version, the G6300 F,
and the JS900 air-jet weaving machine built on the same common platform.
"Our philosophy is to make a machine that can perform in any country for any application at
an economical price due to the modularity of its construction," Corain said. "The US market
in particular wants a machine suitable for more different applications."
SMIT had visitors from the United States, Mexico, Ecuador, Colombia and Guatemala.
Stäubli AG, Switzerland, had one of the busiest booths at ATME-I. The main draw was the
company's Unival 100 electronic jacquard head, which controls individual warp ends using a stepping
motor. The revolutionary design of the Unival 100 eliminates the need for hooks, knives, magnets
and pulleys, because each harness cord or heddle is directly attached to a stepping motor.
With Unival, shed height can easily be set, and several sheds can be formed. All settings can
be entered electronically without mechanical adjustment. Another advantage of this system is its
independence from the weaving machine drive. The unit has its own drive, and there is no mechanical
drive connection to the weaving machine.Van de Wiele Group, Belgium, showed an array of carpet and
velvet weaving machines including the new MAX63, UCL83 and CRX82 for carpet, and the VTR33 for
velvet.
The MAX63 produces carpets using the Axminster technique. It can handle up to 16 color
frames. The machine's features include patented bearing-free grippers and a touch-screen user
interface. Production speed is 160 to 200 rpm, according to the company. The award-winning UCL83 is
a three-rapier, carpet-weaving machine capable of simultaneously creating flat weave effects, cut
pile, short loops or long loops all on one carpet. The CRX82 is a double-rapier carpet-weaving
machine that offers 15- to 20-percent greater production capability than the previous generation.
The VTR33 jacquard velvet-weaving machine has a production output 20- to 30-percent higher than
current jacquard velvet models, according to Van de Wiele.

Nonwovens Machinery Offers New Features

Dilo Systems Group, Germany, had one of the largest booths at ATME-I and shared information
about its Hyperpunch and Hyperpunch DI-LOUR needlelooms. The DI-LOOM OUG-II HVSCL Hyperpunch double
needleloom is designed to produce high-quality felts for applications such as man-made leather,
automotive interior linings and technical felts. Its features include kinematic elliptical needling
for low-draft needling and minimal dimensional changes. The loom has DBF feed rollers with
individual drives for optimum precompression of batt and preorientation of fibers. The DI-LOUR IV
dual structuring process increases productivity by doubling the throughput speed, improving the
pile stability by increasing pile density and offering improved patterning options.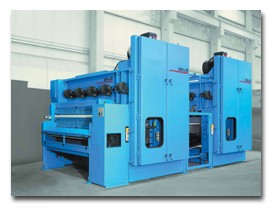 At ATME-I® 2004, Dilo Systems Group presented information on the DI-LOUR IV
needleloom.
Austria-based Textilmaschinenfabrik Dr. Ernst Fehrer AG presented information about its
NL11/Twin-SE Carpet Star® structuring needlepunching machine. The machine is designed for the
production of high-quality rib and velour products using two independently operating needle zones.
These allow the creation of a totally new range of large-scale repeats at previously unattainable
speeds, as well as patterned carpets with a surround or borders on all sides. In addition, this
technology enables production of hobnail patterns at three times the production speed of a
single-board machine, and a combination of rib and velour patterns in one carpet and in a single
pass, according to the company. Fehrer also called attention to its NL21/SRV SuperLooper, which can
produce an innovative rhombic velour design for automotive carpeting.
Fincarde S.p.A., Italy, conferred with customers about its complete line of high-speed
nonwoven cards and crosslappers that can be coupled with a variety of bonding technologies
including needlelooms, hydroentangling machines and thermal bonding equipment. One example is a
card that has an air-management system to prevent fiber buildup at the roller ends. Each doffer is
equipped with a randomizer that can easily be changed over to a rotary comb for the production of
randomized webs and directional webs on the same machine.
Fleissner GmbH, Germany, advised many potential customers about its nonwovens machinery
including the well-known AquaJet spunlace system for nonwoven textile and carpet backing. There was
much interest in the company's new process for bonding carpet backing using AquaJet for latex-free
carpet production
(See "
Latex-Free
Tufted Carpets," November 2004). Bonding the primary and secondary backing without using
latex yields a recyclable carpet.
Commercial and residential interior designers are increasingly looking for fully sustainable
materials. One of the major trends in this area is the move to a cradle-to-cradle cycle instead of
a cradle-to-grave cycle, in which carpet or other interior textiles eventually wind up in a
landfill. The ideal is to come up with materials that have no final resting place
(See "
Survival
Tactics," March 2003).
France-based NSC Nonwoven presented information about its complete line of nonwovens
machinery including the CA12 card, AirWeb®, self-regulated ProDyn® system, Ouat!sys® and A.50 rib
needleloom. The ProDyn system continuously and automatically optimizes both machine direction and
cross-direction evenness, and corrects deviations from the target weight of the final
nonwoven product. The system includes the NSC scanning gauge unit at the end of the production
process. One of the key advantages of ProDyn is fiber cost savings, according to Jean-Noel Cozon,
vice president, N. Schlumberger (USA) Inc., Fort Mill, S.C. "You can tune the basis weight close to
the bottom limit instead of the average," he said. "The lower basis weight allows you to save huge
amounts of fiber, which is up to 70 percent of the cost of most nonwovens. This is money straight
to the bottom line."
NSC's Ouat!sys is capable of increasing the crosslapper speed by more than 30 percent
depending on the fibers, if the rest of the nonwovens line can accept the speed, according to the
company.

Specialty Suppliers Offer Solutions

AB Carter Inc., Gastonia, N.C., showed its S-2000 rings for high-speed spinning, Mesdan air
splicing systems and laboratory testing equipment. The S-2000 rings offer significant surface wear
advantages compared to standard steel rings. These advantages include extended ring life,
consistent spinning performance and improved traveler life, according to the company. AB Carter
also reported a lot of interest in Mesdan air splicing equipment including a new carpet yarn
splicer.
Eldon Specialties Inc., Graham, N.C., exhibited ceramic yarn guides, tension devices,
injection-molded package adapters and creel adapters, creel caps, rollers, air-assist suction guns
and other parts for textile machinery.
Spain-based Electro-Jet S.A. showed its Rovematic ADR automatic roving frame. The company
also exhibited its line of traveling cleaners, bobbin cones and automatic transport systems,
palletizing machines and automatic packing lines.
HSGM Heatcutting Equipment and Machines Inc., Duncan, S.C., demonstrated hand-operated and
tabletop heat cutters and heat-sealing equipment, soldering guns and styrofoam-cutting equipment.
Cutters often are customized to meet specific customer needs, according to Sigrid Axford, vice
president, HSGM. The company's equipment is widely used in the aerospace, technical textile,
geotextile and marine markets.
Greensboro, N.C.-based Industrial Air Inc. showed modular HVAC and air filtration systems
including Clima-Cell® custom air handler and filtration units, pneumatic conveying, waste
collection and custom controls. The company serves the nonwovens, tobacco, pharmaceutical, carpet
and textile industries. Each of its installations is custom-designed.
Jacobi (C-Port GmbH), Germany, shared information about its automatic traveling cleaners,
bobbin conveying systems, and patented group and single suction devices. Highlights include a new
automatic traveling cleaner for chenille spinning frames, a bobbin transport system and a central
vacuum system for loom cleaning. Jacobi's cleaner for chenille frames runs on the floor and is
connected directly to the machine by a guide rail. This brings the blowing nozzles very close to
drafting equipment, cutters and spindles to keep these areas clean from fiber fly and waste.
Ontario-based Jomar Softcorp International showed its Web-based enterprise and e-business
application suite including Internet technology, supply chain management, enterprise resource
planning, financials, business intelligence and image processing.
Kellett Enterprises Inc., Greenville, exhibited its LP-13 patented, three-layer, shake
absorber machinery mounting pad. It prolongs machinery life, reduces maintenance costs and dampens
vibration better than competing products, according to the company. Kellett also announced a
partnership with Austin, Texas-based Rumber® Materials Inc.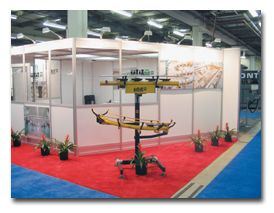 U.T.I.T. Wagner Automation displayed examples of its automation and palletizing
systems.
U.T.I.T. Wagner Automation S.p.A., Italy, displayed examples of its automation and
palletizing systems. The company's system for transporting bobbins and yarn packages garnered the
most attention from visitors. The bobbin and package transport systems offer high flexibility and
adaptation to existing building and machinery; differences in height easily managed by the use of
spiral track; realization of overhead buffer storage to handle several different yarn counts at the
same time; and high transportation capacity, according to the company.
U.T.I.T. has several US installations and reports major new installations in
Italy.Spartanburg-based Otto Zollinger Inc. demonstrated its well-known OZ® yarn tension control
device. The ingenious ball gravity tension control is used in a wide variety of textile operations
including warping and weaving. According to the company, advantages include constant uniform
tension, reduced yarn breaks and a quick return on investment.
Spartanburg-based Otto Zollinger Inc. demonstrated its well-known OZ® yarn tension control
device. The ingenious ball gravity tension control is used in a wide variety of textile operations
including warping and weaving. According to the company, advantages include constant uniform
tension, reduced yarn breaks and a quick return on investment.
December 2004