V

isit Wix Filtration Products' Gastonia, N.C.-based Allen Plant and you'll find 600,000
square feet of manufacturing floor space dedicated to merging nonwovens filter media and metal
fabrication into state-of-the-art filtration technology. The plant, WIX's largest, employs between
900 and 1,000 workers and is the largest consumer of filtration media in the United States. The
Allen Plant also consumes 1.7 million pounds of steel every seven days. Since opening in 1966, the
air-conditioned plant has expanded twice. Current capacity allows the plant to churn out 3,800
different parts, typically adding 200 new parts per year to the product line.
The manufacturing process blends automation and manufacturing cells to deliver a broad range
of filtration solutions. The process moves from virgin flat steel to can drawing, where the
filter's steel pressure vessels are formed through progressive drawing and stamping – forming the
ubiquitous seamless steel pressure vessel that houses the filter media. At another cell, metal
stamping is used to form components with some parts running through automated threading mills that
cut threads into filter bottom plates. Filter media with various specifications are pleated – some
layered with wire screen at the pleater or with additional filter media based on filter design –
and cut to size for the final assembly process.
Final assembly brings together media, engineered internal components and the pressure
vessel. The manufacturing line continues with exterior painting and labeling. Seals are inserted on
the exterior of the mounting plate, and the finished units are tested prior to automated packing of
the canister-style spin-on filters for delivery.
The Allen Plant also manufactures various cartridge-style filters that utilize specialized
plastisol-based processing for seamless affixing of the media to the end-rings in manufacturing – a
unique attribute of WIX technology. Other mounting chemistry can be used to meet specifications for
a particular filter cartridge end-use.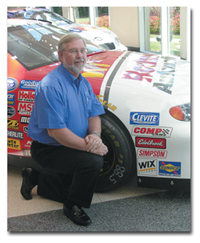 Chris Greeson, senior technical service manager, WIX Filtration Products

Industrial Hydraulics

WIX, with a long history in mobile hydraulics filtration, sees industrial hydraulic
applications as an opportunity to expand current mobile offerings, as well as to offer appropriate
technology to a new market. According to the company, contaminated hydraulic fluid is the root
cause of more than 70 percent of all hydraulic system failures. WIX entered the industrial
hydraulics market last year and its line continues to grow.
"The hydraulics arena provides WIX with a good growth area,"said Bruce Johnston, brand
manager, WIX Filtration Products. The company will use its broad distribution network of auto parts
suppliers to service and make industrial hydraulic filtration products available to manufacturing
plant locations.
"We entered the hydraulic filter market because, frankly, we have a lot to offer," said
Chris Greeson, senior technical service manager, WIX Filtration Products. "As a company, we have
made terrific engineering advances in our heavy-duty filter line – many of which have been
incorporated into our industrial hydraulic filters." When asked about his dream filter media,
Greeson said: "It's about media development and compositions that meet customers' needs.
Multi-layer, waterproof – with the ability to run 4 to 5 microns with 30- to 40-gallon-per-minute
flow and less than 1-psi [pound per square inch] drop – but we need faster development without
nonwovens suppliers being nervous."
The industrial hydraulic products will focus on return side applications, typically running
to 300 psi, with the largest filter measuring 39 inches tall by 6 inches in diameter. WIX is fully
equipped to meet beta ratios specified by plant engineers for their applications, and also offers
fluid analysis.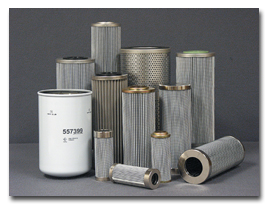 WIX has expanded its current mobile offerings by adding industrial hydraulic filters to its
product line.

Separating Water From Compressed Air

In a separate industrial application, WIX's AquaChek product is making inroads in the
compressed air filtration market, where moisture is a problem – often causing corrosion and valve
failure.
The product is based on filter media technology that captures water molecules present in
compressed air. Polymers in the filter media react with the water molecules, encapsulating them and
making the moisture semi-solid. The trapped water cannot re-release into the compressed air stream,
and the filter can retain up to 50 times its weight in water – from 10 to 90 ounces depending on
filter size.
AquaChek is reported to operate at from 15 to 200 cubic feet per minute at a maximum
pressure ranging from 125 to 250 psi. At full saturation, the filter will create no more than a
0.5-psi drop in pressure and has a useful life not to exceed six months, depending on system and
environmental conditions. As WIX reports, "In real world applications, users have reported as much
as a four-fold increase in tool and equipment life and a dramatic reduction in corrosion-related
maintenance and repair."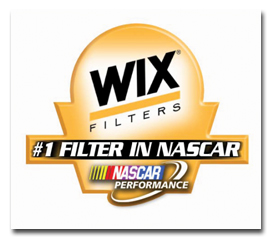 WIX
Goes Racing

Few sports have the notoriety and marketing advantages that the National Association of
Stock Car Auto Racing (NASCAR) enjoys. WIX's involvement with racing started in 1968, and in 1996,
WIX became the officially licensed filter of NASCAR. In recent years, WIX has put filtration
technology to work, teaming up with Joe Gibbs Racing to protect drivers from the harmful effects of
carbon monoxide, soot and debris encountered while racing. The company reports that WIX and Joe
Gibbs Racing are making the patented technology available to all drivers and teams in NASCAR.
"Our commitment to research and development combined with our focus on manufacturing the
most technologically advanced filters on the market not only give NASCAR drivers and teams a
competitive edge, but they also give our heavy-duty and hydraulic customers an edge as well," said
Johnston. "Because our filters stand up to the most rigorous race conditions, you can rest assured
that WIX filters will provide optimum filtration performance and protection for any piece of
machinery or equipment."



November 2004