O

maha, Neb.-based Berkshire Hathaway Inc.'s subsidiary Shaw Industries Inc., Dalton, Ga.,
continues to expand its presence in the branded marketplace through its Shaw Living division, with
an emphasis on comfortable style backed by designer names and the latest in manufacturing
technology. The well-known Shaw Rugs division was expanded and renamed Shaw Living in late 2003. At
that time, Jeff Meadows, vice president, Shaw Living, proposed a five-part brand strategy centering
on design, color, quality, service and innovation. The division focuses on sales through
independent outlets and mass-market multi-store chains. The two channels are handled by separate,
independent sales teams within the division.
When Shaw Living was established, Meadows said the target for mass-market sales would reach
70 percent of the division's revenue, and by mid-2004, he updated his projection to say mass-market
sales would be above 50 percent by next year.
John McLeod joined Shaw Living in August 2004 as vice president of sales and marketing, with
responsibility for the mass-merchant distribution channel. Industry observers have commented that
his appointment signaled Shaw Living's reinforced attention to the home textiles and mass-market
channels.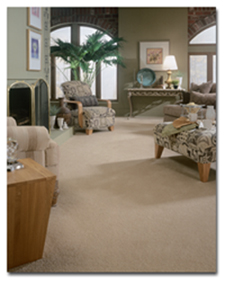 Shaw Living offers a variety of carpet designs that appeal to a broad range of
consumers.

Brand Portfolio

Building a brand portfolio with names such as Kathy Ireland, Mary-Kate & Ashley, Jack
Nicklaus, Phillip Crowe and William E. Poole, Shaw Living offers a breadth of rug designs that
appeal to a broad cross section of consumers. Kathy Ireland's collection is described as offering
value and being family-friendly, durable and fresh. Within her collection, lines such as Young
Attitudes extend design solutions for youth and family.
The trendy Mary-Kate & Ashley line is directed to young women. Designs are characterized
as "funky florals, bold geometrics and stunning motifs" in vivid colors.
Golf legend Jack Nicklaus' line features 23 designs in high-end wool and a "dedication to
traditional excellence and perfection." Eighteenth-century Persian- and European-inspired designs
offer a look of timeless antique quality. Nicklaus also has established home accent and furniture
designs with Drexel Heritage.
The work of wildlife artist Phillip Crowe inspired a line that realistically illustrates
popular outdoor subjects. "Ducks flying above a foggy marsh, retrievers awaiting their master's
call, and a deer running through snow-covered fields" are descriptions from Crowe's promotional
material. In addition, the Phillip Crowe-Estate collection reflects other outdoor activity. Images
inspired by Native American art and European hunting scenes round out a collection marked by names
such as English Estate, Kennett Square and Foxglove.
A home designer with a Southern flair, William E. Poole is creator of New Classics, a line
said to reflect Poole's "classic style that brings stately elegance to any era and any setting."
The line features patterns with location names (such as Essex, Richmond and Williamsburg), and
reflects design that blends "culture past and present" with an ever-present sense of home.
Regardless of one's design sense, it isn't difficult to see that the collections, taken as a
whole and extended even further with an array of other Shaw Living offerings, present a range of
products for the consumer that spans masculine to feminine, young to old, country to urban, and
classic to contemporary tastes. Shaw Living's branding strategy establishes quick preference
opportunities through the star value of the designers, as well as through solid product execution
for delivery through independent outlets and mass-market multi-store chains.
From a technology standpoint, Shaw appears to be adding woven rug capacity and has a
continued focus on high-quality products made with increased manufacturing productivity.
Flexibility, from design to execution; and the ability to handle color, texture and cut loop are
just part of the picture. One industry expert noted that today's jacquard technology has been a
great success, particularly in that it makes the end product look more and more handmade.
With estimated sales of $300 million by the end of 2005 versus Shaw Industries' estimated $4
billion total, one would think Shaw Living is of minor interest, but, as an industry executive
said, "It's not about the total revenue, it's all about the margins."

---

Van de Wiele: New Generation In Carpet Weaving

Introduced at ITMA 2003, Belgium-based Van de Wiele's Carpet & Rug eXplorer CRX has
drawn the attention of the US floor covering industry. The CRX is a face-to-face carpet weaving
system that makes two carpets simultaneously, woven face-to-face, and cuts them apart through the
middle.
The new weaving machine is designed for high-production output obtained by high weaving
speed and high weaving efficiency. In comparison to the previous generation of face-to-face carpet
weaving machines, Van de Wiele estimates the CRX has increased production by 15 to 20 percent.
The CRX is equipped with an air-cushioned rapier guiding system. According to the company,
the conjugated cams, which drive the rapier, knife and reed motions, are optimized to allow more
stable operation. The beam let-off on the CRX is of the continuous type, permanently adapting the
rotational speed of the beams to the quantity of yarn that remains on the beams.
A user-friendly Human Machine Interface (HMI) features a touch screen with graphical menus
to control the weaving machine.
The pile yarns are controlled by a new-generation MJ electronic jacquard machine that has a
compact selector with a reliable and full electronic selection principle that uses no springs,
levers or pivots. Power is supplied to the solenoids by current drive technology, ensuring solenoid
selection at all temperatures and reducing heat generation in the jacquard.
A further Van de Wiele development is a new type of harness spring. The springs are
covered to protect against infiltrating dust. According to the company, this makes them very
suitable for weaving woolen pile yarns. The advantages, compared to using lingos for the harness
return, are higher speeds and a smoother-running machine.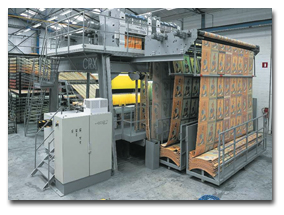 Van de Wiele's Carpet & Rug eXplorer CRX face-to-face carpet-weaving system
The CRX82 is a double-rapier carpet-weaving machine that enables weaving of double- and
single-rapier weave structures.
The CRX82 also is equipped with an electronic jacquard machine featuring MJ technology. One
CRX82-420 can have a jacquard capacity with up to 24,192 solenoids, enabling weaving of new
qualities such as reed 700, 8 colors; and reed 500, 10 colors.
The CRX83 three-rapier carpet-weaving machine is the most flexible, according to the
company. It has the ability to weave triple-, double- and single-rapier weave structures. With a
triple-rapier weave structure, the CRX83 enables 50 percent more production than the old three-shot
double-rapier weave structure.
Van de Wiele also reports that demand from the carpet market has propelled industrial carpet
weavers to offer a broad range of qualities. The carpet woven on the three-rapier Universal Cut and
Loop UCL83, with a weaving width of up to 4.20 meters, can have simultaneously cut pile, short
loops, long loops and flat weave effects. The carpet is woven according to the face-to-face
technique. The top and bottom rapiers insert the fillings for the ground structures of the carpet.
The middle rapier inserts "dummy" fillings in between lancets to hold the loops. These dummy
fillings are automatically removed again from the carpet during the weaving process.
According to Van de Wiele, the production output on the Universal Cut and Loop UCL83 reaches
up to six times the production output of a conventional Wilton wire weaving machine. The UCL83 also
is extremely flexible, because at each pile selection point, the designer may choose between cut,
loop and flat weave. On the other hand, typical one-, two- and three-shot structures are possible.
The UCL83 can even weave sisal-look carpets with or without cut pile.
Van de Wiele's new Master in Axminster MAX63 Axminster weaving machine accommodates numerous
designs in up to 16 colors. This robust machine and electronic jacquard offer the flexibility to
produce multicolor carpets without incorporated pile. The Master in Axminster MAX63 is not only
suited to the contract market, but also can be used for such applications as carpets with thicker
yarns and high pile height.



November 2004