B

ringing a product to market often involves collaboration among several entities that
constitute a chain of manufacturing processes. In the textile industry, one of the first links in
that chain may be a base material provider such as American Fibers & Yarns Co. (AF&Y), a
Chapel Hill, N.C.-based manufacturer of solution-dyed specialty yarns used in a variety of consumer
and industrial applications. Further downstream might be a fabric producer such as Culp Inc., High
Point, N.C., which weaves the yarn into upholstery fabric that it sells to furniture makers such as
La-Z-Boy Inc., Monroe, Mich., best known for its popular recliners. La-Z-Boy then offers its
furniture in the marketplace.
The base material – the yarn – not only must be suitable for the fabric construction, but
also must comply with the requirements of the end-product manufacturer and its targeted market. The
base material provider may also develop marketing strategies and materials that assist
downstream users in their sales and marketing efforts.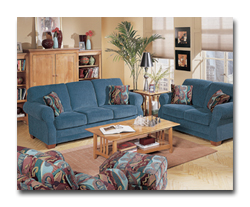 This sofa and love seat from La-Z-Boy's Signature Select series are upholstered with Culp's
Brigadoon chenille fabric, made with American Fibers & Yarns' Marquésa Plush yarn.



Creating A Niche

Over its history, AF&Y has developed thousands of different yarns. "We are a custom yarn
business," explained James T. "Jim" Morelli, executive vice president. "We presently have a color
palette of more than 7,000 colors and growing. We tailor yarn development to the application,
engineering the yarn to provide the inherent qualities specified."
AF&Y has positioned its yarns to be an economical yet better-performing alternative to
yarns made from polyester, nylon or acrylic. Some of its products have been engineered to resemble
luxury natural fibers including cotton, wool and silk.
The company's biggest market is residential home furnishings, followed by contract fabrics
for hospitality, healthcare and commercial markets. AF&Y has developed several lines of yarns
to serve these various markets. Prominent among these is Marquésa®, a luxury line whose diverse
styles mimic certain properties of other specific fibers or provide additional aesthetic
attributes. Among its variants is Marquésa Plush, which combines the soft hand associated with the
best acrylic yarns with all the positive benefits of its olefin base – all at a lower price than
acrylic. Marquésa Plush lends itself to use in velvet and chenille upholstery fabrics.

Collaborative Effort

New products frequently are developed at the behest of one of AF&Y's customers. The
development becomes a collaborative effort, in which the customer's needs are analyzed and
AF&Y's expertise is put into play to realize the qualities required.
"When a customer approaches AF&Y with a concept for a new program, we have to consider
why consumers choose certain fibers," Morelli explained. "We would then backward-engineer to
emulate those attributes, while maintaining the normal attributes of our yarns. Everything we look
at is 'aesthetics plus' – emulate the look, but bring the extra performance, inherently. That might
entail a change in construction as well as a change in fiber."
A case in point is the development of new Marquésa Plush yarns that Culp is weaving into
chenille fabrics used to upholster La-Z-Boy furniture. "In this situation, La-Z-Boy wanted the look
and feel of traditional chenille on its frames, but with inherent cleanability," Morelli said.
"AF&Y manufactured a yarn to deliver those features."
Morelli said the yarns are especially well-suited for chenille and velvet fabrics, in which
they take on the fiber-tipped qualities of those fabrics during the finishing process. "The
chemistry of the fiber in combination with the fabric finish enhances the look and softness of the
fabric. Most other fibers would lie down after such finishing," he explained.


Culp and AF&Y have worked together for many years, according to Liam Waters, head of
marketing and design, Culp Decorative Fabrics Division. "We converted to most of AF&Y's warp
yarns about three years ago," he said. "When they came along with Marquésa Plush, it was a perfect
marriage because we were already using Marquésa warps. Now we can make a 100-percent Marquésa
fabric, which means it is bleach-cleanable." The inherent no-stain property is an environmental
advantage because there is no need for a stain-resistant coating, he added. "It is inherently
repellent, like a cabbage leaf that repels the rain."
Waters said the Plush yarn Culp is using came about through a series of development meetings
and is exclusive to Culp's flat woven chenille fabrics. "AF&Y brought the yarn to us," he
explained. "Together we developed the luster level we wanted. The yarn has been engineered so that
the pile is oriented during finishing to give it reflectivity."
Culp is a long-time supplier of fabrics to La-Z-Boy, which uses fabrics from both Culp
Velvets and Culp Decorative Fabrics Divisions in all of its upholstered furniture lines except the
Todd Oldham designer line. Waters said the fabrics Culp shows to La-Z-Boy fall into two segments –
one based on price and the other on performance, which is becoming more and more important. "Our
Marquésa fabrics head up the performance segment," he said.
Paula Hoyas, director of upholstery merchandising, La-Z-Boy, said Culp is the company's most
important strategic mill partner. "We work with Liam Waters and his design staff prior to Market
[High Point International Home Furnishings Market] to get the fabrics we want to provide a certain
look at a particular price point," Hoyas said. "We will have certain values we're looking to add.
Sometimes they have just what we want, and sometimes we ask them to develop something for us."
Hoyas said La-Z-Boy gets feedback from its own internal fabric council and from a dealer
council comprised of representatives of its dealers to help it address consumers' interests. "It's
a very good network. We collect the data and analyze it and figure out what's needed to stay
competitive. This allows us to go back to the mills and work with them," she said.
Culp showed its new chenille fabrics with Marquésa Plush to La-Z-Boy prior to this year's
April Market and described its benefits. "It has a good value relative to the consumer," Hoyas
said. "It's a wonderful additional benefit to say it's easy to clean."

Taking It To Market

Waters said several furniture companies including La-Z-Boy have bought into the Marquésa
Plush concept. "I think it's going to be a huge program with La-Z-Boy," he said. "The consumers
love it because it's easily explained – no-stain is very easy to define. That's a wonderful story
for the consumer and for domestic fabric producers. It's incumbent upon us to produce goods for the
home that offer advantages, and not just because they're cheap – although Marquésa is inexpensive
because of its inherent benefits. Nothing needs to be added."
Marquésa Plush figures in about 18 percent of Culp's current patterns, and it will have a
greater presence in future offerings."
Marquésa Plush fabrics were our largest placed product in the October [2004] Market," Waters
said, "and next season, we intend to add flat fabrics using Marquésa Satin." Satin, a new variant
in AF&Y's Marquésa line, offers rayon aesthetics.
At the April Market, La-Z-Boy introduced four Marquésa Plush chenille patterns on its
recliner, motion and stationary lines, and Hoyas said the new fabrics were well-received. The
company added one more pattern in October.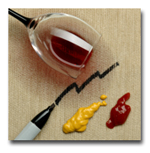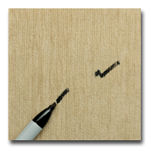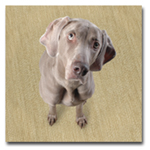 AF&Y's marketing materials for Marquésa technology stress the yarn's inherent
cleanability, stain resistance and durability.



Marketing Strategies

AF&Y has developed an array of materials to help Culp and La-Z-Boy market products made
with Marquésa Plush. Branding is a key part of the strategy, and the company provides hang tags,
merchandising displays and a demonstration video that illustrates the stain resistance and ease of
cleanup after a variety of spills. Sales representatives are given business-sized cards detailing
cleaning instructions and listing the fiber's performance and environmental benefits. The company
also has developed training programs to help sales personnel understand the technology, and it can
provide customized marketing materials upon request, Morelli said.
Hoyas said AF&Y organized a workshop before the April Market to demonstrate the benefits
of Marquésa Plush to La-Z-Boy representatives. "Educating the sales force means a lot – it enables
them to convey the message to the dealers and gives the dealers a competitive edge in selling the
consumer on the benefits of the fabric," she said. "It helps connect the dealer to the consumer and
helps the consumer make the appropriate choice. For the consumer, knowing the benefits means she's
not as apprehensive. In some cases, it might make the difference between buying and not buying the
furniture, but it only works if you're not giving up the aesthetics."
AF&Y's marketing strategies have received recognition in the marketing world. Earlier
this year, the Business Marketing Association of the Carolinas presented a "Best in North Carolina"
Gold Award to the Marquésa Plush logo, which was designed for AF&Y by the Walker Agency,
Concord, N.C.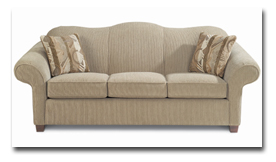 La-Z-Boy now offers five Marquésa Plush chenille patterns on its upholstered furniture
lines.

Collaboration Benefits All

Morelli said there are benefits to be realized by each of the partners in the collaboration
effort.
"In our collaboration with Culp and La-Z-Boy, AF&Y ends up with the technology and the
intellectual property rights for the materials Culp will integrate into its fabric," he said. "Culp
helps define the parameters, and adds the design and aesthetics to the fabric. La-Z-Boy gets the
fabric it is looking for – it's affordable, but it also has all the desired benefits. "And, best of
all," he added, "it's only available in the USA."
---



American Fibers & Yarns:

The Company And The Fiber

American Fibers & Yarns (AF&Y) was established in 1965 as Phillips Fibers Corp. – a
Greenville-based subsidiary of Phillips Petroleum Co. – to develop and produce polypropylene
filament yarn for home furnishings and other products; as well as industrial filament, staple and
nonwovens. As such, it was one of the first US manufacturers in this sector.
Phillips Fibers was purchased in 1993 by Amoco Oil Co. subsidiary Amoco Fabrics and Fibers
Corp., which then sold its fibers division in 1999 to private equity firm Monitor Clipper Partners.
At that time, the new company was renamed American Fibers & Yarns Co. Based in Chapel Hill
since April 2002, AF&Y claims to be the largest global supplier of filament polypropylene yarns
and serves residential and contract furnishings, industrial, automotive and apparel markets. It
employs a workforce of 800 globally and maintains three manufacturing facilities in North Carolina,
Virginia, and Georgia; as well as distribution centers in Mexico and Belgium.
"Historically, the company hasn't played outside the United States," said Jim Morelli. "All
yarn manufacturing is done in this country, but we have taken the opportunity to move the
technology outside our borders through distribution of our yarns to customers that manufacture
outside the United States."

Cinderella Fiber


Because it is a gasoline manufacturing waste by-product rather than a virgin petroleum
product, polypropylene is inexpensive to produce and environmentally friendly. AF&Y technology
turns this humble olefin polymer into a value-added, aesthetically pleasing yarn.
"As a by-product of post-industrial waste, the material leaves a very small footprint on the
planet. Its manufacture produces no industrial waste, and because it is a low-temperature product,
it requires less energy to produce," Morelli said. "Also, it is an inert fiber, and therefore, no
finishes are required to give it resistance properties." It also is recyclable, has a high
heat-producing value when incinerated, and offers the most coverage per unit weight compared with
other fibers.
The fiber's inherent performance properties include bacteria, chemical, static, pill and
abrasion resistance; light weight; low odor retention and thermal conductivity; and low moisture
regain to provide moisture transfer, stain resistance and quick-drying properties. It is cleaned
easily using soap and water.
The yarn is extruded as a continuous filament. "This is why it is so durable," Morelli said.
In addition, yarns are solution-dyed, making them colorfast and bleach-cleanable, and AF&Y
often engineers them to mimic the properties of higher-end yarns and/or exhibit special,
value-added properties desired for particular end-uses. Aesthetic enhancements may include a soft
hand, among others. Still other enhancements provide flame or ultraviolet resistance, as well as
additional bacteria resistance.

Technology Center


In 1999, AF&Y established its Technology Center in Bainbridge, Ga., where a team of
engineers and technicians conducts research and development using state-of-the-art equipment.
"Technology development has been an active process for the past three years. Moving forward, it is
the foundation of the future of our business," Morelli said.
"American Fibers & Yarns is one of the few yarn producers investing in technology," he
continued. "Our technology includes proprietary chemistry as well as proprietary texturing
techniques and processes. We rely on our supplier relationships to continue to develop new
technologies for our product lines, and enlist suppliers to help us bring new technologies to
market."
Morelli said the company has invested more than $2 million to develop its Marquésa fiber
technology. "When introducing new yarn technologies, we have to look at fabric constructions
differently because of the unique features and qualities of our yarns," he explained. "For example,
traditional fabrics made with cotton or polyester would take on a different construction if
Marquésa Plush and Marquésa Cottonesque [a Marquésa variant that has cotton aesthetics] were used
in place of those materials."

---

The Culp Link

Culp was established in 1972 as R.G. Culp and Associates Inc., a converter of upholstery
fabrics. It changed its name to Culp Inc. in 1980 and now manufactures upholstery fabrics and
mattress ticking. The company employs approximately 2,500 associates and operates 10 plants in
North and South Carolina, and Canada.
Culp develops its fabrics at its Howard Dunn Design Center in Burlington, N.C. Established in
January 1998, this state-of-the-art facility employs a team of about 30 designers who work on
Culp's entire product line, developing more than 300 new patterns each season. Culp manages supply
chain activity through Culp-Link, a computerized system that links the company with its downstream
customers through service and product delivery. Waters said the system has enabled the company to
compress lead times from eight weeks down to four.
"It's a great way to compete with offshore goods," he said. "We are able to make what you
need when you need it – plus, these performance fabrics are not available offshore."

---

La-Z-Boy

La-Z-Boy has grown from a garage operation established in 1927 by Edward M. Knabusch and his
cousin Edwin J. Shoemaker to make novelty furniture, to a major corporation with annual sales
totaling more than $2 billion and 14 companies offering a variety of upholstered furniture and
casegoods for retail and contract distribution. The company introduced its first reclining chair in
1928 and claims today to be the leading global producer of the chairs.
La-Z-Boy distributes its furniture through department stores as well as major regional and
independent furniture stores. The company maintains in-store galleries in some of these locations,
and it also operates its own chain of La-Z-Boy Furniture Galleries®.
November 2004