T

he 2004 edition of the American Textile Machinery Exhibition-International® (ATME-I®),
held recently at the Palmetto Expo Center, Greenville, had lighter attendance and less actual
machinery on display than previous shows. Many exhibitors opted for smaller booths and offered
product literature rather than demonstrating actual running machinery.
Most exhibitors thought the show was meaningful for them even though it had fewer visitors.
"We thought the quantity of traffic was lower than in previous years, but the quality of
that traffic was very good," said Tony Webber, sales director, Adaptive Control Inc., Charlotte.
"You have to face the fact that plant personnel have many more responsibilities and cannot simply
take the day off and stroll around the show anymore. Supervisors, assistant supervisors and
maintenance people were just not there."
This was Greenville's last ATME-I. The show will move to the Georgia World Congress Center,
Atlanta, in 2006, where it will be held in conjunction with the Industrial Fabrics Association
International (IFAI) Expo. Many exhibitors seemed undecided about participating in 2006.
"We have not decided whether we will exhibit in Atlanta in 2006," said Gary Romanstine,
sales director, Marzoli International Inc., Spartanburg. "Right now, our intentions are to show,
but much can happen within our industry in two years."
"We are debating and assessing if we will participate in Atlanta," said Carl Smith, vice
president, sales, Conitex Sonoco USA, Gastonia, N.C. "We think the attendance will be poor. If we
do go, we will greatly decrease the size of our booth."
Liz Walker, director, worldwide marketing communications, Datacolor and ColorVision,
Lawrenceville, N.J., said her company definitely would take part in the Atlanta show.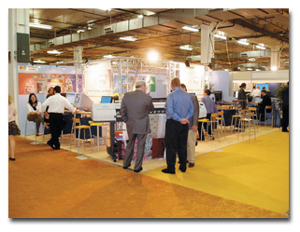 At ATME-I® 2004, Porini USA Inc. presented a variety of software solutions for design and
production, among other applications.



Yarn And Fiber

At ATME-I 2004, Amsler Tex AG, Switzerland, displayed yarn-effect devices for ring-spinning
and open-end spinning machines. The company also showed software visualizing yarn effects in
fabric, including its new E-PROFI software. Amsler has upgraded its equipment to make more complex
slub yarns demanded by fabric designers creating high-end, fashion-forward products.
Conitex Sonoco USA showed its complete line of high-performance paper cones and tubes for
the spun-yarn market. New developments shown include a stackable tube for reduced shipping costs, a
tube with a flared base for added strength, and a double flat rib cone designed to reduce slippage
in carpet or upholstery creels.
The Italy-based Finlane Group – comprised of Sant'Andrea Novara, Italy; Cognetex, Italy; and
Seydel, Germany – shared information about member companies' long-staple fiber processing equipment
including the Cognetex COM4® Wool compact ring-spinning frame, the Cognetex 600 intersecting
drawing frame; Seydel stretch-break converters, integrated drawing frames and cut converters; and
the Sant'Andrea Novara Millennium rectilinear combing machine. The company also discussed the
touch-screen Finlane Dialoguer interface now available on all Finlane machines.
Heberlein Fiber Technology Inc., Switzerland, demonstrated components for texturizing and
filament spinning including the Taslan® Air Texturing HemaJet®-LB Jet Core Series T-2, Taslan® Air
Texturing HemaJet®-LB04, Air Interlacing Jet Spin-Draw Texturing PolyJet®-BCF TopAir™ and the Yarn
Splicer AirSplicer™-17-2.
The Taslan Air Texturing HemaJet-LB Jet Core Series T-2 uses refined plastic encapsulation
to protect the ceramic core from impact. PolyJet-BCF TopAir is a new performance-optimized jet
series for interlacing bulked continuous filament (BCF) yarns in the spin draw process. The
AirSplicer-17-2 allows the user to join filament yarns in a semi-automatic, knot-free manner.
Marzoli S.p.A., Italy, provided information on its complete new line of equipment for the
spinning mill from opening to ring spinning. The CM500N Comber is capable of speeds in excess
of 400 nips per minute. The FTSN and FTSDN roving frames are equipped with up to 160 spindles.
Roving frame real doffing time has been reduced by 25 percent. The MPTN ring-spinning frame is
available with 1,344 spindles and has incorporated into its electronics the capability to produce
multi-count, multi-twist slub yarns. The company also offers SpinVision, a central personal
computer (PC)-based control and monitoring system.
Menegatto S.r.l., Italy, provided information about its model 2024 and model 2003 covering
machines, standard and special winding machines, TM 3 texturizing machine and various types
of spindles. The 1500/200/2024 NG covering machine is specially designed to produce yarns for
seamless garments, hosiery, socks and elastic fabrics. The machine can do simple and double
covering of elastane and plain yarns or filaments, without moving spindles or spindle rails and
without losing covering heads.
In a smaller booth this time around, Murata Machinery USA Inc., Charlotte, well-known
developer of air-jet spinning (MJS) and vortex spinning (MVS), emphasized parts sales and service.
"Murata is still committed to this market," said William M. "Bill" Gray, general manager.
"We want to stay a productive part of the US textile industry."
Gray stressed the need for innovation, noting the company's MVS system offers performance
and value not available from other spinning technologies including better moisture management, less
pilling and longer product life for fabrics made with MVS yarn.
"The old manufacturing strategy of producing long runs of commodity products is having
difficulties," he said. "The mills that are going to succeed in this market must constantly come up
with new developments and new partnerships."
France-based N. Schlumberger & Cie, part of the NSC Group, provided information on the
advantages of the GC 30 chain gill and era combing machine for its fiber processing customers. The
GC 30 was shown in prototype form at ITMA 2003 in Birmingham, England, and since has become
available as a commercial machine. It has been completely redesigned and offers a 50-percent speed
increase (up to 600 meters per minute) over earlier units.
The era combing machine also has been totally redesigned, and its cost can be justified on
quality improvements alone without factoring in its higher production speed, according to the
company.
N. Schlumberger's nonwovens offerings will be covered in a subsequent review.
Spindelfabrik Suessen GmbH, Germany, exhibited some of its newest developments for
short-staple spinning systems including the third generation EliTe® CompactSet-S, EliCore®,
EliTwist® and EliCoreTwist® for ring-spinning machines.
Suessen also showed premium parts for the SE7 to SE10 rotor-spinning machines including
ProFiL® rotors and the ProFiL reflector.
Trützschler GmbH & Co. KG, Germany, showed its TC 03 Card, presented for the first time
at ITMA 2003, and its TD 03 Draw Frame equipped with Auto Draft. Both the card and the draw frame
benefit from digital drive technology and have self-optimizing capability. More than 1,000 TC 03
cards have been delivered and installed to date. The company also has been moving steadily into the
manufacture of nonwovens machinery.
"We want to get much more involved in producing equipment for the nonwovens industry, and
our goal is to produce all of the nonwovens equipment in Charlotte," said Kurt Scholler, CEO,
American Trützschler Inc., Charlotte.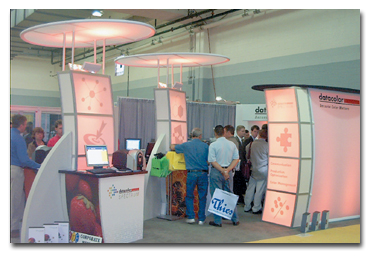 Datacolor presented its new SPECTRUM™ integrated suite of software products for centralized
control of color management workflow.

Dyeing, Printing And Finishing

Adaptive Control caught tremendous attention with a 50-inch touch-screen monitor
demonstrating the Adaptive eplant™ host system. This product must make a lot of dyehouse managers
want to remove the nails from the planning board and hang a touch screen like this on the wall. The
screen's three controllers were connected via wireless to a tablet PC, giving Webber the ability to
walk off the stand and introduce the system to visitors passing in the aisle. The machine's
production, lot, input/output and software history; and schematic replay of the lot all could be
seen clearly on the tablet PC.
The company has a partnership arrangement with Gaston County Dyeing Machine Co., Stanley,
N.C.
American Monforts LLC, Charlotte, showed the Montex 6000 tenter for woven and knitted
fabrics and the Thermex 6500 continuous dyeing machine, among other technical developments. The
Montex 6000 tenter's features include a functional and ergonomic design, an all-new control
platform and control systems, wireless monitoring, integrated heat recovery system, pneumatically
operated doors and new fabric handling devices. Monforts' new Thermex 6500 hotflue reduces dyeing
process times for knitted fabrics from hours to minutes, providing previously unknown levels of
productivity and reproducibility, according to the company.
Loris Bellini S.p.A., Italy, recognized for its sophisticated and advanced yarn-dyeing
equipment, also shared information with visitors about its systems for dyeing hanks, hosiery and
warp beams; as well as equipment for steaming, dosing systems, process automation and laboratory
dyeing.
Benninger Co. Ltd., Switzerland, emphasized its Knit-Line machine for the open-width
treatment of knit fabric. Advantages of the treatment include the elimination of crease marks
resulting from rope treatment, reduced hairiness and a smoother fabric surface – no micro-pilling
or pilling – and the elimination of the need for enzyme treatment, according to the company.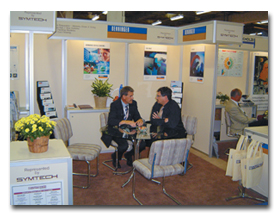 Jürg Brander, sales manager, Benninger Co. Ltd. (left), meets with a customer.
Biancalani S.p.A., Italy, presented its latest developments in surface finishing machinery
including the newest version of its Airo® softening, washing and drying machine for woven and knit
fabrics.
Color Service S.r.l., Italy, well-known maker of automatic color kitchens, provided
information about its dyehouse automation systems that dispense and deliver dyes and chemicals. The
company emphasized its ability to accurately dispense very small amounts of chemicals, provide
varying levels of automation to fit the user's needs and offer remote assistance via the Internet.
Flainox S.r.l., Italy, showed equipment for garment dyeing and drying including the Arc
rotary machine for garment dyeing, Arc-Eco sample washing and dyeing machine, and NRP/Universal/HT
rotary machine for dyeing and centrifugal drying of garments at high temperature.
Fong's National Engineering Co. Ltd., Hong Kong, exhibited dyeing machinery including the
ALLWIN high-temperature package-dyeing machine, ECO-6 high-temperature dyeing machine, ECO-8
multi-rope soft-dyeing machine, LABFIT small-batch fabric machine, ALLFIT medium-batch dyeing
machine, VIEWTEX central computer system, AIRFLOW® AFE high-temperature jet-dyeing machine and the
MINI-CONTEXXOR®.
The ALLWIN high-temperature package-dyeing machine offers an unprecedented liquor ratio as
low as 1:4, according to the company. According to the test report conducted by Fong's, the ALLWIN
can shorten total processing time for cotton yarn to 276 minutes, reduce electrical and water
consumption by more than 40 percent and cut chemical costs by 19 percent versus conventional
machines.
Gaston County Dyeing Machine Co. highlighted its Futura piece-dyeing machine, designed to
dye fragile, crush-prone and stretch fabrics for which minimum tension in processing is desired,
including microfiber wovens, knits, terry, tricot, automotive upholstery and velour.
"We are excited about the Futura machine in the automotive and upholstery markets," said
William D. "Chip" McGill, vice president.
Küsters Machinery Corp., Spartanburg, exhibited its TurboFlush and Vacuum washers, and
HyCon-L calender. The TurboFlush's high-efficiency, horizontal washer has trays that swing away for
easy cleaning and improved fabric control with less tension. It's available in two versions – one
for woven goods and one for pile fabrics. The company's enclosed Vacuum washer allows fabrics to be
washed and vacuumed at high temperatures, making the machine more effective than conventional
washers. The HyCon-L calender has chambers within the roll that allow the user to pressurize just
the portion of the roll used to calender the fabric.
Menzel LP, Spartanburg, showed coating and fabric-finishing equipment including a vision
system to guide and align fabrics and webs during processing. The company also displayed a polyband
spreader roll for the plastics, film and textile industries. Menzel plans soon to make an
announcement about a new singeing line.
OBEM S.p.A., Italy, called attention to its TMB/SV-TR spray-dyeing machine, API/O
package-dyeing machine and the VFV, VFPV and OBEM FIX steaming and thermosetting machines. The
TMB/SV-TR is a fully robotized skein-dyeing system that incorporates a specially designed spray
hank arm to process hanks without tension. The system is particularly suited for fine or soft yarn,
according to OBEM.
Switzerland-based Santex AG showed the SantaShrink-Jumbo, a new version of its tensionless
shrinkage and relaxation dryer for knit fabrics. The machine is more economical to operate thanks
to additional insulation and advanced electronic controls, which also allow it be part of a total
fabric-finishing system.
Santex had one of the largest booths at the show, reflecting its belief that companies
should show actual machines and not just literature. Uwe Sick, sales manager, feels a major textile
show every two years rotating between Europe, the Americas and Asia would be a big step forward.
"A major fair every two years is a better solution," Sick said. "It would be better for the
industry. No one can afford the current situation with a major show every year from 2003 to 2007."
SDL Atlas LLC, Charlotte, highlighted 14 products at ATME-I, including a new digital
microscope with automatic fiber-identifying and measurement software, as well as the latest DigiEye
grading and color management system. Other products on display included the ATLAS Ci 3000
FadeOmeter®; LINITEST+ lab dyeing system; Washrite precision washing machine; a new Martindale
pilling and abrasion tester; VeriVide color viewing booths; and QuickWash™, QuickView™ and
QuickCondition™ fabric-testing systems.
Stalam S.p.A., Italy, stressed its complete line of radio frequency (RF) dryers including
the RF/T 60 kilowatt (kW) dryer for high-quality woolen fabrics, TCRF 2C/RT dryer for yarn packages
and tops, and LTRF 60 kW dryer for cotton loose stock. The company has more than 700 RF machines in
operation in several industrial sectors, with rated power outputs ranging from 3 kW to 250 kW.
These range from simple, manually operated machines to fully automated and integrated processing
lines.
Strahm Textile Systems AG, Switzerland, presented information about its drying, coating,
impregnating and thermobonding equipment. The company stressed its modular finishing lines for knit
fabrics, of which its finishing line for open-width knit fabrics was one example. The line includes
the HiPer™ Cut machine for detwisting, rope opening and slitting; the HiPer Shrink Progress machine
for dewatering, softening, pinning, overstretching with overfeeding shrink-and-relax drying; and
the HiPer Compact machine for humidification, straightening, steaming, width equalization,
compacting and ironing, folding or winding with inspection.
Thies Corp., Rock Hill, S.C., exhibited several advances including the Luft-roto Plus and
the soft-TRD DS XL. The Luft-roto Plus is designed to be an environmentally friendly and
cost-effective rapid-dyeing system. It can dye 100-percent cotton fabrics in four hours and
polyester/cotton blends in 5.5 hours. Low liquor ratios of 1:3.5 are possible with this machine,
according to the company. The soft-TRD DS XL is a horizontal jet designed for fabrics that are
sensitive to creasing. The machine can handle two side-by-side strands, which run like a single
strand, with a liquor ratio of 1:8.
Tubular Textile Machinery Inc. (Tube-Tex), Lexington, N.C., showed its complete line of
dyeing and finishing equipment including the Lisa Surface Brushing machine and the new Pak-Nit II
Delta Plus SP Tubular Compactor. The Lisa Woven 2B Model is equipped with two brushes for the
treatment of woven fabrics of any yarn, weight and composition. The Lisa Knit/Woven 2BX4T Model is
designed for highly elastic knit fabrics. Wovens also can be processed on this machine. The Lisa
Tube-Tex Model is specially designed for processing tubular knit fabrics. The Pak-Nit II, a new
design with enhanced features, sets new standards for shrinkage control in tubular knit fabrics.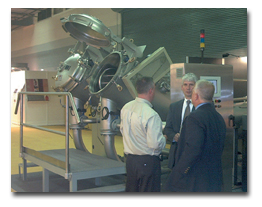 Paul Abernathy (center) and Chip McGill (right), Gaston County Dyeing Machine Co. — which
displayed its Futura piece-dyeing machine — chat with a visitor to the booth.

Quality Control And Monitoring

Datacolor introduced Datacolor SPECTRUM™, a new platform for color management. Datacolor
Spectrum is an integrated suite of software products, measuring systems and supporting services
that provides centralized control of the entire color management workflow worldwide, according to
the company. It includes products for color matching, quality control, visualization, communication
and production optimization. All software can stand alone, but the suite is designed to be
especially effective as an integrated solution. It also is capable of providing multiple users
immediate access to a centralized database and control of color management activities from any
location.
Datatex TIS Inc., Atlanta, showed its NOW family of software products built with
object-oriented technology to offer Web-based solutions for inventory and warehouse management,
purchasing and sales. The company also demonstrated its AB (Application Builder) solution, a Java
development environment for producing Web-compliant applications. Datatex also had its Textile
Integrated Manufacturing (TIM) software for production planning including the new Machine Queuing
Management (MQM) module.
Lawson-Hemphill Sales Inc., Spartanburg, exhibited the new YAS-4 entanglement tester, which
was developed in collaboration with a leading US fiber producer. The unit is an optical tester
based on Lawson-Hemphill's patented CCD technology. It can run four yarn packages simultaneously
for a new level of productivity. This new-generation tester is fully automatic and controls all
parameters. It covers yarns from 50 denier to 350 denier and runs at speeds of up to 300 meters per
minute.
Loepfe Brothers Ltd., Switzerland, stressed its KBW-L short weft detector for projectile
weaving machines. The unit allows an extended weft detection on projectile looms until the pullback
phase is completed at 0 degrees machine position. The company also showed its YarnMaster Spectra +
and YarnMaster Zenit digital on-line quality control systems.
Porini USA Inc., Chattanooga, Tenn., and NedGraphics Inc., New York City – sister companies
owned by Blue Fox Enterprises NV, The Netherlands – showed their complete suite of software
solutions for design and production, design management and communication, 3-D visualization and
presentation, monitoring and networking, planning and scheduling, as well as management and
operations.
Earlier this year, International Textile Group, Greensboro, N.C., selected the complete
suite of Porini applications as its new enterprise management system. Porini's integrated
applications extend from planning and product development to factory floor management and customer
delivery.
Switzerland-based Uster Technologies AG demonstrated its Fabriscan On Loom fabric scanning
system, Uster Tester 4 yarn testing system and Uster Quantum 2 yarn clearer with polypropylene
detection. The Fabriscan On Loom automatically inspects fabric on the weaving machine. It can
handle widths from 1.5 to 3.0 meters and insertion rates of up to 1,200 picks per minute. The
system can monitor pattern repeats up to 1 square inch including plain weaves, twills and satins.
Fabriscan can be used on rapier, air-jet and projectile machines. The system is available for
greige fabrics and now is being tested on colors.
---
Editor's Note: The December issue of
Textile World will cover advances in knitting, weaving, nonwovens and specialty
equipment shown at ATME-I® 2004.