A

report released recently by the Italian Association of Textile Machinery Manufacturers
(ACIMIT) states that Italian textile machinery exports – valued at 998 million euros – were down 14
percent for the first half of 2004 compared to the same period in 2003. The report also relates
that, when compared with activity in the first few months of this year, the export trend is
improving, mainly due to growth in Asian markets. Forty percent of Italian textile machinery
exports currently go to Asia. Turkey and China – the main markets – imported Italian machinery
worth a total of 315 million euros. Italian textile machinery producers, not seeing signs of
improvement in the US and European markets, look to Asia with optimism.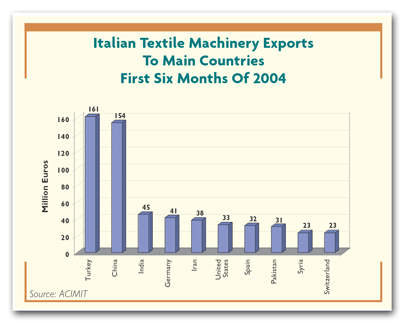 "The European situation is still difficult," said Alberto Sacchi, Ph.D., chairman, ACIMIT.
"In the main European markets and in the United States, there are no signs of recovery in
investments in the textile sector, which is going through a tough period, as we can see from the
Italian situation."
Compared to the first half of 2003, Italian sales in Iran have risen by 290 percent, in
Pakistan by 26 percent and in Syria by 25 percent. Sales in India also have risen.
"In the Asian area, the textile industry continues to grow, albeit with highs and lows and
the self-evident differences between the various countries," Sacchi said. "This is a comforting
sign, especially when we consider the start of 2004, and leads us to hope for a more widespread
recovery from as early as next year."
November 2004