T

he city of Beijing, which means "northern capital" in Chinese, is known for its imperial
palaces, monuments and temples built during various Chinese dynasties. Sites such as the Forbidden
City, Tiananmen Square and the Great Wall attract thousands of tourists to the city each year.
These imperial sites will serve as backdrops to the modern-day hustle and bustle of the
global textile industry when the 2004 edition of the China International Textile Machinery
Exhibition (CITME) is held at the China International Exhibition Centre Tuesday, Oct. 12, through
Saturday, Oct. 16.
CITME visitors will have five full days in which to explore 10 halls filled with machinery
exhibits devoted to spinning and weaving equipment for cotton, wool, linen and man-made fibers;
knitting equipment; finishing equipment for dyeing and printing; processing systems and equipment
for technical textiles and nonwovens; and textile testing and measuring equipment; among many other
offerings. An accompanying technical seminar program also will be offered.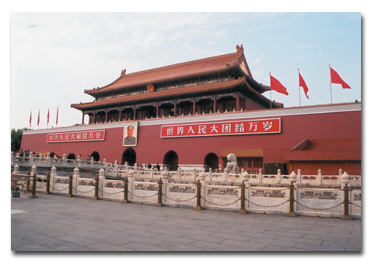 Chairman Mao Zedong's portrait is displayed in Tiananmen Square, Beijing.

Strong Support


CITME 2004 is sponsored by the China National Textile Industry Council and the China Council
for the Promotion of International Trade (CCPIT); and organized by the CCPIT Sub-Council of Textile
Industry, China International Exhibition Center Group Corp., and the China Textile Machinery &
Accessories Association; with assistance from Hongkong Expositions Ltd. and China Textile Machinery
and Technology Import & Export Corp.
With such a contingent of support behind it, CITME is sure to offer something for
everyone. The exhibition benefits from Union of International Fairs (UFI) endorsement, and is the
first international textile machinery exhibition held in China to receive such an endorsement.

CITME Continues To Grow


Held every two years since 1988, CITME has grown in size show after show – in both square
footage and visitor participation. CITME 2002 featured 850 exhibitors and attracted a record
120,000 visitors from 26 countries. Organizers expect to see the same number of attendees in 2004 –
90 percent likely will be local Chinese visitors, while other Asian countries and regions likely
will account for the bulk of the remaining 10 percent. More than 1,000 exhibitors are expected at
CITME 2004, including a larger international contingent than at CITME 2002. China, the United
States, Germany, Italy, Japan, Switzerland, France, the United Kingdom, Spain, Korea, India and
Taiwan hosted national pavilions at CITME 2002. They are expected once again to have a major
presence at this year's show. As of Textile World's press time, 10 countries will offer national
pavilions at CITME 2004.
According to organizers, the 2004 show will surpass the previous edition in show floor area
– 10,000 square meters have been added, for a total of 60,000 square meters.

Showtime


CITME 2004 will officially kick off Tuesday morning with an opening ceremony. The exhibition
will be open to visitors from 10:00 a.m. until 5:00 p.m. on Tuesday, and from 9:00 a.m. until 5:00
p.m. from Wednesday through Saturday.

Understanding The Market


Visitors to CITME 2002 wondered how China's accession to the World Trade Organization (WTO)
would affect the global textile industry. The dominant concern of visitors this year most likely
will be China's competitive role when quotas are lifted at the beginning of next year.
Recognizing these concerns, CITME bills itself as a learning opportunity for global
companies that wish to understand and enter the Chinese textile market, a market that, since
opening its doors to global industry in the past few years, has shown consistent growth. This
growth shows no signs of abating come January 2005.
According to show organizers, China saw a record 15.8-percent increase in textile and
garment output in 2002, totaling $61.8 billion.
Production also increased dramatically that year: Yarn production grew 15.8 percent;
fabrics, 11.2 percent; garments, 8.5 percent; silk products, 20 percent; and man-made fibers, more
than 20 percent.
The country also imported $3.5 billion worth of textile machinery that same year – a
40-percent increase over 2001. Imports came primarily from Japan, Germany and Italy – with Taiwan,
Korea and Switzerland also providing substantial volumes of textile equipment. Looms accounted for
26.2 percent of machinery imported; dyeing and finishing machinery, 19.4 percent; knitting
machinery, 17.6 percent; spinning machinery, 16 percent; and man-made fiber machinery, 11.5
percent.
In 2002, Beijing was one of the top five import regions in China, along with Zhejiang,
Guangdong, Shandong and Jiangsu.
China – the world's most populous nation, with close to 1.3 billion inhabitants – continues
to move towards a full market economy, despite the fact that the European Union recently denied it
market economy status. According to the People's Daily Online – China's official Communist Party
newspaper on the Internet – China has put into effect an Administrative Licensing Law that will
help the country fulfill its commitment to the WTO by streamlining approval procedures and removing
certain government restrictions. A revised law on foreign trade also has recently been put into
effect, enabling, for the first time, individuals and businesses to engage in import and export
activities without prior approval from the government.
China's 10th Five-Year Plan, developed by the China State Development Planning Committee,
outlines its goal for expanding textile and garment exports from $52 billion in 2000 to $70-75
billion in 2005. The plan also calls for increasing fiber production, per-capita fiber consumption,
productivity and technical progress. It would seem that China is well on its way to achieving these
goals.
Old habits die hard, and while China concentrates on opening up its industry to
foreign trade and maintaining steady profits, it still is under the watchful eye of the
ruling Communist Party of China (CPC) – a portrait of Chairman Mao Zedong, founder of the People's
Republic of China, still is situated prominently in Tiananmen Square, the city's center. Party
members numbered more than 68 million at the end of 2003 – an increase of almost 1.3 million from
the year before, according to the organization department of the CPC Central Committee.

Seeing The Sights


Preparations for the 2008 Olympic Games in Beijing already have begun, and these activities
will reinforce the notion that Beijing is a city of centuries-old tradition and modern-day
conveniences and technology. Visitors will most likely catch a glimpse of this multifaceted
ambiance when they step outside the exhibition for a bit of sightseeing. The Tiananmen Gate at
Tiananmen Square, Mao Zedong's mausoleum and the Forbidden City are attractions not to be missed.
China's Great Wall and the royal Summer Palace residence are sights of interest located just
outside of the city.
August 2004