"

W
e are fully sold out," stated Paolo Antonietti, CEO, Radici Fibres, and a member of
Radici Group's Board of Directors. And so began the 10th anniversary celebration of RadiciSpandex
Corp.'s Tuscaloosa, Ala., facility.
But the story runs much deeper than a simple celebration. Italy-based Radici Fibres has
developed an investment strategy that counters the rush to China by many competitors. "Our company
firmly believes in [polyamide and spandex], and we are investing in the United States and Italy
while everyone else goes to China," Antonietti said. "We trust in the United States and Europe – in
producers as they move from commodity to differentiated products." Radici investment has yielded a
capacity increase of 20 percent, and the fifth expansion in 10 years at the Tuscaloosa plant,
bringing plant capacity to more than 7,000 tons per year. Antonietti also spoke of branding
RadiciSpandex, following the Gore-Tex branding model, to further support manufacturers with a brand
name to aid in the transition to differentiated products.
With more than 300 guests on hand, the anniversary event emphasized the breadth and depth of
Radici Group's manufacturing capabilities, its commitment to the marketplace and the diversity of
its product line. Radici Group's sales across its divisions totaled approximately 1.2 billion euros
in 2003, including 0.5 billion euros generated in the fiber sector. With 29 percent of its revenues
generated outside the European Union, 36 percent in the European Union – not including Italy – and
35 percent in Italy, Radici Group's international presence comprises production of chemicals,
plastics, fibers, textiles and other interests including utilities and real estate. This
integration allows Radici Group control and execution from raw material through finished product in
many areas of production. The company is supported by synergy and integration in polyamide 6,
polyamide 6,6, polyester, elastane, cellulose, acrylic and polypropylene products.
For the Tuscaloosa expansion, and for much of the strategy going forward, the strong
relationship – both chemically and functionally – of polyamide and spandex has a strong place in
the Radici Group family.
Bill Girrier, vice president, sales and marketing, RadiciSpandex Corp., and Gianni Norris,
sales manager, Radicifil, presented "Spandex and Polyamide: Crossed Destinies." The presentation
illustrated the historic evolution of polymer chemistry and synergies of fiber production.
Is the stretch marketplace hot? RadiciSpandex says "Yes." Total RadiciSpandex US
manufacturing capacity will grow to 15,000 tons per year with the Tuscaloosa plant expansion, and a
heavy-denier spandex production boost at its sister facility in Gastonia, N.C. Rumored additions
also are a possibility in the not-too-distant future.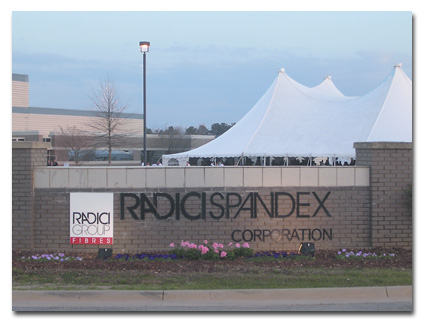 RadiciSpandex Corp.'s Tuscaloosa, Ala., facility, opened in 1994, has increased capacity by
20 percent to more than 7,000 tons per year.

Competing Globally


Robert F. Rebello, CEO, RadiciSpandex Corp., kiddingly offered to cut his speech in half
during the reception "for a quick million-pound order." Considering the current rate of expansion,
such orders soon will be more commonplace.
"Our Tuscaloosa operation has proven that a US fiber manufacturing plant can compete in the
global market," Rebello said.
After Radici Group's acquisition of Globe Manufacturing Corp., Fall River, Mass., in March
2001, Rebello was named CEO in December 2002. He was key in opening the Tuscaloosa spinning
operation and leading the development and launch of several RadiciSpandex product lines.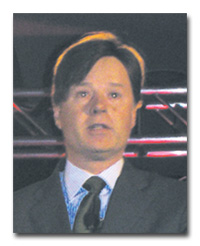 Paolo Antonietti, CEO, Radici Fibres, addressed more than 300 guests at the 10th
anniversary celebration of RadiciSpandex Corp.'s Tuscaloosa, Ala., plant.

History Of Growth


Rebello presented a concise history of RadiciSpandex in the United States, starting with its
association with Globe Manufacturing. Globe was founded in 1945 to produce extruded natural latex
rubber thread for use in textile markets, and was the first to produce round extruded rubber
thread, as opposed to the slit sheet and square cross section products that were dominant in the
industry.
In 1960, Globe diversified with the introduction of reaction-spun Type S-5 and S-7 spandex
fiber product lines for the hosiery industry in response to threats from large competitors that had
made inroads in the marketplace.
A decade later, Globe expanded to Gastonia with the introduction of a reaction-spinning
manufacturing site constructed to expand production of Type S-5 and S-7 polyester fibers in heavy
deniers for use in narrow fabrics and nonwovens.
In 1985, with the development of proprietary dry-spinning technology, Globe perfected a
fine-denier dry-spun spandex, Type S-85. The company introduced the fiber as an essential element
for fabric durability, elasticity and comfort in virtually all fabrics.
Globe completed construction of a second dry-spinning manufacturing facility in 1994. This
site – the Tuscaloosa facility – has been expanded repeatedly: first in 1995 by 33 percent; again
in 1996 by 20 percent; in 1997 by 15 percent; in 1998 by 50 percent; and now in 2004 by 20 percent.
In 1998, Globe was sold to the investment bank Code, Hennessey, Simmons. One year later,
Globe launched the S-17 chlorine-resistant product for the warp-knit industry.
Radici Group entered in 2001, buying Globe from the investment bank and investing heavily in
the Gastonia and Tuscaloosa facilities, with a focus on quality improvements and cost reductions.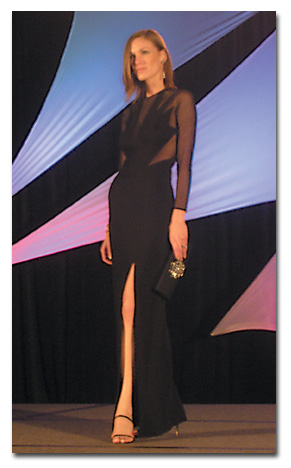 RadiciSpandex presented its "Spandex-Polyamide — Meeting of Emotions" fashion show,
featuring spandex/polyamide designs in a range of hosiery, intimate apparel, sportswear and
eveningwear.


In 2002, RadiciSpandex launched its new S-45 fiber, followed in 2003 by S-17HP and S-72
fibers. In 2003, the company announced expansion plans as a result of the Tuscaloosa plant's
success. Today, RadiciSpandex is positioned as the second-largest spandex producer in the Americas.
With the manufacturing capabilities of the Tuscaloosa facility and the Gastonia complex, the
company offers a broad range of traditional and innovative product lines in 10 denier to 5,040
denier:

• S-5 – 100- to 5,040-denier spandex used in hosiery waistbands, control
tops and foundation garments, particularly garments in need of more than 150-percent stretch;

• S-PC – 140- to 3,500 denier spandex with higher modulus than S-5 and
unique packaging and finish additives designed for primary use in personal care (PC) disposable
product applications, such as nonwovens and baby diapers;

• S-17B – chlorine-resistant 20- to 140-denier spandex used in fashion and
competition swimwear, intimate apparel, activewear and corespun yarns for stretch wovens;

• S-45 – high-temperature-resistant bright polyether-based 20- to
720-denier elastane developed to endure dyeing at elevated temperatures (250 to 265°F),
particularly suited for knit polyester fabrics;

• S-52 – a brand-new high-elongation product with a flat recovery curve;

• S-72 – polyether-based 560- to 4,300-denier elastane with high
retractive power – used in narrow fabrics; knit, woven and nonwoven tapes and bandages; disposable
nonwoven items; upholstery; and industrial products; and

• S-85 – high-performance, low-cost 15- to 140-denier yarn solution for
sheer to mediumweight fabrics used in hosiery, corespun and covered yarns in a variety of stretch
woven, warp-knit and circular-knit applications.
The S-5, S-PC and S-72 products are produced in Gastonia using reaction-spinning technology
– a high-quality, low-cost platform for mid- to heavy deniers. In addition to the process, Gastonia
has several value-added services, such as warping (six units), knit tape and rewinding. The
reaction-spinning process, according to the company, offers prepolymer chemistry flexibility,
scalable design, product with excellent acid dye uptake characteristics and fused filament
structure of up to 1,120 denier.
The 85,000-square-foot RadiciSpandex distribution center is environmentally controlled and
features a SAP integrated enterprise resource planning system, SAP inventory management module for
pick and put-away, and electronic data interchange customer communication.
The S-85, S-17 and S-45 products are manufactured at the Tuscaloosa facility utilizing
dry-spinning technology under constant control and monitoring. This technology is very efficient
for producing high-quality, fine-denier products.
A broad product base has enabled RadiciSpandex to extend its reach into diverse product
categories without cutting production or service in core products. "Our tremendous success with our
signature S-17 chlorine-resistant fiber, our high-quality low-cost Type S-85 product line and new
exclusive products such as Type S-45 heat-resistant spandex have marked RadiciSpandex as somewhat
of a specialist in an otherwise generic market," Girrier said.
"We've also made great inroads into warp knits and have established a firm position there,"
he added. "In just a few years, we have passed the test of time on quality and value. While other
spandex suppliers are shedding technical support staff and cutting back on service, we're adding
judiciously where it counts to the market and our partners. Of course, we're watching costs, but
our people work and try harder, and it shows. We've also got scale on our side. We are expanding to
accommodate real growth – not just pumping out spandex."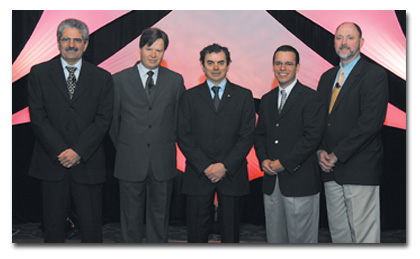 Radici executives from Italy and the United States gathered at the Tuscaloosa plant for the
first time since it was acquired in 2001. From left to right: Gianni Norris, Paolo Antonietti,
Angelo Radici, Robert F. Rebello and Bill Girrier

Celebration


The invited guests at the Tuscaloosa event were treated to a diverse mix of activities.
Beyond the speeches and presentations, there were plant tours, a fashion show of hosiery through
eveningwear, live music from opera to bluegrass, modern dance that is featured in the company's new
advertising campaign, an art competition and a presentation of recognition awards. A special
highlight was the presentation of a new sculpture created for the occasion as a gift to the
Tuscaloosa facility from the Radici family on behalf of their Italian colleagues. This occasion
marked the first time top management from Radici Group gathered at the US facility with their
American counterparts since acquiring the spandex producer in 2001. Angelo Radici, chairman;
Maurizio Radici, vice chairman; and Paolo Radici, a member of the Board of Directors, all were on
hand to celebrate the occasion.
May 2004