C

otton Incorporated, Cary, N.C., has a new advertising campaign, a new agency and a new
focus. "The Fabric of Our Lives" tagline – which has seeped its way into the subconscious of
almost every consumer – will be dropped from television advertising after 14 years. The company's
new target area is women in the 21-to-34 age group. Extensive research, conducted by its new
advertising agency, DDB, New York City, showed women can't have too many pairs of jeans, love to
shop and notice what people wear.
Cotton Incorporated named DDB as its new advertising agency in November 2003, after an
extensive three-month review. DDB replaces Ogilvy & Mather/New York, which served as Cotton
Incorporated's agency of record for more than 30 years.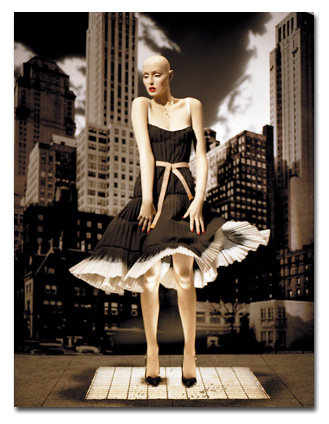 One of Cotton Incorporated's first new commercials features mannequins in shop windows
dressed in various cotton apparel. The commercial ends with the tagline "What a great time to be a
girl."
Cotton Incorporated will run seven new commercials on 16 networks, each representing a
different aspect of cotton. Each ad is playful and points up the pleasure of shopping. More than
100 different wardrobe selections appear in the ads, all made of cotton and cotton-rich fabrics.
All of the wardrobe items can be identified by going to Cotton Incorporated's consumer website,
which will continue to operate at
www.thefabricofourlives.com.
One commercial features a Jack Russell terrier racing through the house grabbing clothing and
tossing it into a pile. The dog settles down on top of his pile, while a tagline reads: "COTTON –
Soft. Comfortable. Easy to Clean."
In another ad, rows of jeans on store shelves are arranged by categories such as "Jeans your
boyfriend will notice," "Jeans your old boyfriend will notice," and "Jeans your old boyfriend's new
girlfriend will notice."
"We are very excited about this new television campaign," said J. Berrye Worsham III,
president and CEO, Cotton Incorporated. "It marks the beginning of a new era at Cotton
Incorporated. Not only does this commemorate our first venture with DDB, but the debut of the new
commercials also marks the retirement of 'The Fabric of Our Lives' tagline from our television ads.
The focus of the new commercials celebrates women's passion for shopping and for clothes, and
demonstrates the important role cotton plays in both."
Lee Garfinkel, chairman and chief creative officer, DDB New York, added, "We believe we've
created a campaign for women that speaks directly to them. … Cotton is so dominant in today's
clothing that we see an opportunity to directly associate cotton with the fun and joy of shopping."
In addition to the television ads, DDB is developing an integrated media campaign for Cotton
Incorporated, which will include print, Internet and sales promotions. In support of the print
advertising, an aggressive schedule in more than 15 lifestyle, home and fashion magazines is
planned.
May 2004