M

illiken & Company, one of the world's largest privately held textile and chemical
companies, is headquartered in Spartanburg, S.C. Well known as an international leader in research,
technology and customer service, Milliken has a rich history of innovation that has led to more
than 1,700 patents. Its diversified products number more than 38,000. A unique strategy of
combining textile and chemical technologies to serve a large number of markets has resulted in
extraordinary growth and success for the company.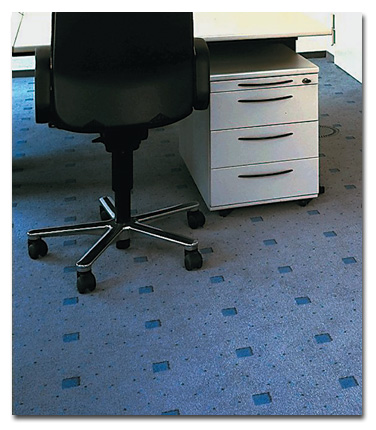 Interior design firm ABB selected custom Trion Square carpet from Milliken & Company
for the offices of IBM, Essen, Germany.

Floor Coverings


Milliken's carpet represents a unity of form and function, and offers the advantages of great
style, flexibility and proven performance. Its versatile product line offers an endless choice of
possibilities for installations. Whether modular, broadloom or rug, each has been manufactured as a
high-quality product to perform in the most demanding environments. Milliken's floor covering
products are appropriate for all installations, from residential to commercial to hospitality.
Homes, hotels, airports and offices, and other commercial environments around the globe utilize
Milliken's floor coverings. Some of the company's customers include Southwestern Bell Co., IBM,
USAA Insurance, Carmike Cinemas, Hilton Hotels, and Harrah's Hotels and Casinos.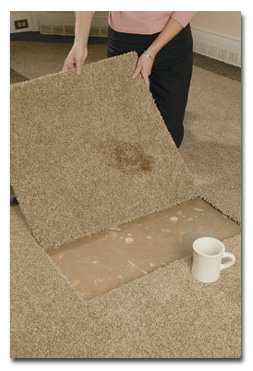 Milliken designed its Tesserae™ carpet panels to be removed and replaced easily.



Milliken's Patterned Carpet


Patterned carpet has come a long way since its inception. The American carpet industry's
roots are in Western Europe. Even though wall-to-wall broadloom was developed in the United States,
the art of carpet making transcends times and cultures.
Until the Industrial Revolution in the United States, the terms "pattern" and "carpet" went
hand-in-hand, referring to a rug that had a repeating pattern.
After the American Revolution, the carpet industry in the United States began to grow. The
first power loom was invented for weaving carpets in Lowell, Mass., in 1839. Carpet now could be
mass-produced.
To simplify the process, carpet-makers took out the patterning that had decorated handwoven
carpets, and carpet was sold only for its functional merits.
After the 1950s, when mechanization took place in the United States, things really took off.
Today's carpet-making technology has made so many advances that any insignia, logo or design can be
incorporated into a carpet. Other advances in the industry have made patterned carpet more
affordable, allowing homeowners to easily weave together functionality and art.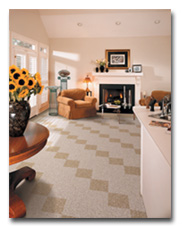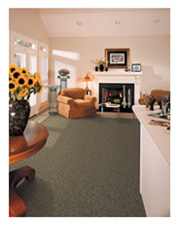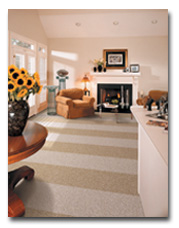 Tesserae™ carpet panels give a homeowner the ability to custom-design and personalize
carpet throughout the house.



Choosing The Right Carpet


Milliken suggests that when shopping for a pattern or a print, consumers should choose one
pattern in a room as the focal point. Other patterns in the room will be used to support this.
When selecting coordinating fabrics, check to see if other colors are available. Popular
fabrics usually come in at least four colors.
Consider small checks, plaids and stripes as coordinates. Many will blend, and they don't
have to be a perfect match. Add at least two other key fabrics to your color scheme. Two fabrics
are paired, and the third pattern adds that extra punch.
If an expensive fabric is exactly what you want but can't afford, buy a small amount – maybe
a couple of yards – and use it for throw pillows.
Unless it's a major redecorating project, stick with a print that works well with existing
wall colors, floor colors and colors in adjoining rooms.

Digital Patterning Technology


Millitron® Imaging provides the most highly evolved digital patterning technology available.
It enables the designer to develop carpet designs and colors that express the personality of the
space and create direction. Precise modulation allows accurate positioning of graphic detail to
give total design control. Performance textures can be combined with soft graphic detail to give
rhythm to the floor plane.

Modular Carpet


Milliken modular carpet is an ideal solution for many designers and homeowners. From
installation through active life to ultimate replacement, it is by design easier to transport,
stage, install and remove than broadloom. If a panel gets worn or permanently damaged, it can be
replaced easily. It also provides easy under-floor access. Offices can be upgraded with little
disruption to workers.
Milliken modular carpet is incredibly stable, according to the company; it doesn't shift,
ravel or wrinkle. And with Comfort Plus® integrated cushioned backing, buckling and wrinkling
problems caused by broadloom installed over a pad are eliminated. Life cycle costing shows that
modular carpet is an excellent long-term value and looks better for a longer period of time
than broadloom.
All Milliken's commercial modular carpet is made of polyvinyl chloride-free materials. There
are no plasticizers to react chemically with the adhesive residue of old flooring.

Carpet Care


Milliken delivers its carpet care through MilliCare®, an international network of
highly-trained specialists who ensure that customers receive an optimal level of service and carpet
care that delivers immediate and long-term benefits.
MilliCare makes five essential promises to every customer:

• consistent, high-quality service;

• preventive maintenance and quick response;

• the most effective cleaning for a budget;

• service backed with research and best practices; and

• improved indoor air quality.

Carpet Panel Innovations


Carpet tile for the home has been around for some time, but the Milliken Floorcovering
Division wanted to make something that would work extremely well for the do-it-yourself market. Its
ambitious goal was to make a product that is useable throughout the house. With a dedicated team
and months of challenging planning along with consumer research, the division introduced the
Legato™ Carpet System in August 2002. Home Depot helped to launch the product.
Legato is a 100-percent nylon frieze construction attached to a 6-pound, 7-mil rebond pad.
The product takes its name from the musical reference to a smooth, continuous transition. Legato
has the look and feel of wall-to-wall carpet and can be installed in any room in the house. The
Legato carpet system features patent-pending TractionBack™, a high-friction coating that limits
lateral movement and has some upward resistance
(See "
Textile
World News,"
TW, this issue). Because the pad comes attached to the carpet, there is no
need to buy a separate floor pad, and no special equipment is needed for installation.
"Benefits of Legato are many," said Christian Swiers, product manager for carpet panels. "For
instance, there's no glue and thereby no mess. For the inevitable stains that come with flooring, a
panel can be easily removed and replaced. There is a moisture barrier built into each panel between
the face and the pad. This barrier helps protect not only the pad, but also the subfloor from
liquid spills. It is also treated with Scotchgard™ soil and stain protectant, and features the
AlphaSan® antimicrobial agent."

Enter Tesserae™


Milliken's Tesserae™ Carpet System came about while the company was developing Legato. The
company's retail and distribution networks saw the value in modular carpet products for the home.
Tesserae, positioned for professional installation, has two different products. Tesserae Spectrum
is made from 100-percent Wear Dated® nylon DuraSoft® fiber and is attached to a 6-pound, 9-mil
rebond pad. It is offered in 24 colors on a 45-ounce soft, luxurious face; and has a plush pad.
Tesserae Essentials is a 39-ounce, 100-percent Milliken WearOn® nylon face attached to a 6-pound,
7-mil rebond pad. Sixteen colors are available.
Tesserae allows the consumer to change the look of a room, plus it takes the fear and cost
out of designing with carpet. If a person would like to start with a solid look, it is possible to
do so – Tesserae gives consumers the freedom to take a solid look to a border or inlay as their
tastes change.
"The Tesserae Carpet System lets a consumer design individual living spaces in any room. It
is easy and affordable," Swiers said. Like Legato, Tesserae panels can be professionally installed
using the firm's TractionBack glueless installation. Each Tesserae panel has attached residential
padding with a moisture barrier built in – assuring a soft, comfortable feel and added subfloor
protection.
"With the Tesserae Carpet System, personalizing a space with unique border and inlay designs
has never been easier – or more affordable," Swiers commented. "It gives a custom look without the
custom price. Also, it was designed to be incredibly easy to maintain. If need be, a damaged panel
can be replaced with a new carpet panel and it can be done by almost anyone in just seconds. Again,
like Legato, the Tesserae Carpet System comes with added Scotchgard protection to help resist
spills and messes that inevitably happen – all helping to ensure that the carpet keeps its beauty
for years to come."
Milliken Carpet's reputation has been built on manufacturing a high-quality product that is
able to perform in the most demanding environments. Each element that goes into the production of a
Milliken carpet is carefully controlled, as is the manufacturing process itself.

World-Class Innovations


Milliken's motto is "Quality Leadership Through Research" – these words are seen on the
firm's fleet of carriers and throughout the company's facilities. Milliken's research and
development efforts set the company apart from most other companies in the world. Swiers said, "Our
focus is on being a world-class company in innovation, and we have the people and resources to do
just that." She added that all of the company's US manufacturing facilities and most of its global
locations have achieved ISO 14001 certification. In addition, only a very small percentage of
Milliken's waste is landfilled.

Looking Ahead


Milliken has manufacturing facilities in Australia, Belgium, Brazil, Denmark, France,
Germany, Japan, Portugal, Spain and the United Kingdom. Sales offices, development laboratories and
technical support centers extend Milliken's presence throughout the world.
The firm's technical expertise and diverse manufacturing capabilities are focused on
providing unique solutions to customers' needs that will improve their market position and ensure
long-term success.
"Everywhere you look, you will find Milliken products in nearly every aspect of life," Swiers
said. "In fact, you will touch Milliken products more than 50 times in an average day. Our fabrics
keep soldiers and youngsters warm, astronauts safe, and major league baseball players comfortable.
Our carpets and table linens are found in many of the world's finest hotels and restaurants. Other
fabrics are found in cars, sailboats, tennis balls and printer ribbons."
In today's economic climate, there is a demand for both functional and aesthetic
environments, and Milliken provides them all. The firm's solid foundation has definitely laid the
groundwork for continued success in the future.
April 2004