W

ith sales in Asia growing, many weaving companies are reaching out to China and
establishing divisions or distribution points in various regions of the country. In addition,
attendance at local exhibitions is more important than ever before. At the recent 10th
International Exhibition On Textile Industry, or ShanghaiTex as it is more commonly known, many
weaving machine companies displayed their latest-generation machines to the Asian market.
Some held openings for new divisions, including the ITEMA Group – parent company of
Italy-based Promatech S.p.A. and Switzerland-based Sultex Ltd. – which recently established ITEMA
(Shanghai) Textile Machinery Co. Ltd.
(See "
ITEMA
Opens Shanghai Operation,"
TW, January, 2004).
This new ITEMA facility will become the center of Promatech and Sultex sales and after-sales
activities in the region. The company made an initial investment of 10 million euros and will
produce 2,000 looms per year. The new site allows for expansion in both office and production space
when warranted.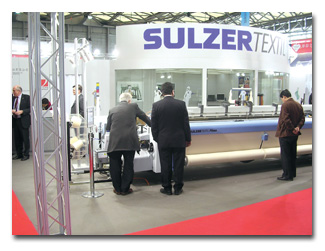 Sultex Ltd. demonstrated a 3.9-meter-wide P7300 projectile weaving machine at
ShanghaiTex.

Dornier Opens Shanghai Operations


Cheers erupted when Peter D. Dornier, managing director of Germany-based Lindauer Dornier
GmbH, handed a meticulously decorated cow bell – a reference to Dornier's proximity to the Alps –
to Franz Miesbauer, sales manager of the newly opened Dornier Machinery (Shanghai) Co. Ltd. The
crowd, which included Dornier executives and representatives from the company's clients and
vendors, as well as members of the press, gathered to celebrate the opening of Dornier's new
subsidiary in China, located on the outskirts of Shanghai at the Wai Gao Qiao Tax Free Zone.
With China generating almost 18 percent of Dornier's global business, the new Chinese
operation will play a key role in bringing the company closer to one of its fastest-growing
customer bases. The new facility will house, under one roof, a spare-parts warehouse, training
facilities, a 760-square-meter test weaving shop, and distribution and service facilities for
specialized machine construction.
"With the new facility, we can provide really good service to customers in the Chinese and
East Asian markets," said Egon Wirth, marketing communication manager. "The test weaving room for
rapier and air-jet machines makes decision-making easier for our customers."
The office in Shanghai, which replaces the company's facility in Beijing, has 15 employees
now engaged in both sales and technical capacities. However, Wirth expects the number to grow very
soon. "First, we want to see how it goes, but we expect the number of technical people to
increase," he said. Wirth also noted that the local employees will be training with their European
peers to ensure that the service the company provides is the same everywhere around the world.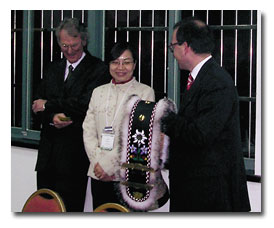 Left to right: Egon Wirth, marketing communication manager, Lindauer Dornier; Linda H. M.
Lai, general manager, Dornier Machinery (Shanghai) Co. Ltd.; and Peter D. Dornier, managing
director, Lindauer Dornier, celebrate the opening of Dornier's new subsidiary in China.

Tsudakoma Unveils New Concept Loom


Japan-based Tsudakoma Corp.'s big presence at ShanghaiTex was matched by the constant crowd
gathered around its three main attractions: the ZW408 water-jet loom, the ZAX-N (Navi) air-jet loom
and the yet-to-be-named air-jet concept model.
The ZW408 is the company's widest water-jet loom to date. With three nozzles, it is capable
of weaving a wide range of fabrics, from general apparel fabrics to thick, value-added fabrics to
double fabrics. The unit at the show was set up to weave curtain fabrics. The machine runs at 800
revolutions per minute (rpm).
Originally scheduled to make its first appearance during ITMA 2003, Tsudakoma's newest model
– the ZAX-N air-jet loom equipped with the Weave Navigation System – had its first public showing
at ShanghaiTex. Takeshi Kokura, deputy general manager of the sales department, said the loom is
designed for denim and runs at a speed of 1,000 picks per minute (ppm). The Weave Navigation System
has a new algorithm that automates settings and monitors looms in operation for the best weaving
conditions. Other new features of the ZAX-N include completely new electrical components, as well
as a land-area network for networking with a host computer.
The concept air-jet loom, shipped directly from the company lab to the show floor,
represents Tsudakoma's next-generation products. Features of the loom include high productivity
(1,900 ppm), low energy consumption and versatility. "We want people to see what point we are
aiming at and toward what direction we are developing [our products]," Kokura said.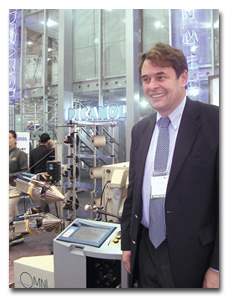 Patrick Steverlynck, chairman of Picanol's Board of Directors, poses with the
OMNIplus-2-P280 air-jet weaving machine on display at ShanghaiTex.

Picanol Group Continues Growth In Asia


Belgium-based Picanol NV is no stranger to the Asian market's demand for advanced weaving
technology. With the recent announcement of a memorandum of understanding with the Vietnam-based 8
March Textile Co. for 150 weaving machines, last summer's celebration of the manufacture of the
10,000th OMNIplus air-jet weaving machine – sold to Chinese customer Jiangxi – and the sale of 126
rapier weaving machines last December to Vietnam-based Vinatex, Picanol continues to expand its
presence in that marketplace.
"We are looking to the Chinese market to understand its needs," said Patrick Steverlynck,
chairman. "An emerging-style machine for an emerging market. China is estimated to have 200 rapier
loom manufacturers with approximately 30 high-technology (300-400 ppm) [manufacturers], and an
additional five water-jet and five air-jet [manufacturers] of reasonably high-technology [looms]."
But Picanol's interest goes beyond sales analysis. It established Picanol of China, which
has offices in Beijing and Guangzhou, in 1992, and a technical service station in Shanghai.
Additionally, Picanol has established Picanol Korea and Picanol Turkey to grow and support the
region.
"China and Asia are growing," said Steverlynck, "but we at Picanol believe in a world
market, and the whole situation will develop a commercial balance over time. This is the middle of
a growing process. The machinery today reflects the execution of today's technology – as
intellectual property protection improves, more technology will follow, and more companies will
invest in new ideas."
Picanol adheres to a strategy based on the three pillars of systems, services and
technology. Picanol has some 80,000 individual weaving machines in 2,600 weaving mills worldwide.

ShanghaiTex A

Resounding Success For Sultex


Sultex sold a number of projectile and rapier weaving machines at the show. According to R.
Feucht, sales division manager for Asia and the Pacific region, from its beginnings as a regional
show, ShanghaiTex has become an international show. Sultex had the opportunity to make contact with
key decision makers in China and other Asian regions and expects future business in that area of
the world.
Sultex displayed its Sulzer Textil P7300 projectile weaving machine weaving a dense cotton
twill fabric at a weft insertion rate of 1,250 meters per minute. The company says the machine is
flexible and capable of weaving a wide variety of fabric types.
The company also presented its G6200E rapier machine, which is geared towards technical and
industrial fabrics including air bags. The machine, also suitable for producing apparel and
decorative fabrics, was shown weaving a fine menswear worsted fabric at a speed of 600 rpm.
(Editor In Chief Jim Borneman, Senior Editor Carmen Pang and Managing Editor Rachael Dunn
contributed to this feature.)
March 2004