T

extiles and Turkey are interwoven in history. The Silk Road, which Marco Polo so famously
traversed, cuts through parts of the country, which has a long history in textile production.
Today, textiles contribute to about 33 percent of Turkey's total exports – generating about $10.3
billion in 2001, according to the Export Promotion Center of Turkey's Undersecretariat of the Prime
Ministry for Foreign Trade (IGEME).
With the availability of good-quality cotton, cotton yarn and fabric production are among the
most important textile activities in modern-day Turkey. According to IGEME, estimated 2001 cotton
yarn production in the country was 893,000 tons, and estimated cotton fabric production was 1,590
million meters. The value of cotton, cotton yarn and cotton fabric exports added up to more than
$840 million that year.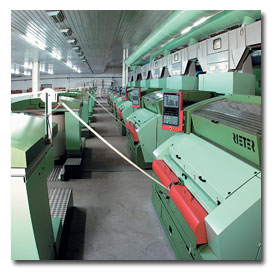 Yumak Iplik's iPOND spinning complex houses seven Rieter C 60 cards.

A Brand-New Plant


In March 2003, installation of a brand-new spinning plant began in a 15,000-square-meter
covered area in Tekirdag, a city not far from Corlu, one of Turkey's largest textile centers west
of Istanbul. Yarn production began three months later. Today, the plant employs approximately 80
people and churns out an average of 18 tons of cotton and rayon yarns every day.
The spinning complex, named iPOND, is part of Yumak Iplik Tekstil Sanayi ve Ticaret A.S., a
textile manufacturer headquartered in Istanbul. Yumak Iplik was founded in 2002 by two families
that have been in the textile business for more than 20 years.
iPOND also is the trademark under which the company markets its yarns, which range from Ne 16
to Ne 30 in yarn count. According to the company, the majority of its yarns are sold to Turkish
export knitters. In addition, some of the yarns are used by Yumak Iplik's new knitting plant, which
was completed in December 2003. The company also plans to add a ring-spinning line to its
operation.

Technology Investments


iPOND may not be the largest spinning mill in Turkey, but it easily is one of the most
advanced in technology installation.
The plant is equipped with an open-end (OE) spinning system made by Switzerland-based Rieter
Machine Works Ltd. According to Melih Günugur Hasircilar, one of Yumak Iplik's owners, a decision
was made early on to install machinery supplied by one source. "At the time when one first goes
into production, the responsibilities must be clear. A solution with various suppliers would have
meant that we had to find out ourselves which machine had what influence on a production error,"
Hasircilar said. "Thanks to the 'everything from one source' solution, we have gained additional
security."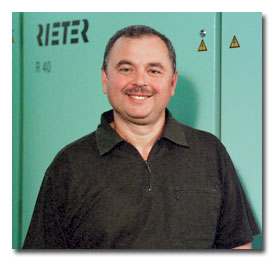 "A solution with various suppliers would have meant that we had to find out ourselves which
machine had what influence on a production error."

— Melih Günugur Hasircilar, owner, iPOND

Fiber Preparation


iPOND's blowroom line includes a Rieter A 11 bale opener, a Rieter B 11 pre-cleaner, two
Rieter B 70 mixing units and two Rieter B 60 fine cleaners with A 20 condensers. In addition, there
are seven Rieter C 60 cards set up in a modular construction to reduce resetting time to a minimum.
According to Rieter, benefits of the C 60 include high production rates and improved quality
and flexibility.
For the drawing process, iPOND decided to use two drawing passages – a Rieter RSB-D 35 draw
frame and a Rieter RSB-D 15 draw frame. According to Rieter, the additional dust removal the RSB-D
provides leads to higher efficiency during spinning. Moreover, the improved parallel alignment of
the fibers results in improved yarn quality and characteristics.

Rotor Spinning


Ten Rieter R 40 OE spinning machines are set up to manufacture yarn packages with diameters
of up to 340 millimeters and weights of up to 5 kilograms. Rotor speeds can reach 150,000
revolutions per minute.
The R 40 uses Rieter's SC-R spin box, which integrates piecing and package change in a robot
assembly. According to Rieter, an optimized take-off angle facilitates reduction in yarn twist,
while maintaining spinning stability and increasing delivery speed by 5 percent.
All yarns then are conditioned using a Condimat conditioning machine made by Germany-based
Ph. Welker GmbH. A final phase of quality control is conducted under ultraviolet light to detect
foreign fibers.
iPOND also has integrated Rieter's SPIDERweb mill monitoring system into its production lines
to provide plant personnel with instant access to production and quality data.

Knitting Line


Yumak Iplik recently added a new knitting operation to the iPOND complex. The knitting
operation features VXC-3S circular knitting machines from Monarch Knitting Machinery Corp.
Because the knitting facility is so new, Hasircilar said the company has yet to set any
production capacity or goals for the plant. "It also depends on the economic consumption in Turkey
and in Europe," he said.
March 2004