M

aking connections will be the focus of the 2003 edition of the International Hosiery
Exposition (IHE) and Conference when it convenes next month in Charlotte. Sponsored by The Hosiery
Association (THA), Charlotte, the annual event, to be held May 3-6 at the Charlotte Convention
Center, has as its theme "Team Up For Tomorrow."
"The more connected we are, the shorter the time to success, and time is money," states
Kevin Toomey, THA chairman, and president and CEO of Golden Lady/ Kayser-Roth S.p.A., in his
invitation to the hosiery industry to participate in IHE 2003. "The strategies that each of our
companies employ for success include tightening the circle of stakeholders in our business
(suppliers, customers and machine manufacturers) so we are able to connect with each of them faster
and more frequently."
"IHE is the premier trade show dedicated exclusively to hosiery," said Sally Kay, THA's
president. "Our 2000 show, with more than 10,000 visitors from 73 countries, was our largest ever."
THA expects fewer attendees this year – between 6,000 and 8,000 – because of consolidation in the
hosiery industry over the last three years, in addition to the current global uncertainties, "but,
as always, the decision makers will be coming," Kay added. According to THA, 92 percent of
the IHE 2000 attendees made purchase decisions or recommendations, and 21 percent were business
owners.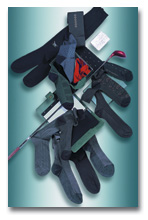 An array of patterned socks knitted using machinery from IHE exhibitor Sangiacomo S.p.A.,
Italy

Schedule Of Events

Included in the schedule of events is Hosiery World, a day-long international conference on
Saturday, May 3, followed by a three-day exposition, as well as a gala dinner and fashion show. The
exposition will comprise approximately 200 exhibiting companies offering fibers; yarn; machinery
and equipment, including principal Italian machinery manufacturers; packaging; computer services;
and other products and services.
Amenities at the exposition include: a cyber café on the exhibit floor, where exhibitors and
attendees can conduct business via the Internet; language interpretation services; and assistance
in arranging meetings between exhibitors and foreign customers; among others.
IHE visitors are invited to stop by Booth 1521 to meet representatives from

Textile World
and
Textiles Panamericanos and pick up complimentary copies of the magazines.

International Conference

Hosiery World is expected to attract industry executives from around the world and will
offer simultaneous multilingual translation for non-English speakers. The conference is sponsored
by Duraspun®, St. Louis, and Charlotte-based Acordis Acrylic Fibres.
Toomey will open the conference with a welcome and opening remarks. He will then introduce
Neil Hightower, vice president; and Gian Mario Borney, director, international marketing; Werner
International Inc., a Belgium-based management consulting firm that specializes in fibers, textiles
and apparel. Hightower and Borney will present a global overview of the hosiery industry, including
trend projections over the next five years.
David Spooner, US chief textile negotiator, will follow with a discussion of trade issues,
including the effect of President Bush's Trade Promotion Authority (TPA) on US trade policy; free
trade negotiations with Singapore, Central America, Chile, Morocco, Australia and South Africa; the
Free Trade Area of the Americas (FTAA); the new World Trade Organization (WTO) round of trade
negotiations; and textile agreement negotiations with Vietnam.
Morning sessions will conclude with presentations on automation and logistics. Barry
Mademann, a Harmony, N.C.-based partner in The Context Group, Atlanta, will discuss seamless
people-free manufacturing and its competitive advantages. Bill Sheely, executive vice president of
operations, Gold Toe Brands Inc., Burlington, N.C., will talk about domestic and international
sourcing and supply chain issues.
Following a reception and luncheon sponsored by Pittsburgh-based Bayer Polymers LLC, Marshal
Cohen, co-president, NPD Fashionworld, Port Washington, N.Y., will offer a brief look at the global
market from a retail perspective. The rest of the afternoon will be given over to a panel
discussion by industry executives looking at the world hosiery industry, followed by a question and
answer period.
Panelists for the Executives' View of the Hosiery World include Ken Wong, president, Ken
Shing Hosiery Co. of China; Fritz Schulte, vice president, sales and marketing, Acme-McCrary Corp.,
Asheboro, N.C.; Jesus Garcia, president, Promotora Textil, Mexico; Nerino Grassi, president, Golden
Lady, Italy; W.C. Cheong, president, Shin Myoung International, Korea; and John Moretz, president
and CEO, Moretz Inc., Newton, N.C. Bob Yoe, CEO, Crescent Hosiery Mills, Niota, Tenn., will
facilitate the discussion. Wong will present information about Chinese knitting machinery
purchases, hosiery production for the domestic Chinese market and projected business to European
and US markets. Other discussions will center on conducting business in China, Mexico, Korea,
Turkey, Pakistan and Europe.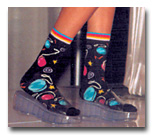 The IHE fashion show gives THA members an opportunity to show off their products.

Fashion Show

The evening of Sunday, May 4, will be devoted to a gala event in celebration of the American
hosiery industry. Charlotte jazz singer Daryl Rice will entertain guests during a cocktail
reception, which will be followed by a dinner, during which the current THA leadership will be
recognized and new officers and directors introduced.
The evening activities also will include a "signature event" fashion show presenting the
full range of hosiery from socks, sheers and pantyhose to body-size apparel for men, women and
children. "We're very excited about this unique opportunity to show hosiery for the entire family,"
said Kay. "This will be a high-energy show with a global audience and a unique twist, presenting
vignettes playing off the IHE theme of 'Team Up For Tomorrow.' We are encouraging all THA member
companies to show their products."
Evening sponsors include Duraspun and Wilmington, Del.-based DuPont, among others.
April 2003