I

n December, at a meeting of the World Trade Organization (WTO) in Geneva, US Trade
Representative Robert Zoellick, on behalf of the Bush administration, presented a proposal to
eliminate global tariffs on industrial goods, including textiles and apparel, by 2015. This
proposal is nothing more than a gift to China and puts at risk most of the manufacturing jobs in
the United States.
During the past year, more than 1 million US manufacturing jobs have been exported in search
of cheap and exploited labor. Implementation of this proposal will spell the end of manufacturing
jobs in the United States, especially in textiles and apparel. This "free trade" does not in any
manner take into consideration "fair trade."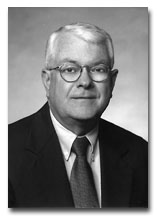 First of all, for years, our government's trade policy, whether we agree with it or not, has
encouraged the US textile industry to take advantage of nearby preferential trade arrangements and
free trade areas to develop trading blocs that will be competitive with Asian manufacturers. Our
government has said to us,
"You need to develop partnerships and sell your fabric and yarn to apparel makers in the
Caribbean, Central America, Mexico, and the Andean countries of South America. If you do that, the
apparel will come back tariff-free, and that will give you a competitive advantage over the
low-wage manufacturers in China, India, Pakistan, etc., who would still face tariffs on their
imports after we eliminate all our import quotas in 2005."
Well, many of us have tried to set up such trading arrangements and develop export markets,
and guess what? This new US proposal to eliminate tariffs will undermine the very trading
partnerships our government told us to establish. By reducing and ultimately eliminating US
tariffs, it will make preferential tariff arrangements meaningless. Our customers in the Caribbean
and Mexico will find their garments – garments containing our yarn – displaced by garments from
China that contain only Chinese yarns. These proposed tariff cuts will wipe out most of the more
than $12 billion worth of US textile exports that currently are shipped to our trading partners to
the south.

Currency Provides Discount

The reason we will lose that business is that it will throw the US market wide open to even
greater numbers of imports from Asian countries that have manipulated their currencies to give
their own products what amounts to a 30- to 40-percent price break. This new tariff proposal does
nothing to address such currency manipulation, which is anything but fair trade.
Further, because the proposal seeks to immediately eliminate duties of 5 percent or less, it
will hurt commodity-type textile producers of yarns and certain fabrics, while making competitive
disparities even wider among many developing countries. Textiles, like the rest of manufacturing,
has been hard hit over the past several years, and profit margins today are between 1 and 2
percent.

Barriers Remain

Finally, the proposal does nothing to force other nations to swiftly eliminate non-tariff
barriers that keep our exports out of their markets. Even if many countries agree to eliminate
their tariffs, the world will be far from the free-trade model. Many developing countries that send
us billions of dollars worth of garments have barriers such as import licenses, hidden import
charges, unnecessary standards and a host of other measures that keep our exports out of their
markets. All non-tariff barriers must be eliminated quickly and not phased out, and no country
should be given a free ride on this. Otherwise, Asian textiles will enjoy yet another competitive
advantage over US producers.
Our textile industry, which has lost hundreds of thousands of jobs over the past decade, has
been repeatedly sacrificed in previous negotiations. This has to stop. It is agreed that nations
should be able to compete fairly; however, the current US tariff proposal will not achieve that for
textiles and apparel.

Achieving Fair Trade

Our representatives and senators should instead push for the United States to adopt a new
proposal that all countries should lower their tariffs first to the current level of US textile and
apparel tariffs, and only then seek to negotiate further liberalization. Also, the United States
should use a separate, sectoral approach to negotiate separately on textiles and apparel. This
would permit the United States to pursue a more equitable approach to tariffs, swift elimination of
non-tariff barriers to US exports, protection of intellectual property rights with respect to
textile designs, copyrights, etc., and more effective customs enforcement measures.
Our elected officials should also remind President Bush of his comments earlier this year
that "minimizing the impact of future trade deals on the domestic textile industry is at the top of
the administration's agenda." A different and better tariff proposal for textiles and apparel is
needed if that commitment is to be followed and fair trade achieved.
Editor's Note: This is an open letter prepared by James W. Chesnutt, president and CEO,
National Spinning Co. Inc., Washington, N.C. Chesnutt also is current president of the American
Yarn Spinners Association (AYSA) and serves as chairman of the Yarn and Thread Committee of the
American Textile Manufacturers Institute (ATMI).
Textile World encourages textile executives to speak out on matters affecting
today's textile industry. To participate in
TW's Executive Forum, e-mail:
jborneman@TextileWorld.com.