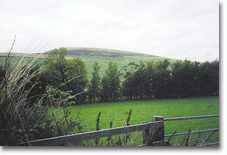 T
he mention of Scottish textiles summons up images of traditional tartans and thick
hunting tweeds, superb quality, sturdy and a bit stodgy. Although the rustic tweeds and colorful
checks are still there, the Scottish textile industry is creating a new identity. Modern facilities
with new spinning, weaving and knitting equipment, products designed for today and new marketing
strategies have brought about a demand for Scottish fabrics from designers around the world who are
looking for unique fabrics, quality and performance.
Some of the companies that first began producing cloth in the 17th and 18th centuries still
exist. Today they have combined a legacy of tradition with innovation. They have identified their
customers and niche markets.
From the Lowlands in the south, to the Highlands and islands of the outer Hebrides, textile
production is scattered throughout the country. In the Borders, a region south of Edinburgh, the
major export is textiles, accounting for 45 percent, or about $18 million annually. This represents
more than a third of the total national share. Over 70 percent of all exports are to European Union
countries, with Asia and the Americas coming in at around 10 percent each.
Historically, domestic Scottish wool was the main component of Scottish yarns and fabrics.
Realizing the limitations of heavy woolens for year-round wear, the industry has diversified.
Fabrics are lighter and softer. Yarns may contain a variety of wools grown in the far reaches of
the globe, or are spun with other fibers. Quality and service are constant.

Historic Spinning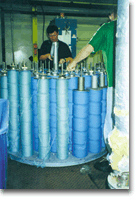 Laidlaw
& Fairgrieve has been producing yarn for 135 years on a site where the first Borders spinning
plant was built in 1793. They were the first commercial spinners of Shetland yarns. Today they
offer a contemporary range of product. Along with traditional Shetland there is extra-fine lambs
wool, merino, machine washable wool, printed wool and blends with cotton, linen, mohair and camel
hair.
Recently Laidlaw & Fairgrieve announced restructuring. They have formed a new alliance with
Ferney Spinning on the Island of Mauritius, and will form another with a European spinner.
"This will make us more competitive in world markets," said Colin Plumbe, managing director.
Laidlaw & Fairgrieve anticipates an annual capacity of 3 million kilos. They export yarns
to 36 countries, maintain offices in Tokyo, Hong Kong and New York and sell to 175 accounts in the
United States.
Customer service and research and development are of prime concern at Laidlaw &
Fairgrieve. Color is a key factor. There are 700 shades on their current color card. Stock service
provides delivery of sample yarns anywhere in the world, with no minimum requirements. Color and
yarn requests are tracked, 50 percent are updated each year.
Shetland is the base for stock service colors because it is, according to Plumbe, the least
expensive natural fiber. Realizing the importance of softness, there are finer micron Shetland
yarns, lambs wool, ultra-light merino, and blends with Lycra® readily available. Novelty yarns such
as marls, melanges, Donegals, slubs or blends can be ordered with a small minimum. The same is true
for custom yarns developed to a customers specifications. Product development work shows customers
what they can do with specific yarns through knitting and finishing. New fabrics and patterns are
created and each is washed, felted, brushed and pressed.
"We encourage our customers to think of us as their partners," Plumbe said. "In addition to
color development and product development, we offer design support and technical support. We will
assist a customer through the entire manufacturing process."
Quality is another factor. At Laidlaw & Fairgrieve there are stringent checks at every
stage to ensure the right color, strength, evenness and consistency of the yarn. Laidlaw &
Fairgrieve buys washed wool and top. Tests are made through each production stage of combing,
dying, blending and spinning.
"We are careful where we buy wool, and visit every grower," Plumbe said. "We test every bale
of wool that comes in for fiber length and contaminants. Ideally wool should contain 16 percent by
weight of water. Lower than 12 percent and it's too brittle; over 18 percent there is risk of rot
and mildew."

Gardiner Wool Spinning

Located by the Tweed River in the
Borders, Gardiner Yarns (Yarn Sales Corp.) started as a weaver and finisher in 1867. They got into
spinning in 1975. Today their mill in Selkirk produces only wool spun yarns. Sales are divided
equally between weaving and knitting, with single-ply yarns of 12 to 4 metric count going to
weaving, and the same yarn two-ply going to knitting.
Exports account for 65 percent of sales, with most of that going to the European Community.
Asia is their second largest market, the United States comes in third.
Also specializing in stock service, Gardiner will deliver any of 72 colors in Shetland,
lambs wool or merino to customers around the globe in generally under three weeks. The minimum is
one kilo, which is enough yarn to make three sweaters.
Current best sellers are a 100-percent wool yarn called Highland Tweed, which is thick and
chunky, and Melrose, a three-ply yarn of wool/silk.

Diversity At Calzeat

Jacquard weaver Calzeat & Co.
(sold in New York through Textile Import Corp.) produces a variety of fabrics for womenswear,
menswear and the home. In addition to the Calzeat line, they produce and sell textiles under four
other names, all purchased since their inception 25 years ago.
The Calzeat line specializes in jacquards and dobbies. Patterns are subtle, misted,
heathered and sophisticated. There are ultra-soft double-faced fabrics, textured tweeds, ripple
effects, pressed velvet finishes and chenilles. Fabrics are woven of 100-percent wool or blends
with mohair, silk or linen.
"Linen is becoming a year-round fiber," said Robin Galbraith, managing director. "We are
blending it with wool for lighter weight fabrics."
The Claridge line produces fancy wovens for high fashion. The look is very Chanel. For fall
there are all-over textured looks in combinations of wool with silk, mohair or angora, sometimes
highlighted with fancy yarns. Weights range from 300 grams to 450 grams The number one export
market for this line is Japan.
Calzeat's Peter MacArthur label is noted for traditional and off-beat semi-plains and
tartans woven with fine merino or lambs wool and frequently blended with cashmere, mohair or
angora. Finishes are brushed, sueded, milled and clean. The newest fabrics are ultra-light
including feather-weight gauze.
Dickson Fabrics, another Calzeat label, is a sporty line specializing in traditional checks,
classic weaves, rustic Shetlands and worsted flannels. It sells to bridge level casual and
sportswear firms.
Calzeat's Thistle Mills accounts for about 15 percent of their total sales. It produces
fabrics for the home, primarily upholstery, household accessories, rugs and throw blankets. There
are fire retardant damasks and rich plaids.

Royal Tartans At Lochcarron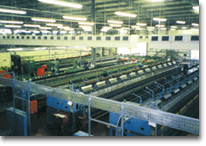 Spinner,
weaver and knitter, Lochcarron (sold in the United States through Rutytex) has been in business for
more than 50 years, but the family connection with weaving goes back five generations. In 1932, the
current sales director's great-great grandfather was commissioned to weave a special tweed for King
George V.
Currently on display in their Galashiels sales office is the Diana Tartan, created for the
late Princess of Wales. Mel Gibson wore a tartan kilt supplied by Lochcarron in the film
Braveheart. Another new tartan is called McLlennium.
Since its modest beginnings with crofters weaving on handlooms in Loch Carron, a small
village in north west Scotland, the company has changed dramatically. The Loch Carron factory is
still in operation but the main site is in Galashiels.
According to David Ogilvie, managing director, business is equally divided between
traditional kilt and uniform fabrics and a fashion line. Customers for the traditional line include
the Royal Canadian Mounted Police and tartans for 12 different schools in Japan. The fashion line
caters to the high end of the market.
"A very few of the top designers do not use Lochcarron for the quality and design service we
offer," Ogilvie said.
"We are best known for our tartans that are available in all weights from a light
"springweight" through to upholstery strength fabric. We have over 1,200 patterns in stock for
overnight sampling. Our other fabrics include traditional tweeds, some with added interest of
mohair overchecks, stripes for blazers and upholstery, and cashmere velour overcoating." Ogilvie
continued.
A recent investment of £1 million ($1.75 million) in the most up-to-date rapid
high-technology looms enables Lochcarron to cope with demanding high volumes. Old equipment is
still used to weave kilts to assure the perfect edge.
Although Lochcarron uses only natural fibers, they are beginning to work with Lycra. Another
new development is worsted denim tartan.


Robert Noble


Robert Noble has been weaving fabrics
in Scotland since 1666. Their archives include tartans woven for Scottish regiments dating back to
the 1880s. The boardroom, built in 1884, has been newly decorated using fabrics similar to designs
they created for the English Houses of Parliament.
In 1980 Robert Noble branched into upholstery fabrics. Based on the success of this venture,
they purchased Replin Fabrics, specialists in contract weaving. Today one third of their sales are
to apparel industries, the remainder goes to upholstery for home, office and industry.
Replin is a major supplier of fabrics for transportation. Airlines, ships, busses and trains
are furnished with wool/Nomex blends. Seats on the Orient Express are upholstered in Replin's
electronic jacquard designs. American Airlines, TWA, United and Delta use these fabrics, which pass
the most stringent flammability tests, for crew seats and wall coverings.
"With our modern equipment we offer speed, variety and tough fabrics," said Roland Brett,
managing director. Recent new machinery has been installed at a cost of about about $8 million.
"One reason for wool upholstery for pilots seats is that it breathes better than other
fibers," Brett continued. "And there is only seven percent duty on wool upholstery fabrics into the
United States, versus 30 percent for apparel fabrics."
The majority of Robert Noble's fabrics are CAD designed and woven on jacquard looms.
"Hand-drawn designs take about eight weeks to complete," said Brett. "We can do the same work in
eight hours with our CAD equipment."
Robert Noble weaves woolen and worsted fabrics for menswear and womenswear. Hickey Freeman
and Jones New York are among their customers.
Most of their fabrics contain natural fibers. For summer designer Gill Cable mentioned that
silk/linen blends sold exceptionally well. Wool twisted around silk and linen and woven into plaids
and herringbones is being shown for fall.


Hunters Of Brora

In the Highlands of Scotland the
hour-and-a-half drive north east from Inverness to Brora winds along narrow coastal roads. The
scenery reflects the dichotomy of Scottish textiles. Heather-filled moors, misted hillsides and
grazing sheep provide a romantic backdrop to North Sea oil rigs.
The newly built vertical mill Hunters of Brora occupies is on 17 acres adjacent to the beach
and beside hills and moors. Officially opened in April 1999 by HRH The Prince of Wales, the factory
is fully equipped with state-of-the-art spinning, weaving and finishing equipment.
Established in 1901, Hunters set out to manufacture, from raw material to the finished
article, using wool from the Highlands and Islands of Scotland, in particular from Shetland.
"We are currently exporting at around 60 percent, mainly to the United States, Hong Kong,
France, Italy, Germany, Japan and Korea at the mid- to high-end of the market for both menswear and
womenswear," said Brian Hinnigan, sales director. "The Hunters' color signature, which has been the
hallmark of production since the company was established, is well known throughout the world,
alongside high quality and service."
Robert Beattie, managing director, said: "The new facility allows us to manufacture a
greater variety of products, particularly finer and softer yarns and fabrics in real Shetland from
the Shetland Isles, Australian lambs wool and New Zealand merino. Hunters now has the capability to
blend wools with many other natural fibers such as silk, mohair, alpaca, angora, cotton and linen."
Some of Hunters' yarns contain as many as 18 colors. 180 colors are in stock. Knitting yarns
are offered in rich melanges, marls and nubs suitable for 2.5 gauge to 8 gauge knitting machines.
One new yarn is a merino/opossum blend called Kapua, which in Maori means dreamy clouds.
According to Hinnigan, opossum is finer than cashmere and just as expensive. It has a lot of
natural elasticity. Currently Reed and Taylor is running trials on worsted fabrics.
The Hunters' collection for fall is softer and lighter, with fabric weight ranging from 300
grams to 650 grams There are rustic weaves in lambs wool, Donegals, wool/mohair boucles,
100-percent merinos in misted herringbone patterns, wool/cashmere blends and lightweight tweeds
woven with high-twist yarns.
For spring and summer, Hunters' Senior Designer Anne Robertson said: "We are getting away
from the woolen mill label. We are developing a total new look using linen, silk and cotton.
The new facility allows room for expansion. New jacquard looms will soon be in place.

Light And Soft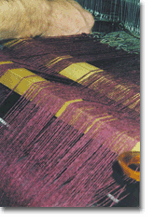 Since
the 18th century, crofters on the islands of the Outer Hebrides have been hand weaving Harris
Tweeds, using wool from local sheep. This cloth first gained popularity in the 1840s when Lady
Dunmore, wife of the Laird of the islands, introduced it to the British aristocracy. Hunting,
shooting and fishing in the Highlands had become popular pastimes for the privileged, and created a
demand for a special cloth that could cope with the rigors of cold weather and rugged
terrain.
Authentic Harris Tweed must be made from 100-percent pure virgin wool, dyed, spun and finished
in the Outer Hebrides and hand woven by the islanders at their own homes. The Harris Tweed
Authority certifies all finished fabric with its stamp of authenticity, the Orb Mark.
The KM Harris Tweed Group produces 95 percent of all Harris Tweed. It is a marketing company
established in 1996 to promote Harris Tweed, and is composed of three companies: Kenneth Macleod
Ltd., Kenneth Mackenzie Ltd. and The Harris Tweed Trading Company Ltd. In the United States,
Textile Import Corp. is the agent for The Harris Tweed Trading Co.; St. Andrews handles Kenneth
Macleod.
Although each company has the same ownership, each retains its individuality, with separate
mills, production, design and sales teams. Another producer of note is Donald Macleod, who formed
his company in 1982.
In the mid 1980s, 3 million meters of Harris Tweed was exported from Scotland to the United
States, and 1 million meters was sent to Canada. By 1991 that number was down to 130 meters to the
United States, a loss of 96 percent. Last year 100 meters was shipped to Canada.
According to Derick Murray, managing director, The KM Harris Tweed Group, the strength of the
British pound, high U.S. duty on wool and the Asian crisis all contributed to the decrease in
sales. The fabric itself was another factor.
In the 1920s Lord Leverhulme owned the islands. He brought in Hattersley looms which weave a
75 cm single-width cloth. Carpet quality wools from local Black Face and Cheviot sheep turned out
tough rustic fabrics weighing in at 500 grams/sq. meter.
Realizing that they were not addressing the demands of fashion designers and consumers, who
have little interest in fabrics that are impervious to wind, rain or thistles, Harris Tweed
producers have changed the width, weight and touch of the cloth. The old Hattersley looms are being
replaced by Griffith looms, which produce double width cloth of 150 cm. Today there are 130
Griffith looms and 150 Hattersley looms in use.
Harris Tweed is still 100-percent pure raw new wool. Finer and lighter grades from outside of
Scotland are being combined with local wool. After the wool is scoured, carded, dyed, blended and
spun, warp yarns are put onto beams and delivered, along with bags of filling yarns, to crofters.
Crofters are freelance weavers who live on the islands, some in remote areas where Gaelic is
still the mother tongue and the heritage of weavings has been handed down through generations. They
are paid by the piece. A single piece is 85 meters long, a double piece is 65 to 70 meters. Once a
fabric is woven, it goes back to the mill to be scoured, milled, cropped, pressed and inspected.
Fresh water from local lochs is used, giving the fabrics extra softness.
Ultra-light weights as low as 260 grams/sq. meter, soft handles, excellent drape and
innovative styling have brought about renewed interest in Harris Tweed. It is turning up in major
collections around the world.

Luxury And Quality


Over
the past 15 years, cashmere specialist Johnstons of Elgin has experienced dramatic expansion. Their
business has quadrupled. If predictions for the future are somewhat guarded it is because the price
of cashmere has increased 60 percent, and duties to the United States are 30 percent.
Since its inception in 1797, the company has been owned and run by just two families, the
Johnstons and the Harrisons. In 1851 they pioneered in the weaving of vicuna and cashmere in
Scotland. Today luxury fibers remain the foundation of Johnstons of Elgin's products and success.
In the middle of the l9th century Johnstons of Elgin originated a range of designs which
have become known as Estate Tweeds. To some extent Estate Tweeds might be said to be distant
cousins of Clan Tartans. Both tweeds and tartans identify groups of people. A tartan identifies
members of the same family, no matter where they live. Estate Tweeds identify people who live and
work in the same area, whether they are related or not.
Today the major portion of Johnstons' woven fabric business is in 100-percent cashmere
jacket-weight fabrics for both menswear and womenswear. Priced at between £40 to £65 per meter ($68
to $110.50), they are selling 75,000 meters of cloth annually. Eighty percent goes to export, with
Italy their biggest market. In the United States, Windsor Textile Corp. is their agent.
In the 1960s Johnstons expanded into knitwear. In addition to fabric, they produce a line of
accessories. For the past decade they have invested around one million pounds annually in new
machinery. In addition to cashmere and vicuna, alpaca, guanaco camelhair, mohair, angora,
chinchilla and mink are other luxury fibers Johnstons weaves or knits into a variety of fabrics.
Lambs wool, merino and blends with silk are also available.
"The average cashmere goat yields about four and a half ounces of underfleece a year, which
must be combed or plucked by hand every spring," explained John Gillespie, divisional design
director. "It takes the hair from one goat to make a scarf, two to make a woman's sweater."
When the fleece arrives in Elgin it is matted, greasy and full of coarse hairs. It is
dehaired to separate the fine cashmere from the coarse guard hair. There is a 40- to 50-percent
fiber loss in the dehairing process.
Cashmere grows in four colors: white, grey, camel and brown. White is the most expensive.
Some cashmere is processed in its natural state, some is dyed. White is used for dyeing light
colors; brown for navy and darks.
Jacket- and coat-weight fabrics range in weight from 240 to 600 grams/m. There are sheers of
l80 grams/m and double-faced coatings of up to 600 grams/m.

Ballantyne

The name Ballantyne is synonymous
with cashmere products of the highest quality. "In fact our cashmeres get softer with age," said
Ann Ryley, sales director, Ballantyne Cashmere Company Ltd. She attributes this in part to the fact
that Ballantyne cashmere is washed in the soft pure waters of the River Leithen, the same magic
ingredient of Scotch whiskey.
Founded in the 1920s, Ballantyne today is part of Dawson International PLC, a company that
has been dealing in cashmere since 1870. Raw cashmere is purchased and processed by Dawson. The
fiber is dyed and spun by Todd & Duncan, another company in the Dawson group. Dyed yarn is
shipped to Ballantyne, where it is styled and made into apparel.
On its journey through the factory each garment goes through approximately 40 production
processes before it reaches the exacting standards demanded by Ballantyne. A lot of the work is
done by hand. It is checked thoroughly every step of the way.
Designs are submitted with suggested colorways, and prototype garments are made. Colors are
selected from dyed yarns. Ballantyne holds 160 colors in stock at any one time. Each garment
consists of a minimum of nine separate pieces, each of which must be knitted from the same dye lot
to ensure uniformity of color and hand.
Ballantyne has the largest hand intarsia operation in the world. Patterns can range from
simple geometrics to intricate florals, abstracts, portraits and animals. A simple intarsia design
can take three hours to knit. A more complex pattern can take up to 25 hours. The most intricate
intarsia ever produced took two weeks to make. Anything up to 25 colors can be incorporated into an
intarsia design.
Eighty percent of Ballantyne's production is exported to over 50 countries. Japan and Italy
are their two major markets, followed by the United States and France. Showrooms are in Italy,
Japan and the United States, as well as a network of agents worldwide, with shops in London, Paris,
New York, Chicago and Tokyo.
---
January 2000