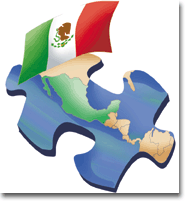 O
nce again, the push for CBI parity has failed in the U.S. Congress. As a result,
Caribbean Basin countries will have to wait longer for increased access to the U.S. market.
For many U.S. manufacturers and importers, they will have to wait for better access to the
quality manufacturers of the Caribbean. But, for Mexican textile and apparel manufacturers, the
delay is probably a good thing, as Mexico will continue to enjoy a significant advantage over the
Caribbean through NAFTA and will have more time to further solidify its position as the major
competitor for Caribbean Basin countries.
Under NAFTA the Mexican textile and apparel industry has blossomed. Exports to the United
States have skyrocketed in recent years. Also, new investment in Mexico is now at an all-time high,
with investors flocking from the United States and other countries as well.
With such explosive growth, Mexico has much to fear from a successful implementation of NAFTA
parity for the Caribbean. Whereas Caribbean nations now face clothing quotas, Mexico faces few.
Mexican exporters enjoy low or zero-percent U.S. import duties for many products, and CBI faces
normal MFN tariff rates. Additionally, Mexico maintains a growing textile industry in support of
its apparel capacity further enhancing Mexican competitiveness. The Caribbean, in turn, does not
have much of a knitting or weaving industry.
Under the proposed versions of NAFTA parity for the Caribbean, these advantages would go away
as the Caribbean would enjoy NAFTA-style tariff and quota benefits. Further, special provisions of
the proposed NAFTA parity legislation will go a long way to helping certain Central American
countries to develop a more vigorous textile industry in support if their already aggressive
apparel industry.
For American apparel companies, the stakes are high, as many firms see the preferential
provisions of NAFTA with Mexico, coupled with such provisions for the Caribbean, as the only
effective way to compete in today's world markets. As domestic apparel manufacturing has become
more and more expensive, outward processed ("807") and full-package production in Mexico and the
Caribbean using U.S. piece goods are some of the only viable manufacturing options left — short of
abandoning manufacturing all together and sourcing everything from the Far East.

The Mexican Apparel Industry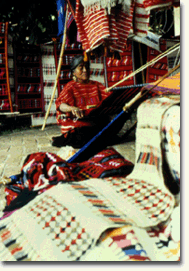 The apparel industry in Mexico represents one of the largest manufacturing sectors in the
Mexican economy. Employing nearly 460,000 workers, Mexican apparel industry employment has more
than doubled since 1993. It is estimated that Mexico's apparel industry produced nearly $8.5
billion of product in 1998, up from just $3.6 billion in 1993.
There are currently more than 22,000 apparel companies in Mexico, with the average company
employing just about 40 workers and with many companies employing less than 5 workers. So-called
large firms (with more than 500 workers) account for less than 2 percent of all apparel companies
in Mexico.
Because there are so many small manufacturers in Mexico, these companies tend to be easily
buffeted by market trends, as they do not typically have the financial resources to ride out stormy
periods in the Mexican economy.
Although many of the firms operating in Mexico originally acted as Macquiladoras (that is,
they acted as assemblers of U.S. components) they have moved their production more and more into
the full-package arena. It has been easier for these companies to do so as they have received
better training and investment for United States and other apparel importing companies.
As the quality and price of the garments produced in Mexico has improved, the traditional
Macquiladora assembling activity has dropped. In fact, "807" type exports to the United States has
fallen from an equivalent of nearly 93 percent of all Mexican apparel exports in just 1993 to only
about 80 percent in 1998. In 1999, this percentage has fallen even more. At the same time, total
U.S. apparel imports from Mexico has soared from $1.3 billion in 1993 to more than $6.7 billion in
1998. The United States is the largest export market for Mexico by far with more than 90 percent of
all Mexican apparel exports going to the United States in 1997.
For many products, 1999 was the first year for zero duty status under the NAFTA agreement.
Under the "807" duty structure, duty is only paid on the value added in Mexico; thus it made
economic sense to use U.S. cut pieces for apparel assembly in Mexico. Now under NAFTA, however,
U.S. import duties have gone to zero for many key products, thus changing the economics so that it
makes much more sense to produce full-package garments in Mexico and forgo the U.S. cutting step
required under the "807" provisions.

The Mexican Textile Industry

Several large mills dominate Mexico's
textile industry, but there are a variety of smaller manufacturers that fill specific niches in the
Mexican market. For years, Mexico's textile industry was largely sheltered from the challenges of
global trade thanks to a high import tariff structure enforced by the Mexican government. As key
supporters of the traditional closed Mexican political system, textile interests were able to all
but close down their domestic market to foreign competitors.
The largest mills are almost exclusively family owned. Although in general these firms are
not of the scale of the largest U.S. mills, they do control significant portions of the Mexican
market. The financial strength of these firms varies and the impact of the relatively recent peso
crash and ensuing currency debacle cannot be understated. Because of the shaky financial status of
many of these firms leading out of the peso disaster, many of these firms looked to partner with
stronger, larger U.S. mills. Many U.S. firms, in turn, looking to better supply U.S. apparel
companies that had moved into Mexico after the signing of NAFTA, welcomed the new
partnerships.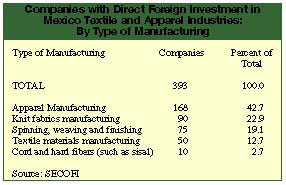 Investment Opportunities

There have been several
well-publicized investments in Mexico. These include new investments/joint ventures of Burlington
Industries, Cone Mills
(See "Success Through Partnership" in this issue.), Guilford Mills, Kosa and DuPont. As of
1996, 393 companies were registered with the Mexican government as having direct foreign investment
related to the textile sector. This represents about 3 percent of all firms with foreign capital in
Mexico (about 13,000 firms in total).
Based on their primary manufacturing activity, as reported to the Mexican government, about
43 percent are classified as apparel manufacturers; 23 percent as double-knit fabric manufacturers;
19 percent spin, weave and finish fibers; 13 percent manufacture textile materials and about 3
percent in the hard fiber textile industry.
As for the origin of foreign investment in textile manufacturers, more than 70 percent of
them have U.S. capital; nearly 4 percent have Spanish investment; 3 percent Korean; 2.5 percent
Canadian; and over 20 percent from other countries. More than a quarter of these firms are located
in the Mexico City area. Between 1994 and 1996 (the most recent years reported), more than $340
million of foreign capital was invested in Mexico's textile sector. This equates to about 2 percent
of all foreign capital invested in Mexico during the same period (about $16.5 billion).
Of the foreign capital invested in Mexico's textile industry, more than $133 million were
invested in spinning, weaving and finishing operations (39 percent of total textile and apparel
sector); about $89 million were invested in knit fabric manufacturing (26 percent of total); more
than $83 million were invested in apparel manufacturing (about 24 percent of total); and more than
$36 million were invested other textile-related activities (almost 11 percent of total).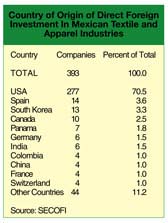 A Transitional Mechanism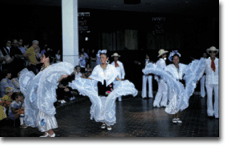 While
the export and production growth of Mexico's textile and apparel industries has been stunning in
recent years, much of this growth is directly attributable to the duty benefits of the NAFTA
agreement, along with the shorter delivery times afforded to Mexican manufacturers due to the close
geographic proximity to the U.S. market.
However, the benefits of NAFTA may prove to be fleeting at best for U.S. apparel companies
now sourcing product in Mexico, as any CBI parity legislation will force a more even playing field
with the Caribbean and the WTO quota phase-out of the Multifiber Arrangement will make it much
easier for Far Eastern firms to gain entry to the U.S. market. Further, MFN import tariffs have
been cut under the terms of the WTO agreement. All of this not only represents a significant
reality for U.S. companies new to the import sourcing game, but also represents a profound threat
to the long-term prospects of Mexico's apparel industry. In particular, "807" production will be
under increasing pressure to compete.
Although agreements such as NAFTA and CBI Parity have and will help certain U.S. and
regional firms to be more competitive, these agreements should perhaps be viewed as being
transitional, designed to assist U.S. manufacturers to ease their way offshore. NAFTA in particular
should be viewed as a means to end — not a final solution for America's textile and clothing
industries. In time, it is unlikely that NAFTA or the CBI legislation will be able to halt an
inevitable climb in imports from the Far East brought about be elimination of MFA quotas and
reduction of import tariffs under the WTO agreement.

Impact Of China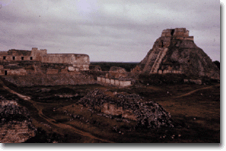 China
is lurking once again as a major competitor poised to dominate the U.S. market. Whereas exports
from China and other major suppliers in the Far East had fallen in recent years, this trend has
begun to reverse itself. At the same time, the recent U.S. offer to not resist China's efforts to
enter the WTO and support of a shortened five-year elimination of MFA quotas, represents not only a
wholesale sellout of the domestic textile and clothing industries by the U.S. government, but a
potentially devastating blow to the Mexican textile and apparel industries and a threat to the
long-term viability of the NAFTA agreement.
In turn, these developments will translate into a significant challenge for the Caribbean
nations — with or without NAFTA parity.
Because of the five-year entry time for China's quota-free access to the U.S. market (other
suppliers will have to wait for a total of 10 years), domestic manufacturers will be faced with
more competition than ever. Low prices will also be more important than ever. Once China is free
from import quotas, their industry will move quickly to more efficiently utilize the full capacity
of its massive textile and clothing industries.
The recent overcapacity problems that have plagued many sectors of the Chinese textile and
clothing complex will gradually cease to be a problem and exports will rise substantially. Export
gains will be further enhanced by the lower import tariff rates agreed to by the United States in
the WTO agreement. This will all translate into lower prices in the U.S. market.


The Bottom Line


It is possible that as China and
other Far Eastern suppliers make inroads into the U.S. market, many U.S. firms, which have already
invested heavily in Mexico, will be forced, for competitive reasons, to move their investments out
of Mexico in favor of other more competitive regional producers. In turn, the impact of a possible
Free Trade Agreement of the Americas may act as further incentive for U.S. firms to move even
farther and farther South away from Mexico.
The bureaucrats in Washington, Beijing and Geneva have, in some ways, sealed the fate of the
Mexican apparel industry. With China's inevitable entry into the WTO, the Mexican apparel industry
will be hard pressed to compete in the U.S. market. At the same time, possible NAFTA parity for the
Caribbean will also represent a challenge. As a result, much of Mexico's economic progress in
recent years may be undermined and substantially disrupted.
After the recent WTO ministerial meeting in Seattle, the question was asked by many: why are
they all sleepless in Seattle? Lost in the public display of anger over the role of the WTO in
world trade and the impact of multilateralism on the environment and traditional ways of life, such
as farming, was the fact that the U.S. textile and clothing industries have been dealt a severe
blow by being traded away in the name of global trade.
It is ironic that Mexico's textile and apparel industries, which are so closely tied to U.S.
manufacturers, are now also in danger of being undermined by those very forces that fought so hard
to have NAFTA passed in the name of free trade in the first place.
---
January 2000