Cooley Group is a worldwide leader in the development and manufacture of high-performance flexible and sustainable fabrics used in applications including water, fuel and chemical containment; military equipment; commercial roofing; and outdoor advertising. Established in 1926, it is based in Pawtucket, R.I., and has manufacturing facilities in three locations.
Daniel R. Dwight was appointed president, CEO and director of Cooley Group in March 2011. He has extensive executive global leadership experience in business development, manufacturing and operations, and technology commercialization, including 17 years with GE in the Americas, Asia and Europe.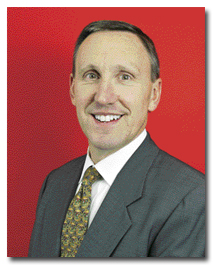 Daniel R. Dwight, president and CEO, Cooley Group
Textile World: You've been on board at Cooley for about two years now. What attracted you to the company? What challenges have you faced?
Dwight: Cooley's people and reputation attracted me to the company. Cooley is a manufacturing company that operates under the simple premise that people, not machines, make products. The belief that every employee can make a difference in delivering proven performance to our customers is what sets Cooley apart from our competitors.
For example, when Cooley was developing the stadium wrap for the 2012 London Olympic Stadium, our machine operators, R&D technicians and sales team were working together on the factory floor collectively with our collaborative partner, Dow Chemical, to drive development and production of the best possible customer solution. Our challenge with the stadium was that it was built to be taken apart after the Olympic Games were through. We had to hide the inside structure. We ended up developing 25-meter-high by 2-meter-wide banners to cover all the beams and supports that had been visible on the inside walls of the stadium. It took more than 335 banners. The result of this collective effort was a world-class product solution that exceeded our customer's performance expectation.
The strength of the Cooley brand globally continues to amaze me. I spend a significant portion of my time traveling the globe meeting with Cooley customers to assess our strengths and weaknesses while looking to identify new market opportunities. Almost everyone I meet is intimately familiar with Cooley's reputation as a company that delivers proven performance.
As president and CEO, I face the challenge of harnessing the strength of our team, our global reputation for proven performance and innovation, and our collaborative partnerships into a comprehensive strategy for accelerated growth.

TW: At the recent IFAI Specialty Fabrics Show in Orlando, the consensus of a number of exhibitors seemed to be that there is a lack of industry momentum right now. Do you agree?
Dwight: As a highly diversified, global company, we are operating with a ton of momentum right now. This momentum is enhanced by our level of innovation. With 40 percent of our revenue annually from new products, we are focused on developing innovative, new solutions for our global customers. Our innovation is a direct function of the strength of our people and their commitment to our customers. Product development is not the sole responsibility of R&D, but a company-wide responsibility that involves every employee.
Water containment, for example, is a very strong opportunity market for us. Limited clean water hampers growth in developing nations. Containment and separation play to the strengths of our products for geosynthetics, desalination and hazardous containment applications.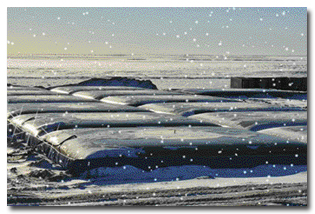 Cooley recently completed a fuel storage project in Siberia.

TW: Cooley seems to be involved in a number of very distinct market segments. Which are the major markets and about what percentage does each represent?
Dwight: Cooley has three core businesses: Building Products, Commercial Graphics and Engineered Membranes. Building Products services principally the commercial roofing market, although this past year, our Building Products team entered the recreational vehicle and mobile storage market with a highly innovative new product solution that has been very well received. Our Commercial Graphics team services the out-of-home advertising, signage and awning markets. Our recently launched 100- percent recyclable, polyethylene (PE) print media material has been getting rave reviews from our North and South American and European customers. Our Engineered Membranes team services a highly diversified mix of markets. The team continues to accelerate not only its new product offerings but also its geographic expansion, particularly into Russia, Turkey and Eastern Europe.
TW: Give us some examples of international projects.
Dwight: We just completed a huge fuel storage project in Siberia and have applied our leading oil boom containment membrane for prophylactic protection of a desalination facility in Dubai. We recently signed an agreement with Hewlett-Packard to be their global print media supplier for their latex line of commercial printers — which complements our opening of a new office in Germany to support our Europe, Middle East and North African expansions.

TW: In your military market involvement, have you seen a decrease due to budget cuts? If so, how do you plan to make up for the lost business?
Dwight: Our military business continues to grow, which is great news not just because of the budget cuts but because we exited one of our larger military markets in 2012 — the military tent market could not meet our profitability objective. Specific military products include material for military raiding craft and chemical containment businesses.

TW: Company literature says more than 40 percent of Cooley's annual revenue comes from new products. Can you elaborate on this?
Dwight: Cooley gets 40 percent of our revenue from new products not only because we are highly innovative but also because we are not afraid to cannibalize our own successful products in search of better solutions for our customers. For example, we drove the billboard market from 12-ounce (oz) polyvinyl chloride (PVC) to 7-oz PVC; we are now driving the market to our newest product offering, 4.2-oz PE. We entered the natural gas fracking market in 2013 with a highly innovative geomembrane polyurethane product solution for the storage of the water and chemicals used in this highly liquid-intensive process. Our new recreational vehicle roofing product offers the RV manufacturer a roofing solution that is easier to install while offering better performance.

TW: What specific issues or market drivers influence Cooley's prosperity?
Dwight: As a company that distributes its products in over 50 countries on six continents, we have benefited and continue to benefit from free trade agreements. We also benefit from the broader global demand for international product performance standards. For example, we are winning more and more international commercial roofing business because of the growing demand for Factory Mutual (FM) rated quality standards for building materials among building owners and operators in places like China, Turkey and the Middle East. For the same reason Toyota is purchasing our roofing solutions for its U.S. manufacturing facilities, Toyota is also purchasing Cooley solutions for its production facility in Turkey — and that reason is Cooley's proven performance.
TW: Tell us about your management team.
Dwight: The Cooley leadership team is as diverse as the products we offer and markets we serve. P. Robert Siener Jr., our chairman, just celebrated 65 years with the company and continues to be the emotional driver behind innovation at Cooley, the champion of everything "new, new, new." Our diversity is exemplified in our two core divisional business leaders, who both bring worldwide sales leadership to Cooley but come from widely diverse backgrounds: David Lunati, business leader for our Engineered Membranes and Building Products businesses, has a degree from Harvard; while Bryan Rose, business leader for our Commercial Graphics business, was educated on the floor of a Cooley warehouse where he started his career over 25 years ago. David Pettey, our COO, has a Ph.D. along with decades of textile and extrusion operating experience. Ron Markovsky, our CFO, has decades of finance and controllership experience with a diverse group of mid-market-size companies.

---
Editor's note: Stephen M. Warner, Arden Hills, Minn., is publisher of BeaverLake6 Report, beaverlake6.com, a Web-based newsletter reporting on trends, data and issues that he feels influence the technical textiles industry. He also is former president and CEO of Industrial Fabrics Association International.
---
January/February 2014