Brookfield, Wis.-based Colordyne Technologies™ reports it has improved the performance of its 3600 Series ink-jet printers with an Aspen Memjet™ engine upgrade.
The CDT 3600 Sprint, CDT 3600 Rotary Pro and CDT 3600 Laser Pro now can run at speeds of up to 275 feet per minute at a resolution of 1600 by 1375 dots per inch depending on job parameters, inks and substrates used and drying time.
"This enhancement further exemplifies Colordyne's commitment and ability to provide the fastest speeds and highest resolution at the lowest capital cost in the industry," said Ron Brown, technical director, Colordyne.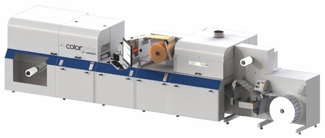 Colordyne's CDT 3600 Laser Pro now features a Memjet™ engine upgrade.
January/February 2015