Hong Kong-based Fong's Industries Co. Ltd. took the occasion of ShanghaiTex 2013 earlier this
month to unveil the latest generation of the THEN AIRFLOW® Synergy aerodynamic high-temperature
piece-dyeing machine — the Synergy 8, which offers increased capacity, reduced energy consumption
and reduced labor requirements compared to the previous generation.
The Airflow Synergy aerodynamic technology transports fabric using air only and not water,
enabling dyeing with low liquor ratios — 1:2 for man-made-fiber fabrics and 1:3 to 1:4 for
natural-fiber fabrics. The machine, which comprises modules that can be configured according to
customer needs, also offers significant energy savings compared with traditional jet-dyeing
processes, as well as process time savings.
The Synergy 8 technology improves on the energy efficiency of the original Synergy
technology, which features a single blower for multiple tubes. By contrast, each tube in a Synergy
8 model has its own individual blower, and these multiple blowers altogether save approximately 50
percent of installed power compared with the installed power consumed by the earlier-generation
Synergy machines, according to Walter S.W. Leung, director, sales and marketing, Fong's, who
presented the new technology to members of the press at ShanghaiTex. The new machines also offer
operational energy savings of 20 to 30 percent, depending on the material being dyed.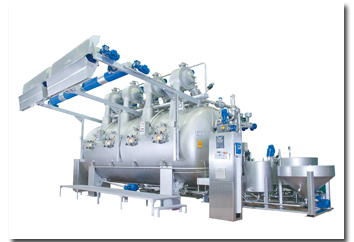 A four-tube configuration of Fong's THEN AIRFLOW® Synergy 8 aerodynamic high-temperature
piece-dyeing machine


Synergy 8 also can extend to 12 tubes, increasing possible maximum capacity to 3,600
kilograms. An XY plaiting device provides plaiting of both X and Y direction in order to unload the
dyed fabric into a rectangular trolley without any labor assistance. An integrated intelligent
rinsing (IIR) system features a kind of online color measurement technology to monitor and control
the rinsing process, automatically stopping that process once the water is running clear.
Other features include automatic filtration, integrated misting sets and Volumedos modulated
dosing.
A Fong's customer fully tested the Then Airflow Synergy 8 technology for a year prior to its
unveiling at ShanghaiTex. The technology now is being marketed to Fong's customers worldwide.

June 25, 2013