S

howcased last September at ITMA 2007 in Munich, Germany, Biancalani's Airo® 24 represents
the latest generation of the Italy-based textile finishing machinery maker's well-known Airo line
of fabric softening and drying machines. The new continuous-process machine for open-width fabrics
follows Biancalani's Airo 2 and 4 machines for batch rope treatment of fabrics into the
marketplace, building on the success of the earlier machines, of which more than 1,200 have been
sold worldwide in various configurations over the past 20 years.
The Airo 24 — which has been developed in cooperation with the company's customers and tested
in textile mills with excellent results, according to Biancalani — provides a distinct hand to a
wide range of natural-, synthetic- and/or man-made-fiber textiles including apparel fabrics that
have a soft, smooth hand; upholstery fabrics such as jacquards that exhibit volume and
three-dimensionality, and other upholstery fabrics that have a soft hand; synthetic leathers that
look like the real thing; and terry towels whose bulk and softness have come to represent the
standard expected by consumers.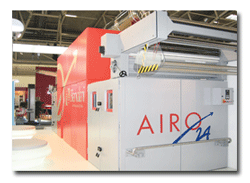 Operating at a width of 360 centimeters and a speed of 40 meters per minute, the Airo 24 can
process up to 600 kilograms of fabric per hour at a maximum temperature of 200°C. The predrying
step is eliminated, even for heavy fabrics such as terrycloth; and the intense mechanical effect
eliminates the need to use chemicals, except for optional softeners, in the process.

Fifty Years Of Innovation

Since its founding in 1957, Biancalani has offered its textile machinery and services to the
textile industry, initially offering milling machinery to local markets. In the late 1980s, the
company developed the first in its series of innovative Airo machines for washing, softening and
drying fabrics, offering a new way to finish fabrics that provided them with what has become
identified as the Airo hand.
Other machines offered by the company include the Petra® open-width and
continuous-wet-process machine for eco-friendly surface abrasion, color degradation and
micro-fibrillation of woven fabrics; the Milla® combined milling and washing machine for the
wool-milling sector; the Spyra® continuous tumbler for woven, knitted, nonwoven and synthetic
leather fabrics in rope form, based on a patented rotating drum system; and the Spyra Compact
tumble dryer for fabric in rope form with continuous or discontinuous options.
Biancalani took the occasion of ITMA 2007 to celebrate its 50th anniversary, hosting an event
at which the company's founder, Fiorenzo Biancalani, thanked the more than 70 representatives from
around the world who attended.



January/February 2008