Germany-based Eduard Küsters Maschinenfabrik GmbH & Co. KG recently donated a laboratory
version of its FlexNip chemicals applicator to the National Textile University of Faisalabad,
located in Pakistan. Students will be able to use the new applicator to conduct practice-oriented
laboratory tests.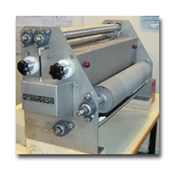 Küsters' laboratory version FlexNip chemical applicator
Küsters presented the machine to the university earlier this year during Igatex 2005 – an
international conference and trade fair held in Pakistan for the textile, apparel and leather
machinery industry.
In other news, the company successfully commissioned a complete system at Zorlu Linen Dokuma
Emprime, Turkey, a manufacturer of bed linens. The system consists of a continuous bleaching range
with FlexNip applicator, a pad-batch dye range with Contidos SF dosing station and a HyCon-L
textile calender.
September 2005