Eduard Küsters Maschinenfabrik GmbH and Co. KG, Germany, has delivered a continuous washing range,
a CPB dyeing center and a continuous open-width dyeing range to companies in Turkey.
In order to transition to continuous finishing, contract knit finisher Ariteks Boyacilik has
installed a continuous washing range for knits and a CPB dyeing center. With the new washing range,
which includes Elanit open-width washing machines, Ariteks is able to handle a wide range of
fabrics, from light, flat articles to heavy pile knitwear, in weights ranging between 150 and 250
grams per square meter (g/m2).
Oztek has received a continuous open-width dyeing range capable of treating cotton fabrics in
weights ranging from 140 to 300 g/m2. Despite being seven years old, the range was considered to be
brand-new. Delivered by Küsters to a Russian company in 1997, the range had never been unpacked and
assembled. Küsters service engineers were able, however, to assemble and commission the range. It
will run at production speeds of up to 50 meters per minute.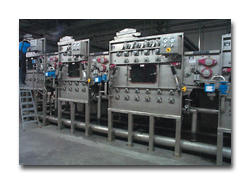 Küsters washing unit, part of a pad-steam dyeing range, during assembly at Oztek

July/August 2005