In an industry increasingly challenged by overseas competition, growing companies continually adapt to take advantage of available business opportunities. Smaller companies focused on innovation and shorter production runs — and not hindered by size and a low-cost producer mentality — oftentimes can respond to challenges more quickly than can a larger firm. One such small, adaptive, family-owned business is Gaffney, S.C.-based Carolina Cotton Works Inc. (CCW).
After 10 successful years in business, the company recently had cause to celebrate not only
its anniversary, but also a plant expansion, which has added both capacity and flexibility
(See sidebar below).
"I believe there is a place for a modest-sized company that understands the importance of the customer and won't say 'no,'" said Page Ashby, president. "We ask only for an opportunity to build a new business relationship, and we promise to respond in a fair and honorable way."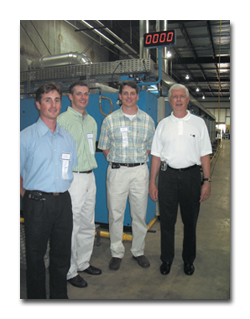 Left to right: Stacey Bridges, sales/technical manager; Bryan Ashby, CFO; Hunter Ashby, plant superintendent; and Page Ashby, president, Carolina Cotton Works Inc.
CCW Opens For Business

In 1994, Ashby and longtime friend Joe Gaino — Milliken veteran and owner of Garment
Technology Inc. — talked at dinner about the possibility of starting a textile company. Ashby was a veteran of the industry, most recently as an executive with Sara Lee, and often had toyed with the idea of owning a company. But it wasn't until that fateful evening that the possibility became a reality. Gaino and Ashby spent the next several weeks developing a business plan centered on garment dyeing as the main plant operation. Ashby quickly convinced his two sons to jump on board — Hunter Ashby as plant superintendent and Bryan Ashby as CFO. Gaino became a passive shareholder in the company — a role he still maintains today.
CCW opened its doors for business in March 1995, with an investment in all-new equipment for garment dyeing, and continuous bleaching and scouring. Business was great for the first six months, but it soon became clear that demand for garment-dyeing services was dwindling. In order to change the company's direction, Page Ashby headed back to the bank to discuss additional financing.
"Obviously, the bank wasn't too happy to learn that I needed further financing so quickly," he said, "but I was able to borrow enough to purchase one piece-dyeing machine." Since then, the company has continued to invest in one new piece-dyeing machine every year.
Sales now are triple those of CCW's first year in business – a statistic attributed in part
to continual investment and a team of dedicated employees.
"Some people ask how we manage to stay in business under such tough conditions in the United States," said Hunter Ashby. "You could say it's luck or the best equipment, but we couldn't operate without our dedicated employees and management staff."

Technical Flexibility

Today, CCW offers a variety of tubular knitted fabric products and services. The company's
reputation for high white consistency starts with the Jemco III CBR2000 continuous bleaching range. CCW worked with its chemical suppliers to develop a bleach system, which it uses in conjunction with the Jemco range to produce optimal whiteness on knitted fabrics. Whiteness on both the CIE and Hunter scales is monitored during the bleaching cycle to ensure quality and consistency.
Scholl RapidFlex Jets enable the company to offer efficient and consistent cotton and
cotton-blend piece dyeing to its customers. Delicate fabrics are dyed using new machines from Fong's National Engineering Co.
Relaxed drying and shrinkage control is performed using a Santex Jumbo Santashrink dryer. The dryer provides unsurpassed results in shrinkage and punch weight control, according to Page Ashby. Typically, the dryer reduces shrinkage 5 to 15 percent — resulting in reduced stress on the cloth, which translates into less chatter and torque and other finishing-related problems.
CCW uses Tubetex Pak-Nit II and Delta-Plus compactors to provide width, weight and shrinkage control on circular jersey, fleece, rib, piqué and interlock knits. The company selected the RFG Napper to produce brushed and napped fabrics. The machine's microprocessor can store machine settings for various fabric style numbers to ensure a consistent nap depth from product run to product run.
The company specializes in dyeing and finishing the following fabrics:
underwear and outerwear jersey;
30-inch and body-size 1×1 and 2×1 ribs, needle-out ribs and flat-back ribs, knitted using 14- and 18-cut machines;
two-end and three-end fleece;
body-size piqué and interlock fabrics; and
raschel and tuck-stitch thermals.
Typical products include 100-percent cotton, cotton-blend or 100-percent polyester fabrics
made with combed or carded, open-end, air-jet or ring-spun yarns — but business is growing for man-made fabrics used in performance sportswear and underwear.
CCW prefers to provide contract dyeing and finishing services to customers; but it also
offers knit-and-finish packages, and even will sell finished knitted fabrics at the customer's
request.
Recognizing the difficulty in operating knitting machines to accommodate the broad range of fabric styles requested by the customer, CCW elected not to become a knitter and instead developed strong relationships with contract knitters and yarn manufacturers. Customers range from apparel manufacturers running 60,000 lbs of fabric per week to smaller facilities running 2,000 lbs per month.
Business Development

"We can't sit in Gaffney and wait for business to come to us," said Page Ashby. "Our
sales/technical manager, Stacey Bridges, has been instrumental in establishing an identity for the company both in the United States and internationally."
Bridges understood the importance of attending trade shows, and joining apparel-related
organizations and trade associations to develop new contacts and establish relationships with people throughout the supply chain.
"Compared to other small textile companies, we have very aggressive sales techniques,"
Bridges explained. "Associations such as the American Apparel Producers' Network allow me to establish relationships with people in different regions, and have allowed CCW to increase its business levels with companies in the Caribbean Basin and Andean regions."
"We also joined SEAMS [The National Association for the Sewn Products Industry] to help us find domestic customers and sales for state and federal bids."

Looking Forward

"No doubt, keeping the business profitable is more and more difficult," Page Ashby said. "But we intend to adapt as the marketplace demands."
Recognizing the dedication of CCW's employees, Ashby attributes the company's success over the past 10 years to its flexibility and its willingness to welcome change and to adapt as business conditions dictate.
"I like to remind myself not to get too comfortable with the way things are because tomorrow they're going to change," he said.
"We're not perfect, but I guarantee the company is never satisfied, and we're constantly
examining ways to improve what we do."
---

Investment, Expansion Pays Off

Always looking for new business possibilities, Page Ashby realized that while tubular fabrics
have been CCW's bread and butter for 10 years, adding open-width finishing capabilities would allow the company to offer fabrics for fitted knitted garments and also allow it to enter new markets.
"I'm very excited about processing new fabrics," Ashby said. "Knitted fabrics will continue
for now as our core business, but the new equipment allows us to explore new markets, such as woven home furnishings fabrics and medical fabrics."
According to Stacey Bridges, sales/technical manager, the company already has found customers among knitted mattress ticking producers that are interested in the company's new finishing capabilities.
CCW selected three machines for the expansion — a knitted goods slitter specially designed
and built by Switzerland-based Strahm Textile Systems AG, a tenter frame from Brazil-based Texima S.A. and an open-width compactor also from Strahm.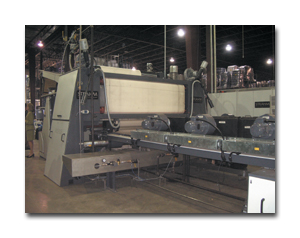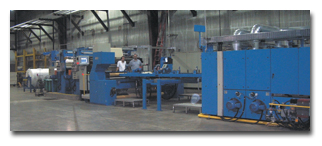 CCW recently added open-width finishing capability with the installation of a compactor from Strahm (top) and a tenter frame from Texima.
"The Strahm compactor is one of only two in the world," Ashby said. The machine offers the latest in compactor technology and operates at speeds of up to 45 meters per minute.The Texima tenter has two pads installed at the beginning of the line to provide wet-on-wet finishing. Using its six heating zones, the machine can be adjusted for the desired finished fabric weight. Maximum processing width is 110 inches, which is fairly unique to the industry, according to Ashby.
The expansion involved extending the roof and moving the wall to add 16,000 square feet to the facility to accommodate the new equipment. CCW processes 350,000 pounds (lbs) of fabric per week, and the expansion adds another 50,000 lbs of capacity. The company hopes the expansion will increase its sales figures by 25 to 30 percent going forward.
To celebrate the recent grand opening of its new open-width finishing expansion, CCW invited its customers, friends and employees to a ribbon-cutting ceremony. Activities included plant tours and a luncheon, during which CCW recognized all 10-year employees.
Kim Henceman, DyStar sales representative, said he was very excited to see a great family
business doing so well. "I'm a South Carolinian, and today is a great day for the state as well as the textile industry in the United States," Henceman said at the opening.
---
June 2005