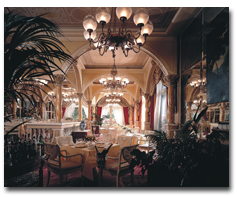 Giacomo Garbagnati manufactures high-quality linen and cotton tablecloths, which it
supplies to leading restaurants throughout Italy.

G
iacomo Garbagnati S.p.A., Italy, recently received its third Monforts tenter – one of the
first of the recently introduced Montex 6000 models – as the final phase of a 17 million euro
investment program.
Established in 1907 as a bleaching specialist using traditional outdoor dyeing methods, the
company has earned a reputation for high-quality cotton and linen for household fabrics and
apparel.
"We quickly recognized the need to modernize the complete production facility and introduce new
management techniques," said GennAndrea Mancone, president. "Coinciding with Italy's worst downturn
in the textile industry [in] more than 25 years, we needed to implement some radical changes."
The company recognized the days of long runs per article, or even per color, were past. Today,
within the Italian textile industry, there is a growing demand for flexible production with smaller
runs and shorter delivery times at the lowest possible cost. Therefore, the company had to seek
these newer, small-run niche markets.
Garbagnati had no management system in place to measure its productivity and repeat quality
performance, [as it was] still operating under traditional methods, Mancone said. "We quickly
learned that it would be necessary to implement a flow planning system if we were to improve our
efficiency with a machine setup and production times for right-on-time deliveries and repeat
quality finishing."
The company also introduced up-to-date techniques for its bleaching and finishing operations to
enhance its reputation for high quality. Innovations included a patented formula to ensure a
special high intensity of white with a high durable-pilling resistance for its cotton bed
linens.
Garbagnati also has continued to maintain some of its former long runs, annually producing 4
million meters of high-quality linen in up to 10,000-meter runs. It also features its own garba
soft finishing process – a new continuous biochemical process that provides a softer, puffy
finish.

Production Systems

Garbagnati produces almost 75,000 meters per day of 100 grams-per-square-meter (gm/m2) to 400
gm/m2 linen and cotton in widths of 0.5 meters to 3.4 meters. Its finished cotton and linen is
supplied to leading Italian brands such as Frette, Bellora, Graziano and Benetton; with, for
example, Frette supplying leading hotel chains with quality bed linen.
The finest damask or Flanders linen and cotton tablecloths are supplied to leading restaurants
throughout Italy.
In 1998, Garbagnati also introduced a new finishing line for sportswear using a combination of
cotton, Lycra® and nylon for stretch fabrics.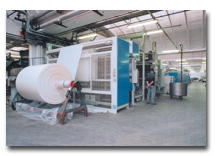 Garbagnati recently installed the new Montex 6000 tenter as part of the final phase of a 17
million euro investment program.
The company currently supplies finished fabric to converters for Boss, Benetton and Replay,
among other brands. "Today, we specialize in customized, noncontinuous methods, supplying single
orders of between 200 and 1,000 meters," Mancone said.

The Key To Success

At the heart of Garbagnati's finishing lines are three Monforts tenters. The first two with
working widths of 2.2 meters and 3.4 meters were installed in 1997 along with a Monforts
sanforizing unit. In 1999, the company took delivery of a Monforts padbatch dyeing unit and now has
completed its current investment program with the installation of the Montex 6000 tenter.
The Montex 6000 is suitable for treatment of woven and knitted fabrics, and offers the choice
between horizontal and vertical chain return, plus a host of new and improved features. These
features were designed to improve performance, operation and maintenance; and to reduce operating
costs. Easy access to all main control and operating functions is possible via a touchscreen
monitor at eye level, thus eliminating the traditional overhead bridge. A simple menu system guides
the operator through the setup procedure.
Incorporating Monforts proven Qualitex programmable logic control system ensures that important
operating parameters and tension for fabric transfer devices can be set and monitored using the
touchscreen. The system also is able to include storage of setup data, batch management and network
interfacing – all essential criteria in Garbagnati's constant quest for quality.
"Quality is everything," Mancone explained. "We provide high-quality production at low speeds,
yet when necessary, the Monforts [tenter] will allow us to increase the speed and maintain a
consistent high-quality finish."
Mancone also mentioned an additional key to the success of the company the after-sales service
provided by Monforts, endorsed by the local Monforts representative, Sacconghi Monaco S.r.l.
"Monforts is always on hand to assist with new techniques and problem solving, managing spare
parts [and] upgrading and training staff," Mancone said.
February 2005