T

he future of textile printing is moving toward digitalization with greater speed, quality
and efficiency. Innovative ink-jet inks have recently been introduced, bringing textile printing
one step closer to becoming completely digitized. Specially formulated water-based ink-jet inks now
make digital ink-jet textile printing possible with simplified fixation equipment. These new inks
are set to revolutionize designing, sampling and short-run textile printing by offering digital
ink-jet print capability on a wide range of fabrics including cotton, cotton/polyester blends,
nylon, rayon and silk.
Pigmented, water-based ink-jet inks are derived from the same pigments as screen-printing
inks in order to perfectly match the color and washfastness of screen-printed products, and to
improve the hand significantly. There are many applications for this new textile technology
including T-shirt proofs, banners, rugs/carpets and furniture coverings, among other applications.
The consistent color, enhanced short run capability, and lower price provided by the latest
generation of ink-jet inks allow designers and low-volume producers to create textile printing that
satisfies a need for faster turnaround, greater efficiency, enhanced customer satisfaction and
overall better designs.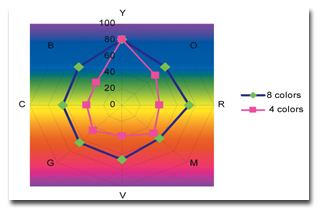 With the latest generation of digital textile ink-jet inks, the addition of orange, purple,
red and blue spot colors to the standard CMYK significantly increases the color gamut, providing
increased print color options.

Compatibility

Pigment-based ink-jet inks are compatible with existing ink-jet equipment and can be adopted
quickly without the need for expensive capital equipment modifications. This allows both large
commercial printers and small mom and pop shops to take advantage of the quality and performance
these new inks provide.
In addition, pigmented inks can be used to print on a wide variety of different fabrics,
reducing the down time between run-cycles.
For example, FabricFast™, a new water-based pigmented ink from Trident-ITW, Brookfield,
Conn., can be used in any color textile digital printer using the Epson piezoelectric ink-jet
printhead. These printers include Mimaki, Roland, Mutoh and Stork
(See "
Dyeing,
Printing & Finishing News,"
TW, August 2004).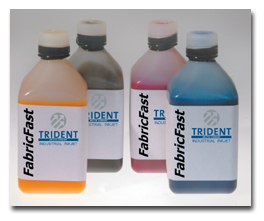 The latest-generation ink-jet inks, such as Trident ITW's FabricFast™ inks, add to the
capability and flexibility of digital printing.

Color Consistency

New ink-jet ink formulations are bridging the gap between ink-jet and screen printing.
Economically prepped and digitally edited ink-jet proofs now identically match large-scale
production pigment-based screen-printing colors. Accurate color proofing can avoid expensive
production mistakes by ensuring the desired colors and appearance are achieved before screen
printing begins. New inks like FabricFast match screen printing identically.
The full market impact these inks are having is still being felt as manufacturers are
discovering advantages to having two processes that deliver equal color and quality. Additional
short runs are printed on a moment's notice using ink-jet technology without the preparation time
required for screen printing. Ink-jet printing also allows for seamless variable printing if an
order changes.
Achieving accurate color does not require additional expense, as pigment-based inks are
comparably priced to dye-based inks.

Fabric Hand

Dye-based inks provide a comfortable level of fabric hand beyond what is achieved with
screen printing pigment-based inks, and are used in applications such as apparel printing, where
fabric hand is key. Ink-jet printing pigment-based ink provides better fabric hand than screen
printing, and nearly the same fabric hand as dye-based inks. The engraved templates used for screen
printing typically apply excessive amounts of ink paste to fabrics, causing a significant loss in
fabric hand. This method results in stiff areas in the fabric due to an excessive amount of binder.
An overabundance of ink on fabrics also can chip or flake off as the material flexes – this is
commonly seen with T-shirts and banners. Ink-jet technologies steadily regulate the amount of ink
dispensed onto fabrics for enhanced fabric hand. Ink is applied to textiles in exact regulated
doses for better fabric hand than that provided by screen printing. Ink-jet printers consistently
use ink more efficiently than screen-printing technologies, generating additional cost savings.
Thanks to recent developments in ink-jet technology, the fabric hand on materials printed
with pigmented ink is comparable to that resulting from dye-based print, opening the door for many
applications.

Washfastness

Pigment-based inks exhibit washfastness similar to dye-based inks. This can be achieved
without post-treatments such as steaming, washing and drying that are traditionally required for
dye-based inks. Pigment-based ink-jet formulations deliver excellent washfastness for proofs and
short runs. They have superior lightfastness and won't fade like dye-based inks. Because
pigment-based inks have significant rubfastness, they last longer over continuous wet/dry cleaning
cycles.

Greater Flexibility For Manufacturers

Manufacturers now can issue new cost analyses for short runs using ink-jet printing, and
deliver the same quality and colors as longer screen-printed runs. This new technology allows
ink-jet printing to deliver the same performance and quality as screen printing, providing
manufacturers with two methods for filling orders – screen printing for long runs, and ink-jet
printing for short runs and replacements.
As ink-jet speed approaches that of screen-printing, manufacturers will produce identical
print quality with ever increasing efficiencies using ink-jet technologies.



Editor's Note: Deverakonda Sarma, Ph.D., is engineering manager at Trident-ITW.
October 2004