A

Monforts Textilmaschinen GmbH & Co. KG, Germany, has launched a completely new,
modular-design Thermex hotflue system that reduces dyeing times for knitted fabric from hours to
minutes. The Thermex 6500 is an all-new loop dryer with a fabric capacity of up to 51 meters.
Offering previously unknown levels of productivity for knitted fabric dyeing, the machine has a
number of new features including its control system, drive system and indirect gas heating.

In Control


A key feature of the Thermex 6500 is the ergonomically designed control desk. The desk
provides easy access to all the main control and operating functions via a touch screen monitor
located at eye level. A simple menu system guides operators through the setup procedure. This
system is now uniform across the Monforts range, making it even easier for operators to move
between different types of machines.
The Thermex 6500 is available with a choice of two control systems. The standard Qualitex
540 allows important operating parameters including temperature setpoints and fan speeds to be set
and monitored using the touch screen.
The optional Qualitex 740 is a full-scale, programmable logic process controller that
incorporates the Monformatic system. Additional functions offered by the Qualitex 740 include
setup data storage, batch management and network interfacing. Both the Qualitex 540 and 740 have a
two-loop system for emergency runs and can be connected to Monforts' remote diagnostics system.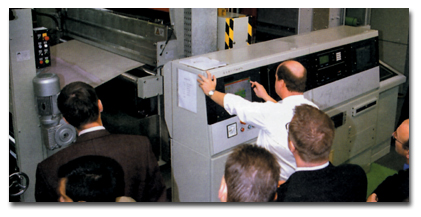 Econtrol™ Knit


Developed for use with the new Thermex 6500 hotflue, Econtrol™ Knit delivers previously
unheard-of productivity levels. A batch that would require between 12 and 24 hours to produce using
a discontinuous process takes just two minutes with Econtrol Knit. Moreover, Econtrol Knit can
reproduce the results time after time, even with large batches. Precise dwell time control ensures
there is no variation in color. Unintentional moiré (rippling) effects are also avoided because the
process puts no mechanical strain on the fabric's surface. Unlike other processes, Econtrol Knit
dyes cotton/elastane blends without the fabric having to be sewn into a tubular form. An added
benefit is that the fabric is dry after the dyeing process, so the fabric does not have to be
immediately washed out.
Econtrol Knit is suitable for all types of reactive dyestuffs. Although the process requires
no salt or urea, it achieves up to 5- to 8-percent higher yields from dyestuffs than do other
processes. Production costs can be up to 45-percent lower than those for discontinuous methods of
dyeing.
Econtrol Knit was developed in cooperation with Germany-based DyStar Textilfarben GmbH &
Co. Deutschland KG. The machine technology is available exclusively from Monforts. Econtrol Knit is
a trademark of DyStar.

Individual Roller Drives


Standard roller diameter on the Thermex 6500 is 140 millimeters (mm). A 180-mm-diameter
version is available as an option. Manufactured from stainless steel, the rollers in the drying
section are Teflon®-coated, while those in the thermosol section have a highly polished surface
finish.
An AC motor powers each pair of upper rollers. This allows for higher speeds compared to the
single-chain drive used on previous Thermex models. The motors can be controlled using either a
common or an individual frequency converter.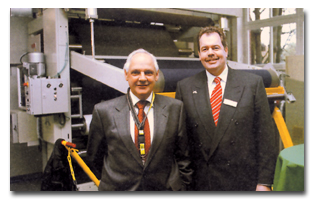 John Hooper (left) and Klaus A. Heinrichs

ST Stabilization Rollers


For fabrics that are prone to waving or creasing during hotflue drying, Monforts has
developed the ST stabilization roller. Featuring a dual-density rubber coating, the ST rollers feed
fabric through the hotflue without leaving marks.

Indirect Gas Heating


The Thermex 6500 is the first Monforts hotflue available with Exxotherm indirect gas
heating. This Monforts-developed system keeps combustion gases separate from the circulation air to
prevent yellowing of elastomer fabrics. It can be used in modern reactive and naphthol dyeing
processes with no neutralization of the alkali.
---
Editor's Note: Klaus A. Heinrichs, vice president, marketing, A. Monforts Textilmaschinen; and
John Hooper, JOEM Promotions, an international public relations and publishing company, co-authored
this article.



August 2004