Germany-based
A. Monforts Textilmaschinen GmbH & Co. KG has introduced the Thermex 6500, the latest in its
line of Thermex hotflue systems for knitted fabrics. The new modularly designed loop dryer is the
first Monforts' hotflue equipped with Exxotherm indirect gas heating. It has a fabric capacity of
51 meters, and a roller diameter of 140 millimeters (mm) or 180 mm. The Thermex 6500 features the
Econtrol Knit process, which reduces dyeing time from 12 and 24 hours using discontinuous processes
to just two minutes. The process, suitable for all reactive dyestuffs, achieves up to 5- to
8-percent higher yields, and can lower production costs by 45 percent, according to the company.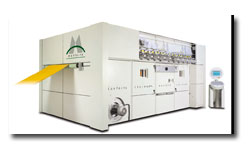 Monforts' Thermex 6500
The Thermex 6500 features an ergonomically designed control desk and comes equipped with the
standard Qualitex 540 control system or the optional Qualitex 740 system a full-scale, programmable
logic process controller with Monformatic system. Both control systems can be connected to Monforts
remote diagnostics system.
February 2004