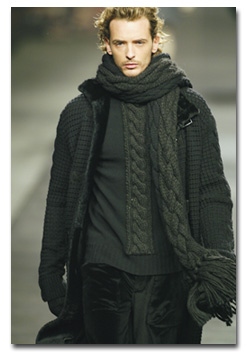 Wool's current popularity encouraged DyStar to update its wool dyes portfolio and add new dyes
for wool blends.As the American Association of Textile Chemists and Colorists (AATCC) International
Conference and Exhibition (IC&E) approaches (See All Things Color, TW, this issue)
, Textile World takes a look at some of the latest product introductions in the textile
chemistry field.DyStar Continues Its QuestFor Brighter, More Fast DyesFrankfurt-based DyStar
remains committed to the idea of right-first-time dyeings. The company recently updated its wool
dye portfolio to simplify product selection and offer wool processers the economic and reliable
products they need to color modern wool. Wool blends, high-twist yarns and special finishes are
becoming more common, and as blended-fiber fabrics are developed, the dyeing process must be
adapted to obtain solid, reliable shades. This requires the right dyes, as well as an experienced
dyer. In the wool dyes arena, DyStar has added Supralan®, a 1:2 metal-complex and acid dye
available in a broad spectrum of colors. DyStar claims these dyes are suitable for wool in all
makeup forms.The company also has restructured its other wool dyes. Core product offerings include
the Realan®, Diamond and Palatin® families. In certain dyeing applications, these dyes are
supplemented with Isolan® and Telon® dyes.According to DyStar, machine-washable wool is especially
responsive to Realan reactive dyes, which are available in black, navy and brilliant shades. The
dyes are metal-free and capable of meeting high ecological standards.A new three-color combination
has been added to the established Diamond product line, extending it for dyeing loose stock, tops
and piece goods.DyStar sees its Palatin dyes as a perfect complement to the Realan and Diamond dye
families. These 1:1 metal-complex dyes feature good dye penetration and leveling properties on
problematic goods, according to the company.DyStar now groups all 1:2 metal-complex dyes under the
Isolan name, while all acid dyes are sold under the Telon brand name.In other new dye
introductions, DyStar has added a new black dye, Carbon RGB, to its Remazol dye family. This
reactive dye offers excellent build-up properties, so smaller amounts of dye are needed to achieve
deep black shades, according to the company. Remazol Carbon RGB is compatible with cellulosic
fibers and cellulosic fiber blends when used in exhaust or pad-dry, pad-steam applications. DyStar
claims the dye produces a very even, neutral black with only a slight tendency to bronze. Exposure
to perspiration and light is said to result only in on-tone fading. The dye also boasts high wet-
and chlorine-fastness properties and has good wash-off properties.Patented Dyeing ProcessCurrently
undergoing pilot trials, DyStars patented electrochemical dyeing process will be presented at ITMA
2003 in October. The new dyeing process was developed in cooperation with the Institute for Textile
Chemistry and Textile Physics at the University of Innsbruck, Austria, and Germany-based Thies
GmbHandCo. Utilizing an electric current rather than chemical reducing agents, the process offers
shorter, more economical dye cycles, improved reproducibility and lower wastewater costs, according
to DyStar. The process is suitable for Indanthren® vat dyes, indigo dyes and Cassulfon® sulfur
dyes. In addition, DyStar is set to introduce a line of vat dyes developed specifically for this
electrochemical application process. The first available dye in the family is Indanthren Blue E-BC.
Optimized for the process, the company claims the dye offers the same fastness properties as other
Indanthren dyes and is eco-friendly.Bayer Develops Stain Protector For CarpetPittsburgh-based Bayer
Chemicals Corp. has introduced a patent-pending stain-resistant product formulated for use on
commercial and residential rugs and carpets.According to Bayer, Bayprotect SSB offers not only
stain resistance and dry soil resistance, but also outstanding lightfastness properties.St.
Louis-based Solutia Inc. has performed laboratory tests on carpet fibers treated with Bayprotect
SSB and has concluded that the product meets the criteria for carpets bearing its Wear-Dated® fiber
brand name.With our new Bayprotect SSB protective finish, spills are not able to penetrate the
fibers and thus do not leave stains, said Dean Bender, director of marketing, Bayer Chemicals
textile processing chemicals business unit. This minimizes soiling, so carpets and rugs show less
wear and need cleaning less often.Whiter Whites, Fabric Protection From BASFUltraphor® RN Plus
liquid from BASF AG, Germany, makes whites whiter than white, according to the company. The product
is the latest offering in BASFs range of optical brightners for polyester and is an upgraded
version of its Ultraphor RN product. According to BASF, Ultraphor RN Plus has improved fixation
properties and, in most cases, the brightener will prevent shade deviations and yellow areas caused
by non-fixed areas.BASF also has begun to market its ready-to-use Lurapret® C textile coatings. The
water-based coatings are designed to protect cotton, polyester and polyamide fabrics used in
awnings, sunshades, umbrellas and mattresses from the effects of weather and mechanical stresses
including wind, ultraviolet radiation, moisture, and heat and cold. According to BASF, the coatings
also may be used to create washout effects and other decorative designs.Lurapret D coatings,
custom-made acrylate and polyurethane dispersions also are available.Anscott Industries Launches
Safety ProductWayne, N.J.-based Anscott Industries Inc. has developed a water-based flame-resistant
finish that can be applied to almost any fabric, according to the company.FlameFighter® was
evaluated in tests conducted by both the Boston and New York City fire departments. Materials
treated with FlameFighter not only showed a resistance to the spread of fire, but also exhibited
limited after-flame and after-glow.Xiameter Makes Silicones AffordableFor more than a year,
Xiameter, Midland, Mich., has offered textile formulators an alternative purchasing choice for
silicones. For users of large quantities of silicones, Xiameters no-frills business model has
proved effective and affordable, according to Michael Lanham, executive director.Our goal is to
provide our customers with the products they need not only to remain competitive in the
marketplace, but also to consistently add value and meet the needs of their customers, Lanham said.
Lanham hopes within the next year, Xiameters Web-enabled model will be able to support third-party
products.Sunbelt Diversifies, Offers Technical ServicesRock Hill, S.C.-based Sunbelt Corp. started
as a supplier of vat dyes. Over the years, the company has added to its portfolio and now offers
pigment dispersions, solvent dyes, disperse dyes and specialty chemicals. Sunbelts Navinon® vat
dyes are supplied in paste and grain for use in exhaust dyeing, continuous dyeing and printing of
cotton and other cellulosic fiber and polyester/cotton blend fabrics.Navilene® disperse dyes are
suitable for exhaust and continuous dyeing and printing of polyester and polyester-blend fabrics.
These dyes are available in liquid and powder form. Naviprint® pigments are another recent addition
to Sunbelts portfolio. The pigments may be used for print or pad application of cotton or
cotton-blend wovens and knits.Sunbelt also performs audits in customers plants as part of its total
service package. The audits are intended to improve plant efficiency and reduce the cost of
operations.Antimigrants, Softener From Apollo To Be Introduced At The AATCC IC&ESince forming
its strategic alliance with Birmingham, Ala.-based Vulcan Performance Chemicals last year, Apollo
Chemical Corp., Burlington, N.C., has worked to extend its product line. At IC&E, Apollo
Chemical will highlight Apcotherm 4640 and Apcotherm ST-42, and Fluftone® PCS, among other
products. Apcotherm 4640, a man-made antimigrant, and Apcotherm ST-42, a surfactant-type
antimigrant, are designed for use in continuous dyeing operations. Disperse, vat and sulfur dyes
all are controlled effectively with each antimigrant product. Apcotherm 4640 and ST-42 are designed
to eliminate front-to-back shading, white under the neps and white crossovers. Fluftone PCS is a
silicone softener for use on all types of fabrics. It is especially effective on cellulosic and
cellulosic-blend fabrics, according to Apollo. The company recommends applying the product via pad,
but it is designed to be compatible with pigments used in continuous finishing operations. When
used in a no-iron finish, Fluftone PCS will improve needle cutting, abrasion and tear strength,
while improving fabric appearance and hand in pre-cured and post-cured fabrics.

August 2003