"C

ustomization and smaller lot sizes have become increasingly relevant for US producers,"
said Paul Jankovic, president, The Gessner Co. The Charlton, Mass.-based company specializes in
sublimation heat-transfer printing and mechanical finishing. "The smaller, specialized, quick-turn,
full-package providers are becoming more important to our US customer base," Jankovic added.
Antonio Staffoni, managing director, Sperotto Rimar S.r.l., Italy, echoed Jankovic's
sentiments. He said the most active area for Sperotto Rimar has been the Far East, especially
China. "The US has also increased its buying from us, although the volume is much smaller."
Process automation and control innovations have fine-tuned the dyeing, printing and
finishing production process in recent years – lowering costs and increasing quality while
facilitating increased customer demands.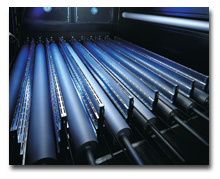 Benninger's BenColour continuous dyeing equipment for woven and knitted fabrics is suitable
for a variety of dyeing needs.



Maximizing Control

Charlotte-based Adaptive Control sees the United States as a still viable and lucrative
market for its PC machine control systems for all types of dyeing and finishing machinery and other
auxiliary equipment. The company uses cost-cutting techniques to supply its customers with
inexpensive solutions and technology.
"The focus is on manufacturing at the lowest cost in a timely manner, without defects the
first time," said Tony Webber, sales director. "Innovation is the key to a successful company."
The company provides machine control systems that are open and non-proprietary, and also
Web-based for easy global communication.
"PC control and Web-based technology has allowed us to monitor machinery in ways that we
thought were not possible," said Webber. "We have recently completed putting our Adaptive Control
Plant Explorer Operation Host onto the latest Microsoft platform. This will give Adaptive Control
the ability to extend our systems to the very latest technology available."
This type of control technology allows a plant operator to walk the production floor with a
hand-held, touch-screen PC device that monitors performance, machine status, and allows user
intervention if necessary.
Automation and control come together in the Powderflo 2000 automatic bulk powder dispensing
system from Adaptive Control UK, the firm's sister company in England. The Powderflo is a PC-based
control system with network connection that monitors powder flow by means of level detection at the
base of the bin, and continuously monitors bin and powder weight, reducing the need for operator
handling.
Scholl-Then AG, Switzerland, supplies top-of-the-line process controls, in addition to color
and chemical dispensing systems, for efficient and economical dyehouse operation, according to
Roland Adrion, marketing manager. The company manufactures advanced dyeing equipment, such as the
Airflow and Rapidstar piece-dyeing machines, and yarn- and beam-dyeing machines. Adrion mentioned
that in recent years, Scholl-Then has supplied dyeing machines with much higher capacities –
yarn-dyeing machine capacity now goes up to 2,300 kilograms (kg) per batch, and requests for
piece-dyeing machines with capacities of 900 kg or more are common.
H.T.P. Unitex S.p.A., Italy, is active in pretreatment, dyeing and printing of woven and
knitted fabrics in rope and open-width form. According to Sandro Telasi, area sales manager, Unitex
is seeing an increase in market demand for fully automatic control systems, which minimize human
error and labor costs, maximize process reliability and repeatability, and ensure the high
flexibility necessary for today's smaller lot sizes.
MCS Dyeing & Finishing Machinery, Italy, has incorporated full automation into its
latest offering, the Superdome Carpet Flow rope-dyeing machine. Suitable for carpet fibers
including nylon and multi-dye level nylon, polyester, and wool, the Superdome offers energy savings
of up to 60 percent and a 40-percent reduction in chemical product consumption, according to MCS.
Being fully automatic, the Superdome also ensures maximum performance, with perfect evenness and
repeatability, according to the company.
ColorService S.r.l., an Italian producer of automatic dye kitchens, offers the Superlab,
which allows operators to run the same dyeing procedure in the lab as on the production floor,
eliminating the need to take samples in between. Operators end up with not only a physical sample
at the end of the process, but also information to run the exact same procedure on the production
floor.
With Superlab, dye bath preparation is automatic. Superlab software monitors conditions of
the dyeing process, such as temperature control and impregnation. The machine then squeezes the
fabric to obtain the desired pick-up value, while at the same time controlling the fabric's weight
until the desired result is achieved. The sample obtained from the process then is placed into the
appropriate conditioning area for the necessary amount of time. The Superlab then washes the
sample, dries it and ejects it.
Mageba Textilmaschinen Vertriebs GmbH, Germany, offers computer control on all of its
machines, enabling on-line servicing and maintenance programs via built-in modems from anywhere in
the world.
The Venus high-temperature jet-dyeing machine from England-based Sclavos offers Total
Interactive Control (T.I.C.) technology. With T.I.C. technology, the Venus continuously monitors
water and steam supplies. By comparing them to the supplies requested for the process by the
operator, the Venus adjusts to compensate for any water or steam supply shortcomings. According to
Sclavos, this technology eliminates human involvement, resulting in less error; ensures
repeatability from batch to batch; increases fabric quality; and increases profitability.
Klaus A. Heinrichs, vice president, marketing, A. Monforts Textilmaschinen, Germany, noted
today's smaller lot sizes create a need for more process control, as well as shorter maintenance
response times. In response, Monfort's Qualitex visualization and control system offers a large,
easy-to-read touch-screen monitor for process monitoring of the company's programmable logic
controller (PLC)-operated complete stenter dyeing range.
Bill McAndrew, vice president of sales and marketing at Zima Corp., Spartanburg, has
recognized the demand for process control from customers of companies Zima represents, such as
Eduard Küsters Maschinenfabrik GmbH & Co. KG, Germany.
"Our customers are concentrating on shorter lot sizes, quick changeover capabilities,
minimizing waste and lowering inventories," said McAndrew. "We have responded with equipment and
process controls to meet their needs, such as the patented Küsters Instacolor and Instachem
systems, which provide the dyer with systems to meet all of the above requirements in addition to
lowering labor costs."
In addition, according to the company, Küsters' "swimming roll" dye padder offers continuous
deflection control, which provides flexibility when combined with color and moisture management
systems; an on-line dosing system that allows optimum control of dye liquor composition; and
PLC-controlled quick cleaning with minimum water consumption.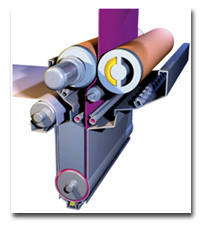 Küsters dye padders offer optimum nip control through the use of two "swimming rolls" with
continuous deflection control.



Finishing Trends

Benninger AG, Switzerland, has made control systems with touch screens an integral
information systems standard on all of its weaving preparation and textile finishing equipment.
Process control systems for all Benninger products include: control and drive system hardware
engineering; application-specific PLC control software programming; software programming of
HMI/SCADA systems; assembly and test of drive and control cabinets; and startup and commissioning.
Unitex developed its HWT washing unit in response to an increased industry need for
high-efficiency treatments and soft handling of trendy fabrics. The combination of effective
washing after pretreatment with dyeing and printing while applying low tension to the fabric is an
important factor in Unitex's product line. "This allows much better performance than in the past
… and provides benefits such as saving water, higher production speeds and better final fabric
quality," Telasi said.
Touch-screen control is also found on Glenro Inc.'s drying machines. The Paterson,
N.J.-based company offers predrying and drying equipment, including infrared and hot-air dryers.
Glenro also offers thermal oxidizers for control of volatile organic compounds (VOCs), in which
heat is recovered from the oxidation of VOCs and then used to heat make-up air for the dryer.
The integrated system, one that serves a fabric from pretreatment to finish, is one trend
worth noting, saving a company time and money. Santex AG, Switzerland, offers fully-integrated
systems for finishing of knitted open-width fabric.
Turnkey systems also are currently in demand. "It seems that manufacturers have less
engineering in-house and therefore need the vendor to provide engineering services," said Jim
Alimena, vice president of marketing, Glenro. "That's one of the reasons Glenro has an applications
lab in which we can test a customer's product before they buy [the machinery]. We often help
customers develop applications and suggest the best way to apply heat to make products."
Thies GmbH & Co. KG, Germany, manufacturer of yarn-dyeing and drying machines, and
discontinuous fabric machines, offers its customers turnkey dyehouse plants. These turnkey
installations include dyehouse management systems; dosing equipment for chemicals, dyes and solids;
and the latest dyeing machine technology to ensure a maximum profit at the lowest possible
investment.
Along these lines, software and hardware from a single source is more in demand. Obtaining
technology, machines and equipment from one manufacturer reduces time and money spent on
maintenance.
Dyeing fabric without previous preparation, again saving the manufacturer time and money, is
one trend in technology offered by Argelich, Termes Y Cia S.A., Spain, manufacturer of dyeing
equipment for industrial textile dyehouses. The company has developed Rapidstretch for the
treatment of fabrics in rope form, such as bengaline, that are highly susceptible to shrinkage and
other process defects.
Short liquor dyeing – dyeing using a lower liquor ratio – is according to Thies, a big trend
in purchased dyeing technology, resulting in less consumption of both dye and water, which equates
to less harmful environmental impact and initial outlay.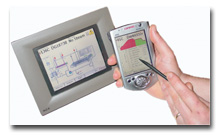 Touch-screen PC devices from Adaptive Control monitor performance and machine status, and
allow user intervention if necessary.

Technical Advantages

According to Hans-Peter Stang, managing director, Mageba, companies like Mageba that
specialize in dyeing and finishing of narrow fabrics can take the lead in the field of elastics
with dual-end high-production equipment that incorporates polyester-dyeing facilities for elastic
tapes, heavy-duty beltings and ribbon. Mageba currently uses Corona/Plasma technology in its
continuous dye ranges.
As almost any company would agree, reliable customer service is in fact a technical
advantage that always works for both customer and company.
Glenro has spent 43 years in the process heating industry and offers a variety of
heat-transfer technologies including infrared, convection and conduction. Alimena believes it is
the company's eagerness to work with its customers that ensures repeat business.
"We see customers coming to us for process heating solutions to their application needs, not
just for a piece of equipment," he said. Alimena cites the company's experience, the variety of its
heat-transfer technologies and its applications lab as important components of Glenro's customer
service operation.
According to Stephan Kehry, sales manager, Benninger, supplier responsibility to the
customer continues to be a must. It is vital for a company to gain as much input from its customers
as it can to keep abreast of industry demand.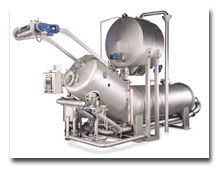 Thies' soft-TRD DS XL is the latest generation hydraulic overflow dyeing machine, which
offers low energy consumption.


Looking To The Future

Custom solutions that improve productivity and quality are necessary for sustained growth,
according to Manfred Aulbach, sales director, Fleissner GmbH & Co. KG, Germany, manufacturer of
continuous printing and dyeing lines, washing and drying lines, and heat-setting lines. Aulbach
added that safety practices must be increased, and second-quality product and waste material should
be reduced as well.
Just-in-time processing, enabling orders to be filled through a stable, accurate process in
which inventory isn't left sitting on the plant floor, will be considered absolutely necessary for
accuracy in finishing, according to Uwe Sick, Santex sales manager.
Adaptive Control sees the future of dyeing, printing and finishing connected to wireless,
pocket PC technology. The company plans soon to introduce a 6-inch touch-screen version of its
current control technology.
According to Webber, "Graphics, production reports and machine monitoring will all be
available at the manager's fingertips – outstanding control."
"The future clearly lies in simple and easy-to-operate machines designed for quick color
changes," said Stang. He believes it will be necessary to incorporate technologies such as plasma
treatments to reduce or eliminate the necessity of scouring, simplify formulations and reduce waste
water.

Ensuring Success

"As developing nations become more sophisticated market economies, there will be an
increased demand for higher quality garments with a rapid response to fashion demand for
color," said Arthur C. Welman, technical consultant for Sclavos. "However, the location of
the dyeing industry will be determined by availability of good-quality water and water-treatment
facilities. The inevitability of water crises in the world will bring into sharper focus the need
to minimize water usage in the textile process."
Reduced water consumption, ensured fabric quality, shorter process cycles, lower steam and
power consumption and higher return on investment keep dyers, printers and finishers searching for
the latest technological advancements. Keeping an eye on the updates is the only way to ensure
profitability.
March 2003