The 3M Printer 2500UV for Scotchprint® Graphics from 3M Commercial Graphics, St. Paul, Minn., is a
98-inch-wide, large-format, UV-curable, high-productivity piezo ink-jet printer capable of printing
on roll-to-roll, rigid and textile substrates.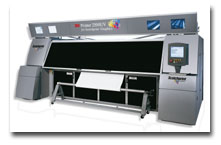 3M Printer 2500UV

Manufactured in collaboration with Leggett & Platt Digital Technologies, Jacksonville
Beach, Fla., the printer is capable of 300- and 600-dots-per-inch (dpi) six-color printing, and
features a unique video bridge with four monitors. Its just-in-time manufacturing process
eliminates the need for finished graphics inventory.
February 2003