By Robert S. Reichard, Economics Editor
The new year is beginning on an extremely encouraging note thanks to the sharp drop in energy tags and a host of other positive news. Looking at energy first, the huge decline in gasoline prices — down near $2 a gallon as of press time — will alone save the average family anywhere from $500 to $700 a year. Add in the declines in heating oil and natural gas, and that leaves households with a lot more money to spend on textiles, apparel and other consumer goods. Equally bullish are the larger increases now being reported for disposable incomes. As one economist puts it: "My gut instinct is that this is the beginning of better wage performance for a broad swath of workers." Still, another new indication of better times ahead comes from signs that overall government spending is again making a positive contribution to the economy. On the state level, for example, the aggregate budgets of all 50 states should rise by 3.1 percent over the current year. And on the Federal level, outlays for repair and construction of roads, schools and hospitals is again on the rise. So is spending on Medicare and Social Security. Equally upbeat as far as overall growth is concerned is the fact that capital spending is beginning to look a bit more robust. Indeed, one recent survey suggests that U.S. industry — looking at both slightly higher operating rates and the need to beef up productivity — now plans to up new plant and equipment outlays this year by some 4 percent.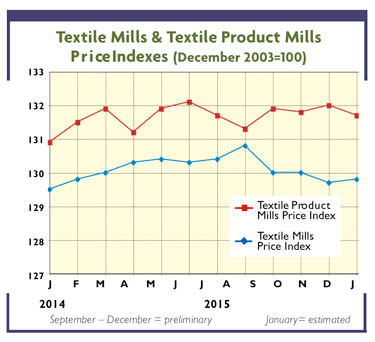 The Textile And Apparel Impact
All the above clearly suggests a better-than-expected outlook for our two industries. In fact, there already are indications that 2015 is going to be a good year. Thus, recently ended holiday sales — comprised of a good percentage of textile and apparel products — increased by some 4 percent, a full percentage point faster than the previous year. Supporting this finding are new apparel store numbers that show similar gains. More importantly, this upbeat industry trend is likely to continue. For one, mill and clothing maker inventories are relatively low, suggesting that any new orders quickly will be translated into new production and shipments. But even more encouraging are two new Institute of Supply Management (ISM) surveys of the nation's top purchasing executives — surveys that widely are recognized as leading indicators of future activity. ISM's latest monthly activity report, for example, finds mills noting both increasing sales and rising backorder logs. And the picture painted in its new annual outlook survey is equally bright, with mill revenues for overall 2015 again expected to top the previous year's level — thus confirming TW's recent "Textiles 2015" projections (See "Textiles 2015: More Improvement Ahead," Textile World, January/February 2015 issue). Also buttressing this improved scenario are such other findings as expectations that, percentage wise, mill plant and equipment spending gains will top those of most other industries; textile capacity will begin to inch up after many years of decline; and, the U.S. industry's trade deficit will shrink as imports hold relatively stable while exports continue to inch up.
More Thoughts On Imports
While on the subject of an improving trade picture, a few words might also be in order on "reshoring." There's already considerable anecdotal evidence that a growing number of firms are starting to bring some of their overseas sourcing back to the U.S. And it's taking place in the textile and apparel industries as well as other industries. Witness, for example, Walmart that already has made sizeable moves to reduce its heavy reliance on foreign production. But it's difficult to find a consensus as what all this reshoring will add up to over the next few years. The Boston Consulting Group, Boston, is quite optimistic. The company, in a recent survey of more than 250 large firms — including some in the textile and apparel sector — sees big changes ahead. One key finding: American manufacturer's U.S. share of their production should rise an average of 7 percent by the end of the decade. On the other hand, another big consulting outfit, A.T. Kearney, see a much slower reshoring pace — though the firm hastens to add that there's definitely an upward trend in U.S. production competitiveness. As for TW's view: It's basically in the middle — little to no gains in commodity-type textile products, but solid ones when it comes to both niche products and output amenable to large productivity advances. Bottom line: Imports, already leveling off, should slowly fall with total incoming volume off by about 5 percent within two to three years.
February 17, 2015