By Robert S. Reichard, Economics Editor
Half the year has gone by, and all signs now suggest that 2014 domestic textile and apparel activity — bolstered by a slowly strengthening economy — will equal or even top last year's advance. Looking at the macroeconomic picture first: Overall demand, which slowed down in the first quarter, now seems headed for a modest second-half pickup. Most business analysts see a close-to-2.5-percent annual rate of growth over the remainder of the year. And that's pretty much what Textile World editors also expect. This encouraging trend should spill over into 2015, with the World Bank already on record calling for a solid 3.5-percent advance for that year.
This kind of pace should guarantee continued employment increases — with an average of more than 200,000 new jobs likely to be added each month through year end and into 2015 — enough to spark further upticks in consumer spending. There are also some other positive signs of stepped-up buying. For one, there's the continuing increase in household wealth — the value of homes, stocks and other assets, minus debts and other liabilities. At last report, this number was running some 2 percent, or $1.5 trillion, above three-month-earlier levels — enough to push this key buying indicator to a new all-time high. Still another upbeat sign: Americans again seem to be feeling a little more comfortable about borrowing. Thus, overall household debt rose at an annual 2-percent rate in the first quarter — considerably higher than the relatively flat pattern noted during late 2013.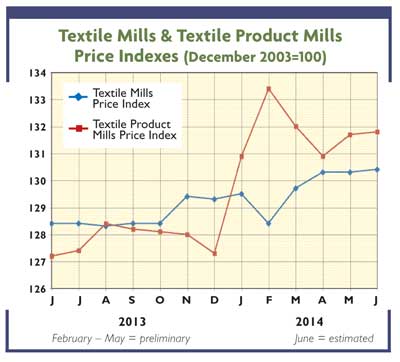 The Textile And Apparel Impact
All the above is good news for the textile and apparel industries. That's on top of an already solid year-to-date performance. Textile mill dollar shipments are, as of now, up 1 percent compared to early 2013. And if one travels further downstream to the apparel sector, the shipment gain is even more impressive — somewhere near 3 percent. One indication that increases will continue into the remainder of the year — aside from the expected acceleration in general economic growth — come from the Institute of Supply Management. This group's widely monitored grass-roots survey of the nation's top purchasing executives finds that textile demand has been fairly brisk in recent months. Still other signs that suggest better days ahead would have to include the continuing leveling-off in imports, and today's relatively trim inventory levels — now running well under the highs of a few years back. This latter development is especially important because it suggests that new incoming orders are now increasingly likely to be filled via new production rather than by any stock drawdowns. Given all the above, TW editors now feel mill shipments for the year as a whole could rise as much as 3 percent. Basic mill items like yarns and fabrics will probably lead the advance, with more highly fabricated items like home furnishings and carpets expected to hold near last year's levels. As for apparel, TW now sees 2014 shipment totals running anywhere from 3 to 4 percent above 2013 levels.
Better Bottom Lines
These anticipated demand gains will, in turn, help buoy up earnings. So will such other factors as steady-to-slightly-firmer prices and costs that remain at or a bit below year-earlier readings. Indeed, there is already some good evidence that profits already are topping year-ago levels. Thus, first-quarter after-tax mill earnings ran 20-percent ahead of those reported a year earlier, and in terms of mill margins, the year-to-year improvement has been equally impressive. The latest profits per dollar of sales number is now estimated at near 3.9 percent — well above the year-earlier 3.3-cent reading. The same positive picture is noted when profits are compared to dollar of stockholders equity — with the latest mill numbers here put at 8.7 cents versus only 7.7 cents a year earlier. More significantly, economic consulting firm Global Insight sees the upward earnings trend continuing. This year's profit gain for mills making basic textile products, for example, should be around 2.5 percent — with 2015 and 2016 gains running a bit higher. Zero in on more highly fabricated mill products, and the increase should be more impressive, averaging out at more than 5 percent over the 2014-16 period. Implication: healthy and viable domestic textile and apparel industries well into the future.
July/August 2014