The near-term macroeconomic trend isn't nearly as bleak as some of today's purveyors of gloom and
doom would have us believe. For one, U.S. consumers have been making substantial progress in
bringing their financial houses back in order. In 2008, for example, their debt load had soared to
129 percent of disposable household income. But thanks to some significant 2011-12 belt-tightening,
this key ratio is expected to drop down to near 100 percent by next year — a level at which
consumers have generally been willing to spend a bit more freely.
Another encouraging sign comes from gasoline prices, which, despite some recent uptick,
remain well under earlier 2012 highs. Other things being equal, this, too, should leave a little
more for spending on apparel and other consumer goods. So should the fact that family incomes are
beginning to rise from a combination of a longer workweek and small pay hikes. In any event, hourly
earnings for private sector employees are now running some 2 percent above year-ago levels.
A further upward prod, meantime, should come from an improving construction outlook —
especially the bottoming-out of home prices. True, housing starts are still far from robust. But
some recent signs of improvement suggest that the worst is over. Clearly, all of the above
developments still don't add up to anything even remotely resembling a strong business recovery.
But they do suggest that gross domestic product, the most all-inclusive measure of a nation's
health, should continue to inch up over the next year or so, though only at a 2- to 2.5-percent
annual rate — still under the 3- to 4-percent pace needed to bring the jobless total down to
near-normal levels.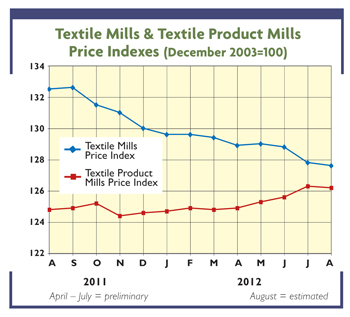 Textile And Apparel Trends


This cautiously optimistic projection should pretty much guarantee another positive year for
the textile and apparel industry.

Textile World
, for example, is now forecasting small gains for both 2012 U.S. production and shipments
– continuing the pace of the first three quarters. Aiding this trend along is the growing desire on
the part of U.S. consumers to buy domestically produced goods. A new Cotton Incorporated Lifestyle
Monitor survey, for example, finds an impressive 55 percent of consumers now feel it's "very or
somewhat important" to buy American-made goods. Reasons: They both want to support the U.S. economy
and feel that domestic apparel is higher in quality than clothing imported from other countries.
The new study also notes that better control of production is a further incentive for buying
American. As the report puts it: "If something goes wrong in the cutting room, a domestic
production manager can make a decision to cut or not. If it's in China and someone isn't watching,
they're going to cut and sew — and you're going to own it."
Stressing the importance of a stepped-up buy-American trend, Lifestyle Monitor adds that it
isn't necessary to bring back a huge amount of lost production. Indeed, recapture just 5 percent of
these imports this year, and another 15 percent in another five years — and things could be looking
a lot better. The study notes, for example, that it would take only a $64 increase in each
consumer's purchases of domestic goods to generate some 200,000 new U.S. jobs.

Another Positive Sign


The fact that the latest import totals have been leveling off also adds to the overall
feeling that the trade picture isn't all that bleak. Thus, incoming textile and apparel shipments,
calibrated on a volume or square-meters-equivalent basis, have remained virtually unchanged over
the past 12 months. That's in sharp contrast to the big increases of earlier years. Contributing to
this rather significant shift is the fact that both production costs and prices of the United
States' overseas suppliers have begun to rise. Indeed, about the only negative import news these
days comes from the fact that China — by far the United States' major foreign source — has halted
any further upward revaluation of its currency. The Beijing yuan, for example, has actually showed
some fractional decline vis à vis the U.S. dollar over the past few months — a big reversal from
last year's 4.7-percent appreciation.
Moreover, there's little to suggest that this new China strategy won't persist as that
nation seeks to bolster demand for its exports at a time when its economy seems to be slowing down
a bit. But even after factoring in this China shift,

TW
still feels that today's basically flat import pattern will spill over into next year.
And that's not really all that bad. Reason: It means that the small increases in U.S. consumption
of textiles and apparel that we are currently projecting for the next year or so will probably be
coming from domestic rather than foreign sources.
September 2012