The new year is starting off on a relatively encouraging note. For one, there's the just-ended
holiday buying season, when overall consumer purchases ran an impressive 6 percent ahead of the
previous year's level. That's actually above projections made just a few months earlier. Moreover,
zero in on the apparel sector, and November/December sales were up by an equally impressive
percentage. Also on an upbeat note, consumer confidence continues to improve, suggesting that this
willingness to spend is spilling over into the current quarter.
This is further backed up by the Institute for Supply Management's (ISM's) latest monthly
business survey. This grassroots organization of the nation's top purchasing executives is
generally first to reflect prevailing business sentiment. And what this prestigious group is
finding for early 2012 textile and apparel activity can only be described as positive. More to the
point: The group finds that demand in both those sectors is continuing to grow. That's been the
case not only for the past two months, but also for most of the past year. Also suggesting better
days ahead are

Textile World
talks with industry executives, almost all of whom now describe incoming business as anywhere
from satisfactory to quite good. All this, in turn, is bound to impact bottom-line performance.
Indeed, there's now the virtually unanimous feeling that profits will show some solid gains over
the next six months. It's all in marked contrast to early 2011, when the huge run-up in cotton
costs made for some sharp declines in both industry earnings and margins.

And Gains Should Persist


Moreover, optimism seems to be spilling over into the last six months of the year. At least
that's what the purchasing leaders referred to in the above-mentioned ISM study seem to be
indicating in their responses to another recent survey — this one on the entire 2012 outlook.
Looking first at the general economy, they see activity over the last two quarters of the year
actually topping that of the first six months. The group's unique "diffusion" index, which weighs
the combined impact of expected gains, declines, and no-change responses, provides the details.
Using 50 as the neutral level on a 100-point scale, the second half diffusion index reading of 65.5
looks even better than the not-too-bad first half's 62.5. Even more important, this latter ISM
survey is equally bullish when it comes to downstream apparel activity, for which the industry's
revenues for all of 2012 are expected to sport their third straight year of advance.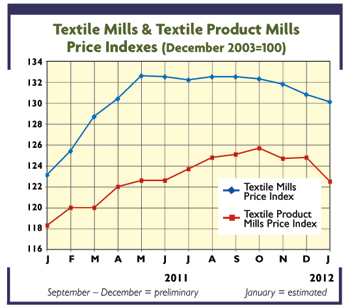 Also on an upbeat note, increases are also anticipated for both apparel prices and apparel
exports. These projections, if nothing else, would seem to confirm

TW
's own beginning-of-year forecast, which calls for a modest 1- to 2-percent overall apparel
advance for the new year (See "Textiles 2012: The Prognosis Is Good," www.TextileWorld.com,
January/February 2012). In fact, these projections may be somewhat on the conservative side. True,

TW
is not yet ready to upgrade those numbers, but, instead, now has increased confidence in
those numbers and feels that the upper part of the projected range is now most likely to prevail.

Another Potential Plus


Falling unit labor costs could be still another factor that may help bolster

TW
's competitive positions — not only over the coming months, but also over the next few years.
And again, this is true not only for overall U.S. manufacturing but also for the domestic textile
and apparel sectors.
Looking first at all U.S. manufacturing: New government numbers show an impressive 13-percent
decline in pay per unit of output over the past decade — in large part due to strong productivity
gains, which have consistently outpaced relatively small increases in hourly pay rates. Moreover,
factor in the added American advantages of somewhat cheaper energy — due mainly to the shale oil
boom — and a generally weaker dollar, and it's easy to see why American-made goods are becoming a
bit more attractive in today's one-world marketplace.
Focus in on U.S. domestic textile and apparel industries, and the picture is pretty much the
same. At least that's what's suggested when employment numbers, wage rates and productivity gains
of these two sectors are analyzed in closer detail. Do the appropriate calculations, and unit labor
costs in these two industries have probably been dropping by at least 1 percent annually over the
past few years. That's not all that different from the all-U.S. manufacturing average. Moreover,
this has been occurring at a time when the unit labor costs of this nation's key overseas supplier,
China, have jumped substantially. If nothing else, it partly helps explain why the previously huge
textile/apparel price advantages of Far Eastern sourcing are slowly beginning to shrink.
February 2012