Mills are entering the third quarter in tolerably good shape. Activity so far this year, despite
still strong import competition from China and other countries,is managing to hold its own. Indeed,
year-to-date dollar shipments for basic mill products have been running close to 13 percent ahead
of comparable 2009 levels. And a smaller but still upbeat 2.5-percent increase is noted for more
highly fabricated goods. Apparel sales also have been holding up fairly well over this time period.
And a similar picture is apparent when you zero in on production numbers – with output of both
basic and more highly fabricated products now running above year-ago levels. More importantly, all
signs suggest a continuing upbeat trend moving into summer and fall. For one, the latest Institute
for Supply Management report — a leading indicator that reflects activity at the grass-roots
purchasing manager level — shows a similar positive trend.
Another upbeat sign: Industry inventories on both the mill and apparel levels have been
edging lower in recent months and now are in fairly trim shape. If nothing else, this should clear
the way for increasing orders to quickly translate into new production.
Finally, a still-improving general business outlook should also help shore up textile and
apparel activity. Most economists see gross domestic product advancing at about a 3- to 3.5-percent
rate this year. Add in the fact that Americans will be spending more of their available income this
year – the savings rate is expected to decline from 4.2 percent in 2009 to only 3.4 percent this
year – and further industry recovery seems pretty much certain.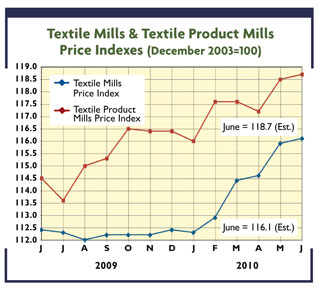 Bottom Line Impact


Improving activity also is helping to prop up recently depleted industry profit levels.
Official government figures for first quarter 2010 show operating profits for both textile and
apparel firms up substantially compared to late 2009 levels. More significantly, new Global Insight
projections suggest earnings gains will persist through the remainder of the year and well into the
future. Using its own definition of operating profits — shipments less raw material and labor costs
— the consulting firm expects basic mill product earnings to increase a hefty 35 percent for
overall 2010. And the anticipated gains for both more highly fabricated mill products and apparel
are also quite impressive, up 15 percent and 26 percent, respectively. To be sure, it should be
pointed out that these increases are being compared to a rather dismal 2009. Nevertheless, they
again confirm the underlying health of these industries and their ability to bounce back after a
major recession. So do Global Insight profit projections for 2011 and 2012. In all three
industry categories, earnings are expected to remain steady or maybe even show some further modest
increases. Even the really far-out picture of 2013 to 2019 looks reasonably reassuring. True, there
might be some profit declines over this extended period. But they're expected to be spotty and
quite modest – certainly nowhere near the huge slippages reported over the past two decades.

What It All Adds Up To


Factor all the above into the forecasting equations, and

Textile World
sees both basic and more highly fabricated textile products ending up in the plus column
when the dust finally settles in 2010. That's considerably better than the January predictions,
which showed textile shipments declining about 1 to 2 percent. Apparel activity should also pretty
much hold its own – a welcome change from last year's big double-digit, recession-driven decline.
To be sure, none of this will bring activity back up to anywhere near the levels prevailing before
the recent downturn, but it does suggest that the U.S. textile/apparel industry complex is going to
survive and even prosper. Further evidence to support this conclusion comes from revised long-term
forecasts just released by Global Insight. These new numbers from one of the nation's top economic
think tanks suggest that over the following two years, overall textile shipments will remain
relatively flat – a refreshing change from the steady tattoo of losses recorded over the past few
decades. And while some further modest erosion for domestic apparel manufacturers is anticipated,
the decline should not be nearly as precipitous as in most recent years.
July/August 2010