T

he year is ending on a relatively upbeat note. To be sure, industry activity remains far
under the levels prevailing at the start of the current recession. But the tide finally seems to be
turning. Note, for example, the flattening out in mill production and shipments — first noted this
past spring — has been continuing now for some three consecutive quarters. More important, it's a
trend that seems to be embracing both key segments of the industry — basic textiles — fibers,
yarns and fabrics — and more highly fabricated textile products — carpets, rugs, home furnishings
and industrial textiles. True, a few fairly good quarters do not necessarily guarantee a meaningful
trend. But it's certainly much better than the steady tattoo of declines recorded over the past few
years.

Apparel Follows Suit

Adding to the current somewhat rosier picture is the brightening outlook for downstream
apparel — as consumers' purchases in October (the latest available month) ran 3.4 percent above a
year earlier. And that estimate is confirmed by the very same 3.4-percent increase being reported
by MasterCard Spending Plus, which tracks spending by credit cards, checks and cash. Point to keep
in mind: This marks the first apparel-buying advance in some 14 months — an increase that, in
turn, seems to be sparking a pickup in garment maker bookings. According to the Institute for
Supply Management, a group reflecting the grass roots reports of the nation's top purchasing
managers, for example, domestic apparel producers' new orders and backlogs have now jumped back
into the plus column. Also on an upbeat note: Economists are becoming considerably more optimistic
about purchases of clothing and other consumer goods over the current holiday season — with many
upgrading their predictions from a previous "iffy" to something suggesting a small gain. Analysts
at Standard & Poor's Equity Research perhaps best sum it all up — noting that "consumers
appear to be shopping again for apparel and home furnishings."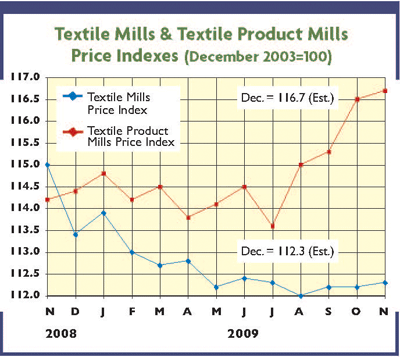 Inventory Paring Also Helps

Additional industry stimulus could also come from today's relatively trim mill inventory
positions. At last report, stocks at the basic mill level were put at only the equivalent of a
1.33-months' supply. That's well under the 1.54 level of December 2008. A similar but smaller
inventory reduction is noted for the more highly fabricated mill product sector, where the
inventory/sales ratio dropped from 1.66 to about 1.55 over the same period. Other things being
equal, these reductions suggest that any increase in new orders will be increasingly filled from
new production rather than from merchandise already on the shelves. Nor do all of the above factors
exhaust the list of encouraging industry signs for upcoming 2010. Another key one is the improving
macroeconomic climate — with growth over the second half 2009 now estimated at near 3 percent —
about double the projection made only a few months ago. If nothing else, rising gross domestic
product is bound to put a bit more money into consumer pockets for new apparel and home furnishing
purchases.

Prices Hold Firm

The fact that mill prices have been relatively steady can also be regarded as a good omen.
Uncle Sam's latest round of price reports provide the details. Tags for both basic textiles and
more highly fabricated products, for example, are being clocked in at pretty much the same levels
prevailing a year ago when the recession first hit. And the picture is much the same for some key
individual subsectors like greige goods and finished fabrics. Moreover, zero in on some of the
industry's more highly fabricated areas, such as home furnishings and carpets, and quotes are
actually running somewhat higher than a year ago. Bottom line: Lower demand has not really eroded
prices. And the same seems to be true in the apparel sector — at least as far as overall price
averages are concerned. Again citing government indexes, the apparel price yardstick at last report
was running about 1 percent above year-ago levels. All this is in sharp contrast to many other
consumer products — especially electronics and autos, which have experienced declines of 10
percent or even more. More important, there is little to suggest this textile/apparel firmness
won't continue — particularly now that demand seems to be bottoming out. Indeed, while

Textile World
is still in the process of preparing projections for next year, preliminary evidence
suggests that some spotty price advances will become increasingly likely over the next six to 12
months.
December 2009