T

extile job numbers remain dismal. Over the past 12 months, for example, the number of
workers in basic textiles has plunged 19 percent. And the decline in more highly fabricated
products is put at 14 percent. Compare the current figures to those existing a decade ago, and the
slippage has been far more precipitous – 68 percent for basic textiles and 40 percent for more
highly fabricated products. And the picture is pretty much the same in the downstream apparel
sector, with comparable year- and decade-ago declines at 14 percent and 69 percent, respectively.
Nor is there any indication that this workforce erosion will bottom out anytime soon. New Bureau of
Labor Statistics projections call for about a 35-percent drop in textile and apparel employment
over the 10-year period ending in 2016.
Putting a positive spin on all this, however, is the fact that not all of this worker
drop-off can be attributed to declining industry activity. A good part, for example, can be traced
to increasing productivity, which has enabled the industry to meet any given demand with fewer and
fewer employees. And these productivity increases are expected to continue at near a 2.5-percent
annual rate through the foreseeable future. More importantly, these impressive efficiency gains are
probably one of the key reasons that the industry continues to survive and even show some profit in
today's hotly competitive global marketplace.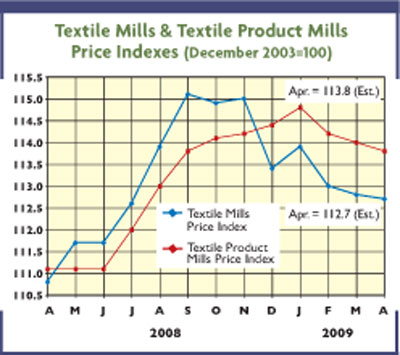 An Improving Business Picture


US textile and apparel sectors should also be helped by the somewhat less dismal economic
outlook anticipated for the next few quarters. To be sure, the nation is still deep in the biggest
recession in more than 70 years. But there now seems to be some light at the end of the tunnel as
consumers and businesses make substantial progress in trimming the imbalances that precipitated the
downturn.
On the consumer front, sky-high family indebtedness is beginning to contract. Mortgage
commitments, which account for three-fourths of all household borrowing, have been declining for
three quarters in a row. Add in the fact that all the new Washington stimulus moves are starting to
boost consumer confidence, and retail sales should show at least a modicum of improvement in the
months immediately ahead.
On a business front, corporate cost-cutting and inventory retrenchment are pretty much
nearing completion, thus paving the way for some increased activity.
Finally, there's Wall Street. True, the market is still quite volatile, but stock prices do
seem finally to have bottomed out. Given all the above, economists are predicting decelerating
gross domestic product losses, with the 6.3-percent tumble of late last year giving way to
only a 2- to 3-percent drop over the current quarter. And there could even be some fractional gains
toward year end. All this should slow down recent textile and apparel losses – though any outright
gains in these industries would still seem to be a long way off.

Trade Uncertainties


Big import question marks are also keeping the industry on edge. To be sure, incoming
shipments of textiles and apparel in early 2009 were down 14 percent. But this isn't nearly as
encouraging as it might seem. The decline in US manufacturers' shipments of textiles and apparel
over the same period were off 24 percent and 12 percent, respectively. Implication: The huge
foreign share of our overall textile and apparel market isn't declining and may well be continuing
to grow. And that is particularly pertinent for our biggest textile supplier – China. The Chinese
situation will bear especially close watching because Washington seems to be easing its pressure on
Beijing for a further upward revaluation of its currency, the yuan. The Treasury Department is now
saying China is not manipulating the yuan to increase its exports. That's not to say US officials
are happy about Beijing's current currency and subsidy policies that clearly continue to make
Chinese products unrealistically cheap to US buyers. The problem is that our options are limited.
It's far more important to keep China on our side, not only for crucial geopolitical reasons, but
also because that nation's big economic stimulus program, along with our own, is clearly needed to
put the world back on the road to prosperity.
May/June 2009