G

eneral economic woes and uncertainties are combining to take their toll on textile
activity. Year-to-date shipments of basic textiles at latest report were lagging behind comparable
2007 levels by more than 6 percent. And in the case of more highly fabricated products, the
year-to-year decline was an even more disturbing 9 percent. Retail sales of apparel products also
have recently dipped into negative territory. More important, the upcoming holiday season isn't
very likely to provide any turnaround. To be sure, the National Retail Federation (NRF) recently
predicted that Christmas sales would rise 2.2 percent this year. But that's only about half the
10-year average. Also, the fact that retail apparel prices have edged up in some instances over the
past 12 months would seem to suggest that the NRF-forecast gain in real terms would be fractional
at best. Moreover, since this projection was made before the big Wall Street meltdown, the final
pushers may be hard-put to even equal, much less top, last year's level. Still another telltale
sign of buyer pullback: Consumer credit has started contracting for the first time in a decade.
Given all these developments,
Textile World
editors are again revising their overall 2008 textile prediction. Right now,
TW
sees shipments of combined basic and more highly fabricated textile products falling as much
as 9 to 10 percent — well above the 5-percent and 8-percent declines of 2006 and 2007. It's also a
big difference from as recently as six months ago, when little more than 5- to 6-percent slippage
was anticipated.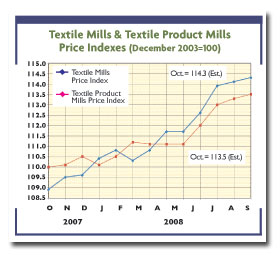 Early 2009 Outlook

The really big question these days, however, is not about 2008, but rather how the new year
will fare. The answer: Not well, but perhaps not as badly as some purveyors of doom and gloom would
have us believe. To be sure, we're still not out of the woods, and clearly, the general economic
picture leaves a lot to be desired. But

TW
believes any additional gross national product (GDP) declines over the next few quarters will
be manageable, thanks to a combination of factors — including the recent spate of bold US
fiscal and financial moves, lessening inflationary pressures, and the quick inventory response to
less-than-hoped-for demand.
On the inflation front, for example, crude oil and gasoline tags continue to decline, thus
leaving more money for other purchases. And there has been little inventory buildup, both overall
and in the case of textiles, where days' supply is pretty much where it was a year ago. Upshot: the
big inventory corrections that traditionally have accompanied economic downturns will be relatively
mild this time around. Factoring in all the above into their forecast equations, economists
responding to a recent Wall Street Journal survey confirm

TW
's feeling that near-term GDP declines will be relatively modest.
The same is likely for textiles and apparel — especially since a big portion of today's
spending cutbacks seem to be centered in big-ticket durable goods items like cars — thus
leaving a bit more cash available for clothing and home furnishings.

Thoughts On Imports

The US trade situation will also require some close monitoring over the next few months.
True, incoming shipments of textiles and apparel on a square-meters- equivalent-basis have not
proved to be that much of a problem this year. Indeed, figures covering the first 8 months of
the year show a decline of nearly 6.5 percent when compared to a year earlier. Even incoming
shipments from China are down about 3 percent, but this slowdown is not guaranteed to continue
because current safeguards on many categories of American textile and apparel imports from the
nation are scheduled to end in January.
The big fear is that this could result in another huge surge such as the one following the
January 2005 discontinuation of quotas. At that time, Chinese textile and apparel shipments to the
United States soared by more than 1,000 percent in some product lines. Hopefully, this huge jump
won't be repeated this time around. In any event, Washington lawmakers are pressuring for new
safeguards aimed at establishing new monitoring procedures, including the possible implementation
of new quotas and/or tariffs, that could go into effect almost immediately. Because chances for
some action seem fairly good,

TW
remains optimistic that further big import gains won't be a major industry problem.
Indeed,

TW
is hopeful that Chinese imports in 2009 can be held close to current levels.