T
here's growing evidence that the shrinkage in industry demand may finally be beginning to
slow down a bit. Especially encouraging are new government statistics covering the latest available
six-month period. These figures show domestic mill production declined only a little more than 3
percent over this time period – not great by a long shot, but it's a lot better than the
considerably bigger 5.3-percent fall-off recorded over the previous six months. Backing this up is
the similar decelerating rate of demand slippage being reported in dollar shipments of textile mill
products. The probable factors behind this somewhat less dismal performance would have to include:
an improving domestic mill production mix with its increasing concentration on niche products,
which tend to be less sensitive to overseas competition; cost controls that have been able to
minimize the demand-dampening effect on new price increases; consumer willingness to keep spending
– despite the big subprime mortgage meltdown, apparel store sales at last report were still running
some 3 to 5 percent above year-ago levels; and last, but not least, a rather significant slowdown
in import gains.
On the latter score, year-to-date incoming shipments of textile mill products on a
square-meter-equivalents basis were running pretty much at year-ago levels. And even if you add
apparel imports to the overall mix, the year-to-date increase vis-à-vis the same period of 2006
comes to only around 2 percent. This latter number represents a vast improvement over import gains
reported as recently as 2005 – when the incoming total of textile and apparel shipments posted a
disturbing 10-percent advance. More on these import trends and particularly the role being played
by China below.

Some Other Upbeat Signs

Industry executives also are being buoyed by the continuing absence of labor and raw-material
cost pressures. As noted in a recent column, unit labor costs have remained pretty flat over the
past 12 months, with this trend expected to spill over into the new year. Nor are any big new
runups seen in key raw materials like cotton and man-made fibers. The lack of hikes in the latter
area are especially encouraging given the continuing runup in energy tabs – man-mades' major
feedstock – over the past year. Still another positive development: Mills are keeping their
capacity to produce at relatively high levels – cutting back far less than recent demand shrinkage
might have suggested. More to the point: Mill production potential has slipped only 2.7 percent
over the past 12 months – significantly less than would have been indicated by the much larger
9-percent drop in demand over the same period. One key factor behind this trend – the continuing
need and willingness on the part of mills to invest in new capital projects. Preliminary estimates
for 2007, for example, point to yet another $1 billion year for the purchase of new, more efficient
plants and equipment. If nothing else, this suggests that mills are as determined as ever to remain
competitive, world-class producers in today's big global marketplace.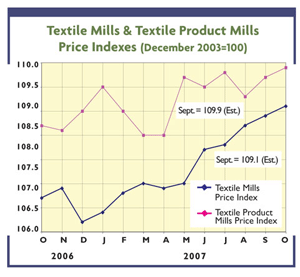 Another China Assessment

Meantime, the ever-changing role of China in the US import equation will bear close monitoring.
As of now, all indications would seem to point to some slowdown in incoming shipments from that
nation. Several factors are likely to contribute to such a development. For one, Beijing's
production costs are beginning to rise as workers start demanding higher salaries. Indeed, one
recent study shows Chinese manufacturing pay now advancing at a 10- to 15-percent annual pace.
Secondly, there's growing pressure here in the United States to stem the import tide. More action
is wanted to both accelerate the upward revaluation of the Chinese yuan and remove that nation's
subsidies, which are said to give the Chinese a pricing advantage in 73 different textile areas.
Also feeding US demands for more action is the fact that the remaining US quotas on Chinese goods
will expire by the end of 2008. The problem is probably best expressed by Cass Johnson, president
of the National Council of Textile Organizations. As he puts it: "If China merely follows past
history, it will take 65 percent of US and European apparel markets once the remaining safeguards
are removed." Pressure engendered by all these worries will almost certainly have a braking effect
on future imports. TW's bet for the upcoming year: About an 8- to 10-percent increase in textile
and apparel incoming shipments from China – well under the estimated big 17-percent gain seen for
the year now ending.
December 11, 2007