D
on't be fooled by some of today's negative textile and apparel workforce numbers. Sure,
they look pretty bad when compared to those prevailing just a few years ago, but these declines —
about 27 percent over the past five years for textile mills and 36 percent in the case of apparel —
are only partly due to a fall-off in industry activity. Equally important contributors are strong
productivity gains, which suggest that even if overall production had remained steady over this
five-year period, there would still have been a sizable workforce drop.

Textile World
has done a few rough calculations and found that about half of these textile and apparel
work declines were due to growing efficiency gains. Points to keep in mind: If these productivity
gains had never occurred, the employment drop-offs would have been much less precipitous.
Conclusion: Reported employment numbers are flawed indicators of basic industry performance.
Industrial output, shipments and profits are much better barometers when it comes to overall
industry health. And while all three also have tended to tail off in recent years, they continue to
suggest these two industries aren't going to disappear any time soon.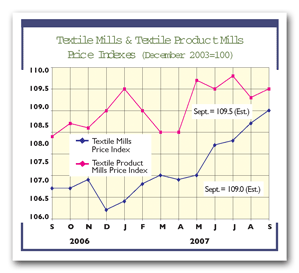 The Productivity/Profit Connection


It might also be pointed out that today's still fairly tolerable profit performance
can in large part be attributed to the aforementioned productivity gains. Specifically, higher
worker efficiency, when combined with surprisingly modest wage gains, have helped keep textile and
apparel unit labor costs under control. In textiles, for example, recent hourly pay rates have been
rising only about 3 percent annually. But that's pretty much what comparable productivity gains
have been — thus suggesting that labor costs haven't really changed much. And the picture is pretty
much the same for domestic apparel operations. All this, in turn, has to have a positive impact on
bottom-line performance — especially since employment costs in these two labor-intensive industries
are quite significant — accounting for 16 percent of the sales dollar in the case of textile mills
and 23 percent when it comes to apparel manufacturing.


A Longer Look Ahead


The textile/apparel prognosis over the really long pull also may not be all that
bad. At least that's the view of analysts at economic forecasting firm Global Insight. Thus, in
2012, some five years from now, they see mill shipments of basic textiles falling about 17 percent
in volume — the equivalent of little more than a 3-percent annual drop, and under the declines of
some recent years. The outlook is much the same for more highly fabricated textile products, where
the average annual drop over the next five years is put at only 2.5 percent. Apparel isn't likely
to fall out of bed either — with just above 5-percent annual declines anticipated through 2012.
Moreover, these two industries, while smaller than they used to be, are likely to remain strong and
fairly profitable. Indeed, according to Global Insight, average textile and apparel earnings over
the next five years are expected to stay surprisingly close to current levels.


A Still-Healthy Economy


Coming back to the near term, one big question mark remains: How will the subprime
mortgage fiasco impact general business activity — and, more importantly, textile and apparel
demand? Right now, a cautiously optimistic assessment would seem to be in order. True, housing
problems remain quite serious, but much of this is being offset by other more positive factors. The
Fed is providing new support by cutting interest rates, and a weak US dollar is finally beginning
to give exports a much-needed boost. Finally, consumers have shown few signs of cutting back — with
only a modest dip in overall purchases reported over the past month or two. Preliminary
third-quarter spending estimates would seem to back this up — with buying totals projected to have
grown by 3 percent annually. And this trend is likely to continue. Thus, the National Retail
Foundation is predicting a 4-percent increase in sales during this holiday buying season. And while
this is under last year's 4.6-percent rate, it's not bad given the recent negative business
talk.


November/December 2007