T
he still-unresolved China trade dispute is heating up again. Two recent examples:
Washingtons filing of two cases against Beijing at the World Trade Organization; and the imposition
of duties on two Chinese paper makers that allegedly have received substantial government
subsidies. If nothing else, the new moves can be regarded as a clear-cut signal to the Chinese that
significant remedial action is needed and quickly. It also is seen as an administration move to
placate the growing number of Congressional trade critics.

A look at the latest import numbers, especially in textiles and apparel, would seem to
justify a more aggressive approach. Thus, while overall US textile and apparel imports on a
square-meter-equivalents basis are up only 4 percent so far this year, gains from China continue to
go through the roof, gobbling up a bigger and bigger share of the US market.
Incoming shipments of textiles and apparel from China have jumped 28 percent vis-is
comparable year-earlier levels. And thats all on top of last years big double-digit jump.
What happens next While its hard to nail down the specifics, its clear that more new moves
are likely on the part of both the United States and China. More should become clearer in late May
when a delegation of Chinese officials, led by Vice Premier Wu Yi, arrives in Washington for more
talks. High on the agenda: US demand for further upward revaluation of the yuan, with the US trade
spokesman noting the absence of any really meaningful movement on this score over the past two
years.
To be sure, no one really knows how far the Chinese will move on the currency front. But,
they do seem a bit more willing to ease tensions in other ways most notably by purchasing more
US-made goods. Indeed, the Chinese now seem willing to buy billions of dollars more in US products,
including $500 million worth of cotton. Moreover, they recently opened their big trade fair to
foreign countries, allowing sellers from the United States and elsewhere to promote their goods for
import into China. And in still another move, they say theyre reducing tax rebates on outgoing
shipments of textiles and other products.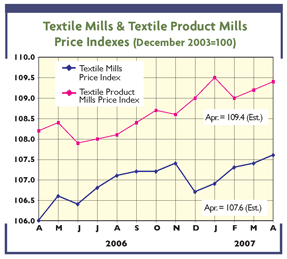 Reappraising The Big Picture


Additional questions also are popping up as to how strong the US economy will be
this year and equally important, how this will impact domestic textile and apparel activity. There
also are growing questions as to how the housing slump and drop-off in capital spending will affect
2007 growth. True, this could mean some fractional downward revisions in overall gross domestic
product. But

TW
does not think the slippage will be all that significant. Reason: Any declines in the
aforementioned weak sectors should be offset by a still-robust service sector an area that many
tend to forget now accounts for 84 percent of all payrolls.
Bottom line: Consumer demand should remain tolerably buoyant, with maybe even some pickup
possible by fall and winter. As such,

TW
continues to project only minimal declines in overall textile and apparel demand for this
year not that different from last years performance.
Go still further out into the future, and

TW
is equally optimistic, expecting only continuing very modest declines in overall industry
activity. Recent Global Insight long-term forecasts tell the story. In basic textiles, analysts see
annual declines in real or physical volume terms averaging only 2.9 percent a year over the 2008-12
period. And in the more highly fabricated mill product sector, declines are expected to be even
smaller with annual slippage of only 1.9 percent.
On a less rosy note, industry employment totals over this five-year period are projected to
suffer somewhat larger losses. By 2012, Global Insight puts combined basic textile and textile mill
product employment at around 261,400 workers suggesting about a 5-percent annual average dip. Two
factors are behind this larger decline: the aforementioned modest slippage in mill activity; and
continuing productivity gains.

---

May/June 2007